Group Blasts Jonathan Over Kano Rally
Latest News, News
Wednesday, April 16th, 2014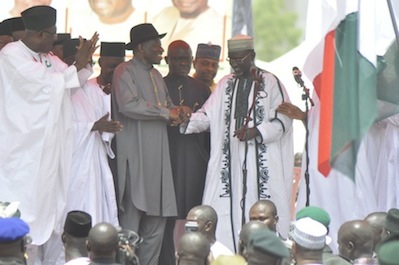 Kayode Adelowokan
The Coalition Against Corrupt Leaders (CACOL) has censured President Goodluck Jonathan for leading a rally of the Peoples Democratic Party in Kano, barely 24 hours after a bomb blast claimed the lives of no fewer than 89 people in Abuja.
The rally was organised to welcome former Governor Ibrahim Shekarau of Kano State, who decamped from the opposition All Progressives Congress to the PDP.
Reacting to the development, the Coalition through it Executive Chairman, Mr. Debo Adeniran frowned at the inhumane gesture of the president.
"It is quite pathetic that President Jonathan could lead a rally despite the magnitude of human and material loss that characterised the Nyanya bomb blast. His decision not to halt the campaign trip shows his level of self-centredness. This action has shown that Jonathan's personal interest is keener to him than the lives of the hapless Nigerians that are being wasted on daily basis.
No one says the President and his party should not hold their rally but they could have rescheduled it as a mark of respect for the dead instead of dancing on the graves of those who lost their lives. This is more like making fun of the national calamity," Adeniran stated.
The human rights activist however urged the president to be proactive in the fight against insurgency in the country, if the war must be won.
Short URL: https://www.africanexaminer.com/?p=10155