Is President Jonathan Campaigning for Self or for His Party PDP in Osun State?
Featured Contributors/Columnists, Latest News
Monday, August 4th, 2014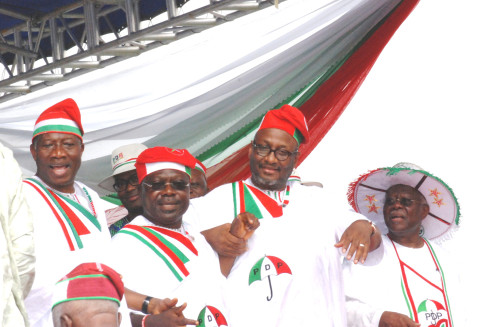 By Prof. R.A. Ipinyomi, University of Ilorin, Nigeria
On Saturday August 2, 2014 President Goodluck Jonathan of Nigeria went to campaign for the PDP governorship candidate, Senator Iyiola Omisore along with the Vice President and many PDP governors and their party officials. Their outfit was attractive and flamboyant but the opposition party and incumbent governor in Osun state may read the whole episode as another federal interference on what is purely a state mater. President Jonathan went to Osun at a time the Federal government of Nigeria FGN is under stress in every direction; Ebola outbreak, there may be no more girls to bring home to Chibok stolen by Boko Haram since April 14, yet Boko Haram is not relenting, Nigeria Doctors have been on strike for over a month and people are dying. We had witnessed a similar show of federal strength in Ekiti earlier where we though that APC's candidate had all the odd ratios in his favour. What we are witnessing in Nigeria are legions of events happening simultaneously but many of the essential and important events could miss our attention. There are many contending classes of issues and all of them are not equally important yet our elected officials are paying their major attention to the little ones and those that are meant only to entertain but leaving us worse than we were before.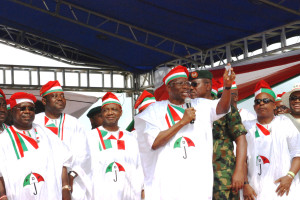 Of course the PDP as a party, or the president as an individual, reserves the right to keep solidarity with fellow colleagues seeking elections to high offices like a state governor. In particular the president, as the party leader, should be seen as a rallying central figure. What we are however saying is that we cannot buy our way out of our problems or the problems caused by our actions or inactions. Keeping Boko Haram phenomenon unsettled is like knowing that there are some pythons inside the house and the occupants pretending as if everything is normal and go to sleep as usual. There are times when our action can build a different model in the mind of the people different from personal projection or intention. We must at a point ask one question such as "Is this the way to rule Nigeria in the 21st Century?" Is the crop of politicians we currently have from PDP, APC and the others doing their jobs correctly for the people? I personally think that the system is still in search of its equilibrium but unfortunately everything is getting farther away from its expectation.
Meanwhile each party is spending considerable time blaming the other parties except themselves. It is like the conflict between Israel and Hamas where enormous energy is being dissipated at blaming the other side and never seeing any self faults. We would reiterate the desire for building a two fairly equally strong party system but which must be left for the people to build and practice divorced of extraneous interferences internally or externally, caused or induced to look as right. The model we are looking for should have strong ties with the people and independent of government at all levels. Our people must be given unhindered access to their decision making process.
I confess that I like Dr Goodluck Jonathan personally as an individual and as the president of Nigeria but I am worried about the many missed opportunities to build a robust democratic society in Nigeria the emergence of which his candidature should have represented. You cannot do it just like everyone else and get a first class but by fashioning a government of the people for the people, truly throwing out intrigues and scheming that have always bedeviled the system. Nigeria is a fragile state but is it going to be impossible to dismantle the arrangement called Nigeria. Hence a candidate from the minority, a nonmilitary background, a confessed Christian, one that records have shown to be a gentleman to the core ought not to look for time or money but the legacy and the enduring name.
This bring us to the main point of whether the campaigns for the 2015 general elections have started and our president is already busy to ensure his re-election. We want to say categorically that the re-election of Goodluck Jonathan will not be because his is associating with fellow politicians in the states alone. Boko Haram has wrongly made it difficult for Nigeria to choose their presidents independently without emotion henceforth. They have labeled themselves and persons suspected to be associating with that evil organization with all the bad names in the book. Some rumour carriers are saying that there are no girls in Sambisa Forest to bring home any more either because they have turned many of them to women, suicide bombers through charms, or that others are dead. The FGN repeatedly has been claiming knowledge of the where-about of these unfortunate innocent girls but the rumour millers are saying that government will bring some girls out close to 2015 general elections. Those who are campaign for self or for others must do so purely on the merit of the individuals and the love for democracy and humanity. This would be a better model than a model for blame game, intrigues and deception.
Nigeria's problems with the People Democratic Party have its roots in the widespread of PDP's practice of campaign of intimidation and zoning formula they profess but would never obey their own acclaimed slogans and party constitution. A number of the members of this party, who had held some powers at various levels during the military regimes, are campaigning and practicing democracy as if they are members of some armed forces. They took their cues from military administration and fail to push democracy robustly to where it could be by the people or for the people. No wonder Nigerian Senators are the most highly paid lawmakers worldwide whereas the roads leading to their various constituencies remain impassable. As a result of the controversy they cause Nigeria now has to redefine politics in its proper terms that will make it inclusive with greater component for physical and moral developments.
Unfortunately the alternative second party we sought came as APC. The APC political party of Nigeria is an amalgamation of different factions, from both the left and right of the divide, almost fascist and extreme views in some cases. They too are in a hurry to capture power or maintain the powers in states where they came from. They also specialize in the blame games, blaming the PDP and never seeing any faults of their own. APC is yet to present a presidential candidate that will have national conscientious because the noises we are hearing indicate that the party is yet to do its homework beyond playing the blame game or staying only as activists. They took victory for granted recently in Ekiti and they may repeat the same in Osun State.
The elections in this 21st century are where social media platforms could be used to a large extent by politicians and parties in their campaigns and for image managements. Such an approach would depart from the tradition of campaigning with heavy doses of weapons, money and other methods. Another campaign instrument is the achievement and performance of each party or individual politician in contention. Many electorates in Nigeria are not using any of the modern media for anything In fact a number of Nigerians have come to believe that social media like face book, twitter, and all others are only negative and hence barring their use. Nevertheless the question that Nigerians have to answer now is not only whether the people they are voting for are the right ones but whether the right candidates have enough assess to the banks and the media to be able to project self sufficiently. Hence President Jonathan and his team's visit to Osun State on Saturday might not just be to intimidate APC's candidate but also to project both the party and the President for a future election. The right candidates to choose from may not have emerged for the rest of us to be able to queue and vote. Good luck to the electorates in Osun State of Nigeria this Saturday as they will be entertaining almost the same number of electorates as the number of police men and women trying to keep order.
Prof. R. A. Ipinyomi
ipinyomira@yahoo.co.uk or/and raipinyomi@unilorin.edu.ng
Short URL: https://www.africanexaminer.com/?p=15597