Leave Amaechi Alone, Rivers Group Warns Mama Peace, Wike, Odili
Featured, Latest News, News
Tuesday, August 11th, 2015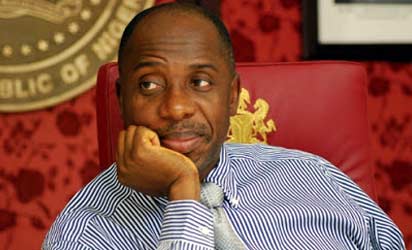 A group in Rivers state, COALITION OF CONCERNED RIVERS PROFESSIONALS (CORIP) has warned immediate past First Lady, Dame Patience Jonathan; governor Nyesom Wike of Rivers state and former governor of Rivers, Peter Odili to steer clear of the state's immediate past governor, Chibuike Amaechi.
In a press statement signed by the group's President, Dr Owen T Braide and its secretary Chief Engr Collins Wasuru and made available to newsmen in Port Harcourt, the group stated: "we are not politicians but we have a stake in the betterment of the lives of our people.
"We have witnessed a dangerous, well packaged "PULL HIM DOWN" politics currently going on in Rivers State Government house and as concerned professionals, we have decided to speak up.
"No true Rivers man disputes the fact that Governor Amaechi performed well as Governor of Rivers state between 2007 and 2015.
"Infact Opunabo Inko Tariah, Gov Wike's current spokesman once described Amaechi as our best governor after Diete Spiff. It is a fact that Amaechi came with a revolutionary vision with honesty, accountability, and zeal.
"The result of this passion can be felt in all sectors of our state today. What then is Amaechi's offence? Why the daily mudslinging? Why the conspiracy against one of our best  leaders in recent history? We can conveniently confirm that this is a direct fallout of the last elections.
"Amaechi had in 2011 shot himself in the foot when he nominated his kinsman and ally Nyesom Wike into Jonathan's cabinet.
"The Jonathans saw in Wike a willing tool to fight Amaechi since he was openly against their second term ambition. The elections came and the Jonathans lost".
While addressing the issue further, the group blasted Wike's 'reprisal attacks' against Amaechi.
"What we now see today are nothing but reprisal attacks against Amaechi for leading the battle against the PDP. But must Rivers state suffer because Amaechi supported Buhari? Is it not within his rights? Why are these people calling him a traitor and maligning him? Amaechi is a  southerner yes. He supported Buhari just as some northerners supported Jonathan. What's the big deal then? Must he be destroyed? Have northerners destroyed their men who worked for Jonathan? Our people must rise up and resist this nonsense.
"This is Nigeria. We are one nation. No southerner should be made a scapegoat for supporting Buhari. Besides, Rivers professionals, jobless youths, civil servants, men and women need a voice in Buhari's cabinet.
"A labourer deserves his wages. We have a stake and Amaechi will best protect that stake. We have also
looked at the government sponsored allegations against Amaechi and found that they are all false and simply aimed at frustrating him in Abuja.
"Livingstone Wechie who was used to paint Amaechi in bad light is the secretary of Wike campaign publicity committee. Everybody in Rivers state knows that you can only accuse Amaechi of having stubborn convictions but certainly, Amaechi is incorruptible. Amaechi is not a thief.
"The sale of power assets for instance was done in the open. It was done to enhance efficiency and proceeds put in the budget as appropriated.
"How is that corruption? Secondly, Amaechi was the first to raise alarm on Clinotech and in fact ordered for the arrest and investigation of the contractor hired to build the Kairibi Whyte Hospital years back.
"Rivers people know all that happened under Amaechi's government. We know who did what.
"Our advice to Mama Peace Wike/Odili is that they should leave Amaechi alone. The election-campaign are over now. The Odili/Wike alliance is an insult to Rivers people.
"It reminds us of Odili 8 YEARS OF WASTE and  STEALING without a tangible achievement that we can point to. It is a shame that Odili is Gov Wike's role model today. Hate him, despise him, Rivers people can see Amaechi ultramodern schools that won PH city the prestigious World Book Capital award.
"Our people can see the dualised roads and bridges, interchanges, Hospitals, electrified communities and a world class stadium. We advise the ruling APC to ignore the campaign of calumy against Amaechi.
"Those behind it are the bad losers who are jealous or simply scared of Amaechi. If Amaechi was corrupt, Jonathan whom he challenged severally on corruption would have finished him.
"No corrupt Nigerian can take on the system like Amaechi did. With Amaechi, Buhari is in good company," the statement signed by Dr Owen T Braide, President CORIP and Engr Collins Wasuru, Secretary of the group, added.
Short URL: https://www.africanexaminer.com/?p=24827