Malala Yousafzai, Oby Ezekwesili, Bala Usman and others on BringBackOurGirls
Featured Contributors/Columnists, Latest News
Thursday, July 17th, 2014
By Prof. R. A. Ipinyomi, University of Ilorin, Nigeria
On 13 Jul 2014 the Pakistani teenager, Malala Yousafzai met with President Jonathan of Nigeria and a number of other girls who escaped from their captors from Sambisa Forest. She came to rally her support on a cause to rescue the Chibok girls kidnapped by Boko Haram since 14 April 2014 from their school. She has vowed to help free about 200 girls still being held by the Islamist militants. Malala Yousafzai has turned to become a global campaigner and education activist. She is being backed by several organizations including the United Nations where she had addressed.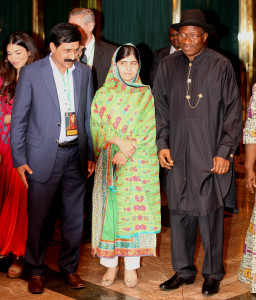 Who is Malala Yousafzai that could be visiting Presidents and Diplomats and they would listen to her? She had visited President Obama of United States and many other world leaders including the Secretary General of the United Nations. Malala Yousafzai was born 12 July 1997 and she is a Pakistani school pupil from the town of Mingora in a district northwest of a Pakistan province. In a short period she has become known for her activism for rights to education and for women. The dreaded Taliban in her country, like the Boko Haram in Nigeria, had at many times banned girls from attending school. Malala did not like the oppression the Taliban brought to her community and she campaigned against Taliban's rule. In the afternoon of Tuesday, 9 October 2012, Malala boarded her school bus in the northwest Pakistani district of Swat. A gunman asked for Malala by name, then pointed a big gun at her and fired three shots. One bullet hit the left side of Malala's forehead, traveled under her skin the length of her face and then into her shoulder. Instead of dying Malala Yousafzai rose in prominence, giving interviews in print and on television, and she was nominated for the International Children's Peace Prize by Bishop Desmond Tutu of South Africa. Part of her campaign that had brought her to Nigeria is to free the Chibok girls being held against their will and against the will of their parents by Boko Haram.
Meanwhile, the National Coordinator of the "Bring Back Our Girls" Rally in Nigeria, Hajia Adisa Bala Usman, the convener of the Rally Oby Ezekwesili and their colleagues in the campaign have been expecting the visit of President Jonathan and his top officials in Chibok and not that the sorrowing parents would troop to Abuja to beg for government condolences. In Africa culture we visit the homes of mourners and not that the mourners coming begging around for others to send them condolences. Dr Okupe, a Senior Special Adviser, who comes from a very rich African background from Ogun State of Nigeria and now in the presidency, is very vast in African tradition and culture and should not have advised the Federal government contrarily even though the visit of Malala to Abuja brought out mourning Chibok girls' parents to close vicinities in Abuja. It is now a matter of time before we know who really is working for the interest on Nigeria or mere self interest entirely or politics and electioneering.
Coincidentally Mrs Oby Ezekwesili was a one time Minister of Education and in the same PDP government. Any Nigerians, including Ezekwesili, journalists, politicians and many others may take up a cause and work on it on their own and this should be allowed. We think that Mrs Ezekwesili has a cause in the "Bring Back Our Girls" caption and she should never be doubted, hindered or stopped within the armpit of law. We have heard two many times how every disagreement is being analyzed as whether one is in PDP or APC. A two-part State should be robust enough to accepting each other whether or not we belong to same group or see things in same colour. We also wish people like Bala Usman or Oby Ezekwesili to see the human problems confronting Africans beyond the "Bring Back our Girls" Rally or indeed as completely different from the obsession confronting those who think that they are in PDP or APC. We want systems that work and within acceptable manners and public characters.
For example, government ought to have used the problem posed by insurgencies, especially from Boko Haram, for more job creation. Sambisa forest should be invested in so that it would no longer be a profitable hideout from Boko Haram and other hoodlums now or in the future. An idea was developed in the 20th century to assess the relationship between the national economy and its unemployment rate. The idea states that when unemployment rate falls by 1 percent the Gross National Product GNP rises by 3 percent. The idea was true only if the rate of unemployment is relatively low, say between 3 and 8 percent. Today the unemployment rate is as high as 30 percent in many African countries and Nigeria. In addition we have under employment and many people doing unrelated jobs to what they studied in the universities. The purpose of governance is to coordinate our development and create safe havens everywhere including in Sambisa forest. Therefore a further loan of $1 billon being sourced by government to fight Boko Haram insurgencies is only another sign that we have lost the game. The former CBN governor, (now His Royal Highness in Kano) was giving information of lost funds. Although figures were changing the idea he left us in finding internal monies should never be lost.
At present we notice that many people will encounter at some times in their lives two serious diseases of the mind. These diseases have been the cause of ineffectiveness and the death of innumerable nations, organizations, businesses and individuals. They can afflict the young but mostly those who are above 40. The symptoms are often obvious to outsiders but usually totally oblivious to those inflicted with either of these diseases. The first disease is "This is how we do it" which is a clinging to the status quo with a refusal to change no matter what. The ancient Israelites suffered from this disease when God delivered them out of slavery in Egypt. When things got tough on their road to their Promised Land they doubted God and wanted to go back to Egypt. This is why many politicians are moving from one party to another because all they have come to believe is that only a particular part of the nation can produce results. As the saying goes, "Better the devil you know than the one you don't know". This is not always true because in the new generation we have children that are ten times better than their parents and we must allow then to rule the nation over an above those we have always been at the corridor of power by falsehood and defaults.
The other disease is "We would not agree even at very overwhelming evidences", a hardening of the attitudes. This disease is equally destructive. Its symptoms can be varied such as legalism, rigidity, arrogance, apathy, holier than thou, having a closed mind and so on. It is just as deadly as holding to status quo with a refusal to change no matter what.
The perpetrators of Boko Haram may have a Malala as a daughter or even granddaughter but today Malala is (only 17 years old) moving from country to country donating for her cause. She remains a Muslim where Christians and other faiths can relate with her, see the results of her work as light and not darkness. We are expecting victims of Boko Haram to move from being victims to victors like Malala who is only fortunate to have survived the gun of her opponents. While Malala has a name and a purpose to live for whereas the Taliban have chosen to live wretched lives in caves and mountainous deserts just as Boko Haram have said good bye to good life in more comfortable open city because they want to continue to shed more blood. Each Nigerian must be allowed to see the whole picture the way they choose but the eventual outcomes is also an individual affair. Those presently in government must never becloud themselves that they are free from the Booko Haram menaces. We must together henceforth fight this cause, devoiced of politicking, and create a lovely and enterprising Nigeria.
Prof. R. A. Ipinyomi
ipinyomira@yahoo.co.uk or/and raipinyomi@unilorin.edu.ng
Short URL: https://www.africanexaminer.com/?p=14565