Nigerian jailbreak tweeter 'is released'
Latest News, News
Saturday, April 12th, 2014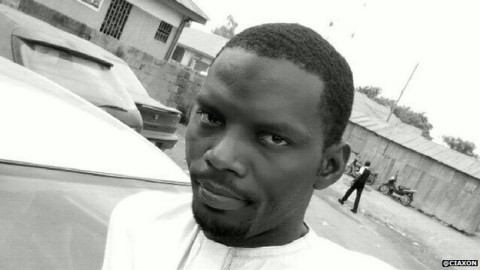 A Nigerian man arrested after tweeting from the scene of a deadly jailbreak has been released after nearly two weeks in custody, his family says.
Yusuf Siyaka Onimisi – also referred to as Isiaka Yusuf – disappeared last month shortly after sharing pictures of the attack on Twitter.
Twenty-one people were killed during the attempted breakout in Abuja.
His brother confirmed his release to AFP, but there has been no direct word from Mr Onimisi himself.
"I spoke with him earlier today (Saturday) and our mum is with him in Abuja," Sanusi Onimisi told Agence France-Presse. "I thank all Nigerians, the media and human rights organisations within and outside the country who stood to fight for the release of my brother."
On 30 March, Yusuf Onimisi, 32, had tweeted a series of images and updates from the scene of the fighting at the State Security Service (SSS) headquarters near the presidential palace.
They showed Nigerian security forces taking cover after coming under fire from militants, as well as pictures of the militants themselves.
The attackers had allegedly tried to escape from the SSS building.
Mr Onimisi, who works for a national electricity firm, was then arrested shortly afterwards.
BBC News
Short URL: https://www.africanexaminer.com/?p=10054