Obama Admits Daughter's Mock On Social Media
Featured, Latest News, U.S./Canada, World News
Wednesday, October 26th, 2016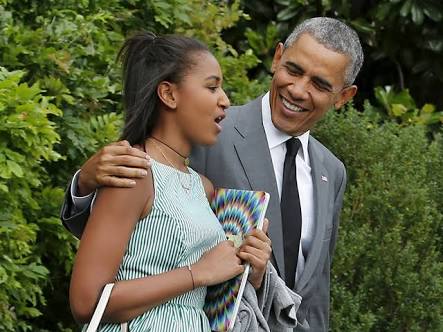 BALTIMORE, MD (AFRICN EXAMINER) – US President Barack Obama has confirmed that his youngest daughter, Sasha recently mocked him on Snapchat.
Obama disclosed that Sasha recorded him, while discussing the social network at a family dinner, after which she quietly posted a reaction to her friends.
The US President recalled: "Sasha gave me instructions on Snapchat.
"One night at dinner we're sitting there, and I had read that Snapchat was becoming really popular among her age cohort. So, I said: 'So, tell me about Snapchat.
"So, she starts explaining stuff – you can make little faces on your picture, and this and that and the other".
He added: "And at the end of it, Michelle and I are sitting there. And I said: 'Isn't this interesting?'
"And I started talking to Michelle about the implications of social media and what all this means.
"[And I] come to find out she was recording us the whole time, and then sent to her friends afterwards: 'This is my dad lecturing us on the meaning of social media.'
"And she took a picture of herself sort of looking bored."
The President added that his wife – who joined Snapchat in June – and his eldest daughter Malia had "loved" the post" the US Leader confirmed.
In July 2016, Obama said Sasha once tweeted and this resulted to several media outlets struggled to identify her account.
Short URL: https://www.africanexaminer.com/?p=36135