OPINION: Consequences of Nigeria's Leadership Vacuum
Articles/Opinion, Featured, Featured Contributors/Columnists, Latest News
Thursday, June 8th, 2017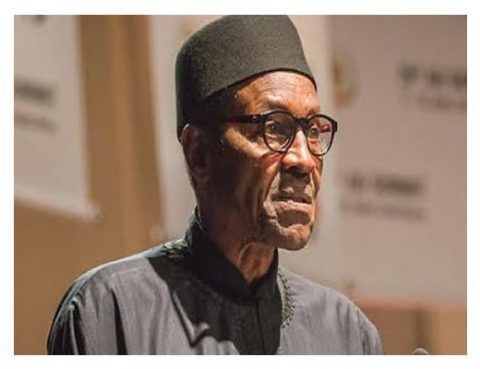 Photo caption: Nigeria's President Mohammadu Buhari
By  Prof. R. A. Ipinyomi, University of Ilorin, Nigeria
(AFRICAN EXAMINER) – Since Nigeria's independence on October 1st 1960 a major single challenge confronting her as a nation is finding the right leadership. The first Prime Minister, Sir Abubakar Tafawa Balewa, was a compromise candidate because Sir Amadu Bello, Chief Obafemi Awolowo or Dr Nnamdi Azikiwe who were more prepeared ready candidates but couldn't step down for each other. The rest of the Nigerian history, from coup to counter coup, civilian rule to military rule, civil war to creation of states, regional agotation and agitators, all were only attempts to finding the right formula for Nigeria. Meanehile the immediate consequences for being governed by pseudo leaders were deceptions and intrigues, stealing from national treasuries to corruption, trial and error governments, the rise of cabalism and political godfatherism, and the centre no longer holding according to late Prof Achebe.
Currently Nigeria can be described as passing through a similar political water it did when late President Umaru Yar'adua  was on the throne. Late Yar'adua fell sick while in office and unfortunately died in office soon after. The cabal at the time brought up to the fore a new political jagon it called "Constitution of Necessity", just to please their personal appetite rather than implementation of Nigeria 1999 constitution to the letter. By the time it was clear that the then ailing President Yar'Adua could no longer carry out  presidential duties, or exercise it's powers, some Nigerians so called "Nigeria's King Makers and Power Brokers", as usual became busy bodies around the country. They were busy doing nothing except for their personal further enrichment. A near description of the activities of these false king makers is the recent meeting of private jet owners in Minna Niger State on the guise of a wedding to become a third wife. In fact it had been alleged that President Yar'Adua might have died many days before the official announcement while the cabal negotiated for power and money in exchange.
So far it can be observed that Nigeria has had three classes of leaderships namely, those who only play to the public gallery and moving without motion, those allegedly taking notes from "superiors, godfathers and regional agitators" and those who couldn't fully occupy the Aso Rock because it is too big for them. These have been what Nigeria could get instead of real national builders, community organisers, economic developers, military builders and nation protectors, intellectual and philosophers.
I recently listened to a programme on Channel TV, anchored by Mr Okinbaloye, with Senators Smart Adeyemi and Dino Melaye saying unprintable things about each other. The interesting thing they came together on is the fact that they were both from same Ijumu local government area in Kogi State and  from a federal constituency with over 500 university professors. But they refused to accept their own limitations, ignorance, weaknesses and short comings. How many professors have they consulted in their daily decision making? I think none. How many traditional rulers have been given what can be termed bribes in all forms by each of these gentlemen?  Would a university professor defeat these politicians that we all heard publicly using bad languages to address each other; a fair reflection of who they are? Of course no descent Nigeria professors  (by professor we mean every elite in Nigeria with integrity) would accept to jump to Nigeria's turbulent political waters except if given a rear "golden opportunity", such that was given to Acting President Yemi Osinbajo. Prof Osinbajo was sought after and searched for and he spent time praying and consulting before accepting. The class of leadership we are erronously breeding here in Nigeria would at best steal the opportunity to move the nation  forward, do everything to prevent other more capable candidates, coming to emptying our treasuries and leaving coming generations to pay the bills. There is nothing to be emotional about finding correct leaderships if the company must progress. If Nigeria must advance then it is our collective duty to choose the right leadership each time.
Whether Nigeria has lost its golden opportunity to grow tall as a nation is unknown at this stage because she is getting deeper into the woods and into more darkness. Recently INEC, the national electoral body, announced it had 45 registered political parties. How many of these 45 political parties are visible, viable,  driven by ideological party principles and visions, or even functional? It is always a one – big – party at a time. Every politician in Nigeria since 1999 must have changed from one political party to others if they are still functioning. Some destroyed the cards that made they party members publicly in frustration and because they couldn't manage living multiple lives; APC in the day, CPC in the evening or PDP at midnight.
Another observation is where national leaders seek power for regional agotation. At the same time most states in Nigeria are hugely indebted to local banks or international organizations like the World Bank.  The Federal government of Nigeria should investigate to know how much these states owe, the terms of payment, duration of payments. These states that have not been able to pay their  workers, it would be recalled, had once been bailed out  and received Paris club money but yet they refused to pay workers. Because of poor level of leadership that lacks coordinators,  effective monitoring Nigerians are yet to enjoy the true dividends of democracy. The level of economic inequalities are widening, poverty level at extreme edges for most strata in the society. There is no way the present leadership can feel the low economic barometers prevailing because they are not part of the society. For example the president is sick and we are all not ashamed he went out of "national  hospital system" for treatment in UK; Colonial Master's home. Yet Buhari is one of the few frank and honest leaders. If you were able to attend any church gathering lately you would hear the entire congregation praying for Buhari. But ask the president to go to T B Joshua SCOAN the people would say, "Don't you know that President Buhari is a Muslim?". We are not very sincere, even with ourselves on personal or national issues.
The situation in the country as a result of lack of consistent and focused leadership is making lives unbearable for the Nigerian people and they are looking outward to greener pastures, just anything. Young Nigerians are trooping out irrespective of their level and type of professional training and qualifications. The very hands that could have built the national image,   the society and the economy are kept idle, humiliated and frustrated. The result is that millions of people have no adequate  shelter, food, water, poor quality public education, no health care facilities and living in darkness or powered by generators. I went to Kogi State capital Lokoja and noticed that the citizens have turned virtually all the  high places to prayer grounds, praying for their governor and the president for a change of heart. Only very few citizens can adequately finance their farming activities. Hence the multiple effects of unpaid workers' salaries and unmotivated citizens may include poor health cum low life expectancy, poor education. Kogi State is where public schools are closed all round the year, and famine in the offing.
Short URL: https://www.africanexaminer.com/?p=39605