Oshiomhole And Atiku In 'Verbal Shenanigans'
Articles/Opinion, Latest News
Sunday, November 16th, 2014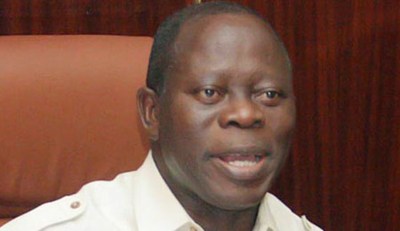 By Johnson Momodu
If the term 'verbal shenanigans' strikes you like the title of a made-in-a-hurry Nollywood home video packaged and sold as a "movie," it is probably because that is what the Comrade Governor of Edo State, Adams Oshiomhole, and his All Progressives Congress (APC) colleague, former Vice President Atiku Abubakar, are currently working on. Oshiomhole, while supposedly marking his sixth year as governor, took swipes at the Peoples Democratic Party (PDP) and President Goodluck Jonathan.
The essence of Oshiomhole's diatribe was that the Jonathan-led Federal Government has done only "one thing," namely the resurfacing of Ofosu-Benin road, in Edo State. If that was the entirety of the matter, there would be no "movie" to speak of as it would lack even the barest hint of a plot. What elevates Oshiomhole's recent rhetoric to the level of drama is that it is the exact opposite of what the Comrade Governor had to say about the PDP and President Jonathan just a few months ago.
It is a matter of public record that in March 2014, the same Oshiomhole commended President Jonathan for the completion of the Ukpoke irrigation project in Benin-City. Indeed, the Edo Governor was reported in the media to have said that President Jonathan was right for ensuring that the project was completed for the benefit of Edo people. He also said that he was in agreement with the President that one of the major challenges in the eradication of rural poverty was agriculture. In his words: "There is no better way to do it than through agriculture, and irrigation offers opportunity in this respect."
Oshiomhole also added, "That is the way it should be. We appreciate the President for working more consciously to move away from the culture of abandoned projects. Government after government starts new projects and they are not completed; another comes in and starts fresh one, in the end you have abandoned projects all over the place."
To further buttress his point about the importance of irrigation to agriculture, Oshiomhole noted that when people are not well informed they would not appreciate the prospects of the massive investment which the Federal Government was making on irrigation. Today the same Oshiomhole who made all these points have conveniently forgotten the Ukpoke irrigation project and turned around to say Jonathan has done only "one thing" in Edo State. This is verbal shenanigans, plain and simple.
Perhaps Jonathan should be thankful that Oshiomhole has grudgingly conceded that the President did "one thing" in Edo State. What if the Comrade Governor had decided to say that Jonathan did absolutely nothing? Who would have been able to compel Oshiomhole to remember the N4.4bn Edo/Delta Link Bridge which Vice President Namadi Sambo commissioned on behave of President Jonathan only this past October?
This is not an attempt to commence an exhaustive list of Federal Government projects in Edo State carried out under the Presidency of Goodluck Jonathan. It is merely to prove beyond reasonable doubt that Oshiomhole deliberately chose to indulge in verbal shenanigans when he made his statement about Jonathan doing only "one thing" for the good people of Edo State. If the Comrade Governor could so knowingly suppress a Federal project for which he commended the President, who is to say what other Federal projects he has also suppressed?
Not satisfied with indulging in his verbal shenanigans by himself, Oshiomhole, who once told a poor widow in the street to "go and die," only to turn around and use the helpless woman for an image-laundering tea-drinking stunt, invited other APC leaders to have their say at his Jonathan bashing party. Not too surprisingly, among those who showed up was Atiku Abubakar.
The former Vice President, who already has a history of verbal shenanigans of his own, joined Oshiomhole's party and took cheap shots at President Jonathan, all in an attempt to strengthen the overarching message of the event, which sought to portray the PDP and Jonathan as underachievers. For Atiku, a Johnny-Come-Lately to the APC, to join in this disingenuous crusade, nothing could be more hypocritical.
It is necessary to recall here that, after being thoroughly disgraced in the Action Congress of Nigeria (ACN), Atiku was most unstatesmanlike after running back to the PDP in a last ditch effort to clinch the presidential nomination ticket at the party's 2011 primaries. In a manner that made all other politicians and most Nigerians cringe with disgust, Atiku poured vituperation upon vituperation on the person of then Acting President Jonathan all in an attempt to sway the PDP faithful to his cause. However, Jonathan routed the returnee by polling 2736 votes against Atiku's 805 votes.
Barely a couple of years later, the same Atiku who had abused Jonathan to levels unheard of before then or ever since, went on record to praise Jonathan's administration. He said: "To the government's credit, an ambitious Almajiri education scheme has been put in place. This year, the Federal Government built and handed over tens of Almajiri Model Schools to state governments. As part of this scheme there is a commendable focus on girl-child education."
So, what are we to make of Oshiomhole's and Atiku's flip-flops? The only plausible explanation is that these fair-weather friends are starring in a Nollywood drama titled 'Verbal Shenanigans' and Nigerians know better than to accord them any seriousness.
Mr Momodu sent this piece from Benin City and can be reached through momodujohnson@gmail.com
Short URL: https://www.africanexaminer.com/?p=19635