PDP Waxing Stronger After Flushing Out Judases
Politics
Tuesday, April 22nd, 2014
By Oyewale Oyelola
Chairman of Peoples Democratic Party's Governors' Forum   and Akwa Ibom State Governor Godswill Akpabio at his first meeting with PDP National Working Committee described members of the party to the disciples of Jesus and vowed that all Judases in the party would be flushed out.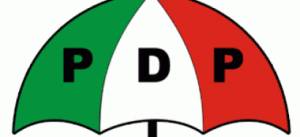 "What the PDP is trying to do now is to cleanse its house; to try to identify the ones they call Judases and say to them 'go out, the train is moving'. We will ask them not to remain standing otherwise we will crush them," Akpabio added.
Despite commendation of Akpabio comment by some PDP leaders and aggrieved PDP governors, the body language of presidency and PDP leadership seems to be tailored toward flushing out all traitors from the ruling party.
The PDP GF which Presidency describes as child of necessity to weaken the overbearing attitude of Chairman, Nigerian Governors' Forum, Governor Rotimi Amaechi of Rivers State. According to close presidency source, the PDP GF will enable PDP governors to speak with one voice in NGF and other national issues.
However, the outcome of May 201r NGF election proved the promoters of PDP Governors Forum wrong as Plateau State Governor, Jonah Jang and candidate of PDP for NGF chairmanship position lose to incumbent Chairman Rotimi Amaechi who polled 19votes while Jang polled 16votes. PDP as at May 2013 boasted of 23 governors.
Akpabio after failing to return Jonah Jang as NGF Chairman stormed out of NGF meeting with some PDP governors, Ondo state governor, Olusegun Mimiko who emerged as factional Vice Chairman and Anambra State governor, Peter Obi to address press conference endorsing Jang as new NGF Chairman. It would recalled the PDPGF chairman based his decision on resolution of Northern Governors Forum and PDP Governors Forum who endorsed Jonah Jang ahead of the election.
They later presented Jonah Jang to President Goodluck Jonathan and Bamakar Tukur led PDP National Working Committee as New NGF Chairman. Since then NGF has remain polarized as both Amaechi and Jang are claiming to be legitimate NGF chairman with two separate secretariat.
Tukur led PDP mastermind the dissolution of PDP Adamawa State exco, hurrily backed Obuah as Rivers State PDP Chairman after court pronouncement in bid hijack the party structure from Governor Amaechi.
Jonathan loyalists in South West hide under platform of Ogun State PDP through the court process rubbish the south west zonal congress that produce Prince Olagunsoye Oyinlola as PDP secretary. Although the Court of Appeal declared Oyinlola as authentic PDP secretary in November but Tukur led PDP NWC has since expelled Oyinlola, New PDP Chairman, Kawu Baraje and other notable NPDP members to stop Osun Ex-governor from returning to Wadata House as PDP Scribe.
It would recalled that former President, Alhaji Atiku Abubakar, G7 namely; Rivers state governor, Rotimi Amaechi, Niger State governor, Babangida Aliyu, Sokoto state governor, Aliyu Wammako, Jigawa state governor, Sule Lamido, Adamawa counterpart, Muritala Nyako,Kano State governor, Rabiu Kwankwaso and Kwara State governor, AbdulFatai Ahmed, former Acting PDP Chairman, Kawu Baraje who emerged as NPDP Chairman, Senator Bukola Saraki and other aggrieved PDP members workout of August 31, 2013 PDP Special convention to form New PDP, attributing their to lack of internal democracy under Tukur leadership.
Five governors out G7 sensing the lack of commitment of President Goodluck Jonathan and Bamanga Tukur to frustrate any true reconciliation after President postponed meeting scheduled Novemebr 22 and recent crackdown on NPDP member through the use of EFCC, Police and FCT authority to victimize the aggrieved PDP members joined All progressives Congress.
The governor are: Rotimi Amaechi, Abubukar Wammako, Muritala Nyako, AbdulFatai Ahmed and Rabiu Kwankwaso. The governors while addressing journalists said they joined APC after Nation-wide consultation and series of meeting with APC leaders in bid to move the nation forward.
Although, Niger State governor, Babangida Aliyu who double Chairman, Northern Governors Forum and Jigawa State governor, Sule Lamido refused to align with APC, noting that moving to other party will not solve PDP crisis. Insiders hinted that Aliyu refuser to join APC was not unconnected with his desire to select his successor and run for Senate in 2015. While Sule Lamido remain in the party to seek President attention to release his two sons standing trail for for money laundering.
The G5 defection according to political analysts would determine who wins the 2015 presidential election and it has settled the issue of automatic PDP presidential ticket for Jonathan.
The PDP and presidency are working towards reclaiming the affected states in 2015. President Jonathan recalled Nigeria Ambassador to China, Amb. Aminu Wali and appointed him Foreign Affairs Minister to weaken Kano state governor who is also nursing presidential ambition on the platform of APC.
While the PDP is using First Lady, Dame Patience Jonathan and supervising Minister for Education, Barrister Nelson Wike popularity in Rivers state to frustrate Governor Ameachi move to build strong political structure for APC ahead of 2015 elections. Presidency is put all logistics in place to ensure President Jonathan poll higher number of votes in the state, as he polled over 2million votes in 2011 presidential election.
In Kwara state, the popular Saraki family of Ilorin is no longer at peace as the two arrowhead of the family Senator Bukola Saraki and Senator Gbemisola Saraki are on war path over the control of Kwara state political landscape.
President Goodluck Jonathan reappointed Professor Wahab Oba as Chairman, Federal Character Commission and Senator Suleiman M. Ajadi has been appointed Special Adviser (National Assembly Matters) to President Goodluck Jonathan and dropped Bolaji Abdulahi, former Minister of sports due to his loyalty to Bukola Saraki. Reliable source in presidency disclosed that President Jonathan might appoint Gbemisola as Minister before May this year and later support her to confront his brother in Kwara Central Senatorial election in 2015.
Governor Muritala Nyako of Adamawa is facing strict opposition from Presidency over his comment on Boko haram crisis. The return of retired General Marwa to PDP would boost the chance of PDP in Adamawa state during next year general elections.
Battle for soul of Sokoto state would be tough as Governor Wammako is working to ensure APC clear all the elective position in the state during 2015 elections. Although the PDP are planning to reclaim the state and the defection of former governor of the state, Bafarawa to PDP is a moral booster while the assurance of Speaker, House of Representation Aminu Tambuwal not to leave PDP for APC serves as plus for ruling party.
The PDP has promised Tambuwal governorship ticket to keep him but some northern elites are working towards his emergence as APC presidential flagbearer in 2015.
The massive turnout of PDP supporters in affected states show PDP is still a popular among the people. Senate President, David Mark showing his delight for large turnout of crowd at unity rally in Kwara state boasted the PDP will win in state of harmony and other North central states. He thereby advised party faithful to accommodate those that decamped to APC when they return.
Short URL: https://www.africanexaminer.com/?p=10332