Political Temperatures Its Fears and Fever Raised Higher By GEJ Declaration
Articles/Opinion, Featured Contributors/Columnists, Latest News
Wednesday, November 12th, 2014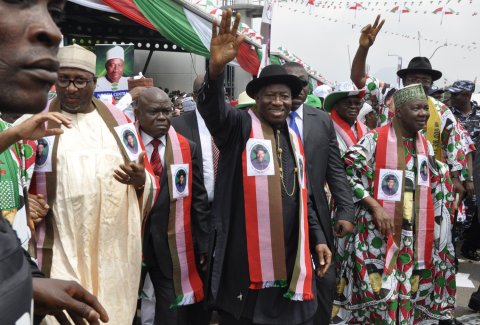 By Prof. R. A. Ipinyomi, University of Ilorin, Nigeria
Despite the unhidden and known fact that President Goodluck Ebele Jonathan (GEJ) of Nigeria would declare for a re-election in the 2015, when he finally declared for the same on Tuesday November 11 2014 it was a fever pitched event for residents of Abuja and its environs. It was an intimidating event for the residents of Abuja on Tuesday who had to spend long hours in traffic jams and confronting presidential security personnel whose only task was diverting motorists away from where GEJ declared to contest the 2015 election. We always argue that the police and security personnel should be people friendly, they are for the public before they are for the president, governor or who ever the wish to protect, but it appears they are part of the traffic jams this time. Every part of the Abuja metropolis and its satellites like Marraraba, Karu, even Gwagwalada, Kubwa or Zuba were not left out. It was still an unfortunate experience and a rude surprise package for motorists and the general public who had one or two things to do in Abuja. Of course the media were not left out including a commentator defending the president on Aljazeera network news.
The planners probably made their point, "Let everyone know that GEJ is declaring for are-election in 2015". We think we got that message long before now but business life must be protected, the ordinary people must be carried along, and all the electioneering and campaigns, either from PDP, APC or any other sources must be made people friendly henceforth. Let it be entertaining and lively otherwise you jump start a mess and violence in the hearts and minds of the people. The time of a declaration is a crucial part of the whole phenomenal and ought to have been well timed. Boko Haram was probably following GEJ and his political agenda by striking and killing many students less than 24 hours earlier, hoping to stop the declaration. Should the planners have hesitated thereafter? Were they mindful of the links and the social correlations of all these events? Politically a positive result can be obtained by a shift of a day or even a week and linking the reason with the insurgencies even when we may not be able to guarantee a hitch free day at anytime. It is now public and official knowledge that our president wants our votes to continue in office.
The oppositions, especially APC, have been expecting this declaration and it seems to us that they were still caught unaware or rather less prepared in response. Our constitution has been stretched on the issue of how many terms a candidate can be elected and less on how many times the candidate can take the oath for same office. Nigeria is not lacking in lawyers but rather lacking in common interpretation, seeking individual preferences and wishing to force the law to meet individual tastes. The hypothetical notion that a lawyer may successfully argue that Abuja is not the headquarters of Nigeria is not the same thing that Abuja is not the administrative headquarters of Nigeria. Our lawyers must see their profession as a great part of engineering "the Nigeria moral value system" which is grossly in doubt and lacking rather than financial pursuit and less academic pursuit.
I have always thought that GEJ could seek a re-election to the office he is occupying now and that has never been my headache. On the other hand Nigerian politicians have demonstrated their impatience and inability in allowing democracy to run its full course in every circumstance. This may have led to so many people running from one party to another and back again. Democracy can celebrate a candidate in funfairs and in its elegancy but can also disgrace a candidate and send them to the gallows of ruin perpetually. Hence if all things are equal Nigerians must be allowed to decide on each candidate because we do not have a single candidate that every Nigeria will like at the end of the day as its President. Nigeria's case in politics is dicey, confounded in ethno-religious thinking and less on objectivity and reality.
For those who are not living in Nigeria at the moment we will encourage them that while they are praying for us they should also realize that we are not all together in the war zone yet. We are not like Syria yet where a general election was also conducted in the middle on an intense and ongoing war. In Syria it is many wars within the big war with the fighters changing the direction of the guns now and then. The political tension here in Nigeria is very high and a creation of our politicians rather than the electorates. The Nigerian politicians are in the market hustling for goods they have little ideas how they get to the market. Hence they are in a "winner-takes-all" and combating in a 'do-or-die' in order to come home with the "enormous spoils of office". Their market seems to have no rule; even if it has no one is ready to follow the rule. This is the reason for all the unrests and insurgencies, just to grab the power and their perceived source of money making machine.
Just yesterday a colleague came to my office to narrate his ordeal with his daughter after GEJ declared for a re-election. It had been in the plan that this daughter and his boyfriend will wed in a holy matrimony sometime in April 2015. After the declaration the daughter went to his father last night that the wedding should be put forward to February 2015 because of the general election in Nigeria that may result into violence. The father said he had been looking for the money towards April and yet to get anything but only very hopeful still and therefore February should be out of their mind. I don't know how this story will end but that is just one event to let us to the mind of Nigerians generally. Find your way out of town until elections are over! This is a tall order for many of us and we should collectively reject it.
The additional information on the said wedding is the fact that some of us come from locality where each woman must be certificated as having been officially wedded otherwise she becomes a taboo and a ridicule amongst the women folks. In this community if you wake up in the morning, or you are about to commence a journey and it happens that the first person you meet on the road is an unwedded woman it is an omen of bad luck. You want to try the journey another day. So as far as this daughter coming from this community is concerned her wedding means all the world to her even if there will be no Nigeria for her to live in thereafter.
What we have described here is not fiction and a major representation of what bad political atmosphere means to major business decisions and programmes in Nigeria and other places suffering political instability and social violence. I am also of the school of thought that even if we advise President Jonathan not to seek a re-election the political atmosphere will by no means come down. It is better for Nigeria to allow GEJ to seek a re-election whether he wins or not. Nigerians must look for a peaceful solution and that solution is to allow democracy run itself out and we all abide by its outcomes. We wish Dr. Goodluck Ebele Jonathan a very good luck this time round. Nigeria is a complex society and requiring much more than carrying a few favourable states along with you on this long journey; if GEJ wins he will still have four additional years of war with Boko Haram and its faceless sponsors.
However, if GEJ is not allowed to seek a re-election Nigeria will fuel up faster than just merely pushing Boko Haram to three Lake Chad States. Please mark our word. The deed has been done and a sitting president was told to move aside by force of arms on pseudo religion and ethno grounds. That is the concept we must fight and defeat so that anyone else can rule Nigeria irrespective of their religious persuasion. Some quarters recently have been conversing for Muslim-Muslim, Muslim-Christian, Christian-Muslim, or Christian-Christian tickets to stress the same point in their own view. Boko Haram may have created a circumstance to solve this problem because some people have wrong notions either about themselves as individuals or their religions, all of these should not be part of ideal politicking.
Prof. R. A. Ipinyomi, ipinyomira@yahoo.co.uk or/and raipinyomi@unilorin.edu.ng
_______________________________
Support African Examiner's Free Journalism. By making a little donation, you are ensuring this site is free for all; you are also helping us to stay afloat and fulfill obligations to our reporters and other service providers: Thank you for your supports.
Send donations to:
AFRICAN EXAMINER LTD, 1016408743, UBA
AFRICAN EXAMINER LTD, 2028842299, First Bank
AFRICAN EXAMINER LTD, 1012873398, Zenith Bank

For Enquiries send text to: +234.809.111.3268, +1.443.904.1239
Short URL: https://www.africanexaminer.com/?p=19581