President, Governors Can't Fight Corruption If Corrupt -Ribadu, Akanbi
Featured, Latest News, News
Friday, March 14th, 2014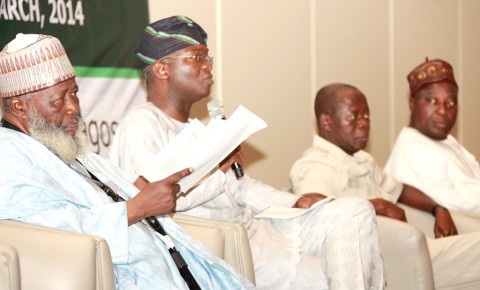 Ayo Balogun, Lagos
Former Chairman, Economic and Financial Crime Commission (EFCC), Mallam Nuhu Ribadu, Retired Justice of the Court of Appeal and former chairman, Independent and Corrupt Practice Commission (ICPC), Justice Muhammed Akanbi have told President Goodluck Jonathan and the Governors that they cannot fight corruption if they are corrupt themselves.
They spoke at the Nigeria Governors' Forum (NGF) Retreat held at the Eko Hotel and Suites, Lagos, Nigeria on Friday.
Ribadu, who spoke on the topic: "Building Systems and Institutions that Prevent Corruption," said the most important thing in successful corruption prevention and fighting was having honest implementers. As is often said, our laws may not be faulty, but operators of the system are wont to be.
"To fight corruption, the umpire has to be clean, honest and sincere. Dishonesty cannot fight dishonesty; if you are corrupt you cannot have successful anti-corruption campaign. Having a corrupt person pretending to fight corruption only create confusion."
According to Ribadu, "when there is transparency, there is less room for direct stealing. When the public officer is guided by codes of probity and accountability, there would be less cases of abuse of office and where there is due process in government business; there would be value for money and curb in sharp practices, where there are sanctions, there would be no impunity.
"Preventing or fighting corruption require your personal lead as political leaders and those at the pinnacle in your states. More than anything else, installing probity, transparency and honesty is through leading by example.
"Personally, I heave all this reasonability at the doorsteps of the executives because by my experience, I tend to believe that when the chief executive (the president or the governor) behaves well, the other arms of the government appear to follow suit. Improving all living condition of the people is another means of discouraging corruption. Performance on your part is therefore a tool to cut down theft of public funds."
He added that "when a public servant needs not to source for his own security, have his own water and electricity sources and save for the best of education and healthcare, the instinct to steal will drastically go down. But when he sees the money available and it is not used to better his condition and that of the rest of the citizenry, the urge to steal it becomes more intense.
"What is required of you for a system that prevent corruption are moral leadership, making the system corruption unfriendly, having laws that promote transparency and set the stage for effective sanction regime against defaulters."
Ribadu said all these steps required direct involvement of the governors, with the exception of punitive angle, which is actually a fraction of the work, saying it was pertinent to state here that this last leg of corruption prevention, which is often interpreted to be the major thing, is actually the last resort when the many checks along the line were defeated.
"The rhetoric for the independence of anticorruption agencies could be no more than empty talk if the actual offence is not made difficult to commit," he said.
Speaking, Akanbi said corruption could only be tackled if there was the political will from all governors to do so, stressing that until corruption was reduced to zero tolerance, the nation would not make progress, adding that men of integrity were need to fight corruption.
"Those behind corruption are very powerful people and have the money to defend themselves and unless we do something, we are in trouble. Whoever will head the EFCC and ICPC must be bold and courageous.
"You are governors and you can live by example. Make sure the law is applied. Handle those who are corrupt in a way that they will regret. If you are the chairman of anti-corruption body, you must be very committed. Corruption can be fought. Those appointed political leaders must not be cowards. If we can't stop corruption, we can reduce it," he said.
Dean, Faculty of Law, University of Lagos, Prof. Akin Oyebode lamented that the cankerworm of corruption had eaten deep into the social fabric of Nigeria so much so that some even opined "that let who is not guilty cast the first stone.However, if truth be told, not everyone has been tar-brushed by the infamy of corruption except we are to succumb to the fallacy of generalization.
"There are still some untainted souls in the Sodom and Gomorrah which contemporary Nigeria seems to have become. While it is no exaggeration to aver that corruption has corroded practically all facets of human endeavour, politics, the private sector, police, universities, even the church and mosque, it would be unscientific to ignore oases of propriety in the desert of infamous conduct and untoward practice."
He argued that some had opined that if Nigeria did not do all it could to stop corruption, then corruption would actually stop Nigeria, saying that "if we are all agreed that the high incidence of corruption in Nigeria was unacceptable, then the country should stop at nothing to clip the wings of unjust enrichment, inflated contract costs, transfer pricing, influence-peddling, nepotism and other ignoble acts of malfeasance which characterize corruption.
Oyebode emphasized that Nigeria did not suffer from a lack of laws against corruption, lamenting that despite all these laws, all these efforts seem to have come to naught on account of insincerity and lack of tenacity of purpose by the powers-that-be who flagrantly refuse to recognize that actions were much better than precepts.
"Undoubtedly, corruption has become a life-threatening virus within the polity which necessitates drastic action in order to save the patient from perdition. It is an unwarranted assault on the nation's integrity which needs to be fought to the hilt if Nigeria is to survive. While it continues to threaten national survival, no effort should be spared to bring it to heel. As they say, a drastic malaise warrants drastic remedy.
"Nigeria has enough laws and institutions to combat corruption. The architecture of the war against corruption seems adequate even if there might be the need for re-tooling here and there. What has been lacking hitherto is the requisite political will to fight the disease to a logical conclusion. A situation where anti-corruption agencies are denied the wherewithal to sustain the anti-corruption crusade smacks of a calculated attempt to disembowel and incapacitate them. Accordingly, what is urgently called for is rejuvenation and empowerment of existing anti-corruption agencies as well as encouragement of all those enlisted in the struggle to contain the vermin," he said.
He stated that those in the frontline of the battle to exterminate corruption from the nation's landscape needed to be sufficiently motivated so as to wage the war to a successful end, saying that as patriotic and committed men and women, they could be trusted not to brook any act of malfeasance and untoward practice.
"All that is required to save this country from the corrosion of unconscionable acts is total commitment of the powers-that-be to the fight against corruption by way of requisite body language and full co-operation with the agencies established to carry out the war against corruption," he stated.
Short URL: https://www.africanexaminer.com/?p=9129