Lagos RRS Apprehends Manager of Oando Filling Station Over Hoarding, Fuel Rackets
Featured, Latest News, News
Tuesday, April 5th, 2016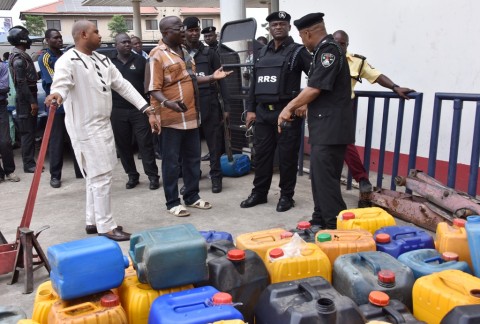 By Ayo Balogun, Lagos
Operatives of the Lagos State Rapid Response Squad (RRS) have arrested the Manager of Oando Filling Station located along Lagos-Ibadan Expressway, Mr. Rasaq Fakorede, for selling petrol above pump price of N180 and into Jerry cans.
This is in continuation of efforts to ensure that the premium motor spirit (PMS) popularly called Petroleum is not sold at exorbitant price in the State.
The information at the disposals of the police has it that the petrol station was selling fuel to hawkers who brought jerry cans to the station neglecting motorists.
The RRS officers bust the station and caught the station's attendants selling fuel to the racketers while many other car users only lined up without any hope of buying fuel at the station.
RRS sources informed that the petrol station was dispensing the fuel to the public at the exorbitant price of N180 which was far-fetched from the regulated pump price of N86.50k.
The investigation further revealed that the station as at the time of the visit still has over 5,000 litres in its sump still, refused to sell to the motorists.
Aside this, about 30 jerry cans, some of which were filled with PMS were kept inside inner offices waiting to be collected by their owners, and were collected from the manager.
As a result of this, the station's manager and the accountant, Ibrahim Adewale, were both arrested for hoarding fuel meant to be sold to members of the public.
Speaking with one of the motorists, who spoke on condition of anonymity, he said "we have been on queue since 4:00 a.m., this petrol station has refused to sell since that time. All they have been selling are jerry cans. Imagine them selling 25 litres at N7, 000. They are saboteur to the development of this country.
"Imagine, this is my third time of lining up to queue for the fuel but at every time I come here, they never attended to those of us who came here with our cars even including commercial drivers. They only sell fuel into jerry cans".
In his response, the arrested manager pleaded that he be pardoned and that he would organise his boys to start selling the fuel to the vehicles on queue."
However, while the RRS was effecting his arrest, the Department of Petroleum Resources Taskforce arrived and confirmed that the station still has over $,000 litres of fuel in its reserves.
The Manager and the station's head of account have been handed over to the Isheri Divisional Police Station for transfer to the Lagos State Police Command Headquarters in Ikeja.
Short URL: https://www.africanexaminer.com/?p=31573