OPINION: The Courage to Stand Up, By Owei Lakemfa
Articles/Opinion, Featured Contributors/Columnists, Latest News, News
Tuesday, May 9th, 2017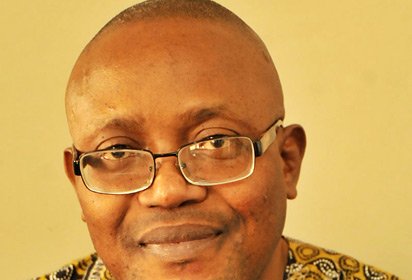 (AFRICAN EXAMINER) – In its first thirty nine years as an independent country , military dictators ruled Nigeria for twenty nine years. They were years when the country was almost drowned in rivers of blood including a three-year Civil War which claimed over two million lives.  Professionalism and esprit de corps  departed the military to the extent that as he departed in 1993, then  Chief of Army Staff, Lieutenant  General Salihu Ibrahim characterized  it as "an Army of anything goes" At a point, one of the bloody  military regimes, was proud to  release the  photograph of a serving Army General kneeling  to beg a Major. It also  screened before audiences, a video in which a serving three star Army General who was also the  Deputy Head of State, was shown kneeling down, weeping and begging the Head of State.
Those were years when the military engaged in periodic bloodbath in coups, counter coups, attempted coups and phantom coups.  Nobody knows how many were killed in those misadventures when greed and corruption became the directive principles of state. Many were unaccounted for and in some instances, the state did not bother to take statistics. In one case which I followed in April 1990,  hundreds of people including soldiers and civilians were taken to crowded detention centres, particularly the Directorate of Military Intelligence (DMI) in Apapa, Lagos with no statistics taken either of those brought there alive or those carried  out dead.
Official statistics show that in the aborted coup of January 15, 1966, eight  senior Army officers were killed including three generals. It was also in that coup, Prime Minister Abubakar Tafawa-Balewa, Premiers Samuel Ladoke Akintola and Ahmadu Bello, and Finance Minister,  Festus Okotie-Eboh died.  Six months later, there were mass executions in various barracks while Head of State,  Major  General J.T. Aguiyi-Ironsi   and Military Governor of the then Western  Region, Lieutenant Colonel Francis Adekunle Fajuyi were beaten and executed. The February, 1976 aborted coup led by Lieutenant Colonel  Bukar Dimka, saw the assassination of Head of State, General Murtala Mohammed and the subsequent execution of 39 persons including Defence Minister, Major General I.D. Bisalla and former Governor Joseph Gomwalk. Twenty four of the executed were from the rank of Army Captain and above.
A planned coup was allegedly uncovered in 1986, for this, ten senior military officers including former Minister, Major General Mamman Vatsa, were  executed.
Then on April 22, 1990 a bloody attempted coup occurred, many were killed, and an enraged military dictatorship, like a wounded lion, went on rampage. I was a journalist, and for us in that endangered profession, the aftermath of that attempted coup, portended a bloodbath as nineteen journalists including editors were seized and taken to the DMI  where records of detainees were not available. If the lives of the media workers were to be saved, it was a race against time; for those of us who were free, it was a time that demanded  the courage to stand up to a furious, bloodied lion seeking revenge.
A day after the attempted coup, Mr. Tolu Olarenwaju, a journalist with the Voice of Nigeria (VON) and a colleague were seized. The next day, Military Intelligence officers led by Lieutenant T. A. E. Akinlawon went to the premises of the Concord Newspaper Group and seized Onoise Osunbor a journalist with African Concord magazine. An attempt to take him  the day before was resisted by the newspaper which demanded  an arrest  warrant. This time, they returned with a letter signed by Colonel Ishaya Bamaiyi,  the then Commander of the 9 Mechanised Brigade. This was to be the only evidence that Osunbor was in the regime's custody as he disappeared in the crowd of  undocumented soldiers being interrogated.
The day after, two drivers with the Champion Newspapers, Emannuel Shodeinde and A. Sunday, went to the Federal Radio Corporation to deliver newspapers, and were seized by soldiers.
On Wednesday, April 25, 1990 Military Intelligence visited the  Vanguard Newspapers and left with then Deputy Editor, Chris Okojie. He was  released next day. However when he was  re-arrested on April 29, he simply disappeared into the gulag.
Mr. Chris Mammah was Deputy Editor of Punch Newspapers. On  April 27, the regime  came for him and he disappeared into the labyrinth of the security system.  The next day, Mr. Bassey Ekpo Bassey, former Deputy President of the Nigeria Union of Journalists (NUJ)  and ex-Chairman of the Calabar Municipal Council went to the Inspector General of Police to complain that policemen were harassing his wife. It turned out that he was the one the security was interested in, not his wife. He was taken to an unknown destination.
On April 29, security men returned to the Punch Newspapers, to shut it down. The next day, the Deputy General Manager of the News Agency of Nigeria (NAN) Mr. Willie Bozimo was abducted at a mechanic workshop. On May 3, Mr. Banji Ogundele, Editor of Sunday  News  was detained. That same day, the Chief Press Secretary to the President, Chief Duro Onabule expelled Newswatch magazine Correspondent, Mr. Aniete Usen from the State House. His offence was that  the magazine published the speech of Major Gideon Orkar, leader of the attempted coup. The next day, veteran journalist and former elected Governor Lateef Jakande was detained and his three publications, the Daily News, Sunday News and Lagos News, shutdown. When he was released, with Mr. Ogundele, his media was not reopened. At the Kwara Radio, the General Manager, Mr. Rahman Kolawole and Programme Manager, Mr. Kola Olota  were suspended over the attempted coup. On May 4, the Deputy Managing Director of the Anambra Broadcasting Service (ABS) Mr. Michael Ejiofor, the Chief Engineer, Mr.Emmanuel Osakwe and the Technical Assistant, Mr. Theophilus  Osobu were  seized  by security agents as were Messrs. Colins Okonkwo and Ifeanyi Okoma, both of   Radio Nigeria.
Although the NUJ National  and Lagos State Secretariats  issued  strong protest statements against the indiscriminate arrest of citizens especially journalists,  many of us were convinced that would not save our colleagues; direct action was needed.  Some of us including then NUJ Lagos State Chairman,  late Ladi Lawal and  its Secretary, Mr. Kayode Komolafe (Now Deputy Managing Director of THISDAY Newspapers)  decided to head for Dodan Barracks, the seat of the Government. We approached Chief Onabule who told us that what was going on was a pure military action. Rather than give up, we  went  to the Chief Press Secretary to the  Vice President, Mr. Yusuf Mamman  (Later, Ambassador to Spain)  Unlike the former, Yusuf was receptive. He  said that we were embarking on a dangerous mission but encouraged us  to press on as the safety  of the detained journalists might depend on our efforts. We knew we had to stand up to the regime.
Short URL: https://www.africanexaminer.com/?p=39181