Water Crisis: Global Summit Harps On Political Will, Sufficient Investments
African News, Featured, Latest News, News, News Across Nigeria, News From The State
Sunday, August 29th, 2021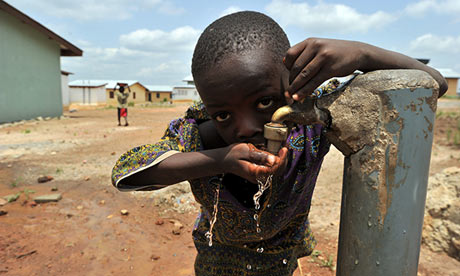 (AFRICAN EXAMINER) – Stakeholders and experts at the just concluded 2021 World Water Week organized by Stockholm International Water Institute (SIWI), have insisted that it will not be feasible to fix water crisis and climate change globally without the political will and sufficient investments from the international community.
This was the verdict of participants at the world's leading water event which was held from 23rd to 27th of August. The event took place against a dramatic backdrop of unprecedented climate-induced disasters in many parts of the world, enhancing the importance of the Week's theme, "Building Resilience Faster".
The Week's over 400 sessions, co-created with leading international organizations, demonstrated a number of solutions to for example water scarcity, the climate crisis and poverty.
"We have many solutions to fix the water crisis and tackle climate change, but we need political will and sufficient investments", the participants said. This is what the conference called on the international community to activate in order to forge ahead.
Moreover, the results will now be used locally by the 13,000 participants from 188 countries but also fed into other global processes such as the United Nations' upcoming High-level events on food and energy and the Climate Summit COP26 in November.
In her presentation at the Closing plenary, Associate Administrator at the United Nations Development Programme (UNDP), Usha Rao-Monari said events such as the World Water Week, as well as the High-Level Dialogue on Energy and the Food Systems Summit later in September, provide an historic opportunity to shine a light on the much-needed energy, water and food revolution so that "we can secure a safer future for all".
These transformations, according to her, are absolutely necessary but only possible to achieve through improved management of water.
Similarly, Cate Lamb, Water Lead of the United Kingdom (UK) High-Level Champion ahead of COP26, emphasized the role of water for effective climate action, putting the planet on a path to zero carbon emissions.
"At COP26, we want more countries to prioritize adaptation and translate their risks into resilient water investment", she said. She also stressed the importance of protecting wetlands and forests, reducing energy use, and tackling poor sanitation and waste treatment.
In her remarks, Sandra Postel, a recipient of the world's most prestigious water award the Stockholm Water Prize, which was presented by the Swedish monarch, His Majesty King Carl XVI Gustaf during World Water Week, also harped on the role of water in addressing major global challenges.
"We don't have time to solve the water, climate, and biodiversity crisis piecemeal and one at a time", she added.
Speaking in a similar vein, a leading groundwater expert and the recipient of Stockholm Water Prize 2020, Dr John Cherry applauded the focus on valuing water and especially groundwater.
He warned that he world is headed for a catastrophic water crisis unless we start taking issues relating to water into account, adding that the problems are however possible to solve.
"Many solutions have been tried out somewhere around the world. At this amazing turning point in human history, we have all the means to solve the big water problems and now it is just a matter of the public learning about them and putting pressure on the politicians", he further explained.
Director of World Water Week, Henrika Thomasson expressed her satisfaction over this year's event, describing it as a resounding success.
"We are of course very pleased to have been able to welcome a record number of participants from a record number of countries, offering them more sessions than ever before. But the real measurement of success is the impact we are making, all the solutions discussed at World Water Week that will now be implemented around the world. It is impossible to overestimate the importance of water in building a more resilient future", she stressed.
Executive Director of SIWI, the organizers of the event, Torgny Holmgren promised that the 2022 edition of the World Water Week will continue to provide concrete solutions to major global challenges.
"Next year's World Water Week will have a special focus on valuing water, which I believe holds the key to solving the looming water crisis and tackle climate change. If we continue to underestimate the value of water, we will fail to manage it properly. We will look especially at the invisible water, like groundwater, that we might not be aware of but that is critical to our survival", he further stated.
Short URL: https://www.africanexaminer.com/?p=67206