Zimbabwe's Poll: Soldiers Open Fire On Rampaging Opposition
Latest News, South Africa, Southern Africa
Thursday, August 2nd, 2018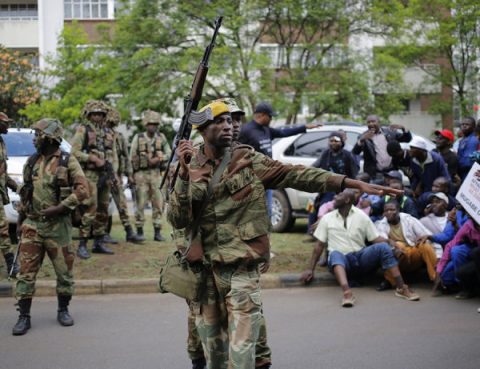 (AFRICAN EXAMINER) – Ahead of the announcement of the result, one person has been feared dead as troops Wednesday opened fire in Zimbabwe's capital Harare, after opposition supporters went on the rampage.
The opposition MDC Alliance alleges that the ruling Zanu-PF party has rigged Monday's presidential and parliamentary votes.
Parliamentary results show Zanu-PF heading for a big majority, while the presidential result has yet to be declared.
European Union poll monitors have expressed concern over the length of time it is taking to declare the result.
The incumbent President Emmerson Mnangagwa in a tweet has called for patience and calm following the first elections since long-serving ruler Robert Mugabe was ousted from power in last November.
The MDC Alliance is claiming its Presidential candidate, Nelson Chamisa, has won Monday's election.
The Zimbabwe Electoral Commission (ZEC) has announced 122 seats for Zanu-PF so far, and 53 for MDC Alliance. There are 210 seats in the National Assembly's lower house.
Over five million people were registered to vote, and there was about 70 per cent for the vote.
Short URL: https://www.africanexaminer.com/?p=45219