ANALYSIS: Obanikoro Unwholesome U-Turn, A Bad Omen For 2015 Polls
Featured, Featured Contributors/Columnists, Latest News, National Conference 2014
Wednesday, December 24th, 2014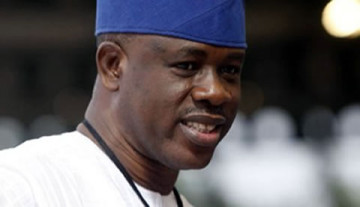 By Tajudeen Balogun, Head, African Examiner, Nigeria Bureau
The wolf cries have been made, plus assaults and abuses at one another; torrent allegations have been made, as well as the counters and now, the last of the two weeks tirades have been heard, issues involved dead, shrouded, buried and rested forever!
Certainly, the rest is now history as the 'alarmist' and chief accuser, Musiliu Obanikoro on Tuesday, December 23, 2014 made a dramatic but very predictable reverse on allegation of foul play on the PDP governorship primary contest, in which he was an aspirant.
In case you wish to refresh your memory; accusation raised by Obanikoro was the inclusion of (58 or 61) 'ghost' votes as according to him, a total of 806 delegates were cleared to vote, but the total valid votes cast, strangely jumped up to 867, when the Primary Chairman declared the final result.
Still, the winner, Jimi Agbaje and a Chieftain of the party, Chief Olabode George about 48 hours later, countered "Koro", when they variously offered explanations that the difference were Ad Hoc and Statutory delegates drawn from four local government (Alimoso, Ikeja, Ojo and Mushin) areas of the state. Both Agbaje and Chief George said Obanikoro and other aspirants and their agents were in the know of this. Throughout of his two weeks rambling in Lagos and probably Abuja, Obanikoro never availed a single and direct response to this counter (to my knowledge).
Note please, his co-losers (two or three of them?) were not joined in the cheap public outcry, started by Mr "Ibo" as otherwise addressed. He was alone; fought and resolved his battle alone, of course for reasons known to him; open and cleared to the public as well. More on this later. And in case if you care to know, the 'saint' and robbed' aspirant polled 343 votes as against the winner, Agbaje who recorded 432 votes to be returned the winner.
Mr. Obanikoro, whatever you might have adduced as your reason (s) for the nefarious u-turn you made, let it be known to you that you failed woefully and again disappointed a whole lot of followers of your unimpressive political antecedents.
Before details explanation to that, readers should please search and refer to my sub piece titled: (Lagos PDP Guber Primary: Koro's Allegation and Agbaje's Counter) of the main Analysis, dated Friday, December 12, 2014. In it, I have thrown the challenge at Koro and his overall superior not to play politics with his allegation, most especially as he had dimmed it fit to declare publicly that the exercise was bungled therefore threatened to take a legal action, which he did. I warned in the piece that handling the allegation with a kid glove would portend grievous implications for himself, his boss and his party in general.
Now the real issue and questions. If a popular and focused candidate presents himself for an election and was truly shortchanged as accused by Koro, will he hurriedly chicken out the way this aspirant did? If at all, he was rigged out, why did the winner and another party's leader counter explanation and defences did not attract a rebuttal from the same accuser before approaching the court? Again, why the shootings, violence and public disturbance in Oregun vicinity the very day of the primary? Well, let me quickly add here that the 'gentleman'? has denied and declared his hands and as well as his supporters were clean over the clash, of course, no would admit influencing violence. That itself is one relevant and serious issue in the whole saga.
By his latest action, Koro has confirmed that his alarm was false and that he was all out to make the usual noise and troubles he is mostly reputed in a bid to gain public sympathy, unfortunately this time at his party and its leaders' peril. I know the ruling PDP will come out to say it is the family affairs, so non – member should mind their own deals, indeed, a dirty and stinking affair.
Koro's expected reverse is yet another confirmation that he is a 'political reactionary'; always very desperate and a bad loser. He displayed all of these traits in the build up to his emergence as the PDP governorship flag bearer in 2007 general elections. Then, his declaration as the winner was trailed with accusations of many wrongdoings. He was equally the first to declare the final result which produced the incumbent state Governor, Babatunde Fashola (SAN) during his first term that the exercise was fraught with many blunders. Agbaje was also a contestant then, he never joined him and Obanikoro was again alone in his misleading vituperations.
If Obanikoro ever cares to listen or believes it, his action in the last two weeks has failed to portray him as a truly repentant and refined politician, with values for decorum and decency, as he recently struggled to promote; or how do you explain a situation where all the party's stalwarts maintained one position against a lone voice on the self-seeking public accusation?
But is this political character really popular to earn a free and credible election exercise? Issues surrounding his political career will provide adequate answers to the poser. And I am very sure the personality in question, is also faced with the reality of his low political worth.
So, in this personal political pursuit, Koro has again and eventually achieved his ultimate goal and that is about the Abuja intervention. He has through his blabbing gained his 'Oga' attention – who had invited and promised him of another 'jumbo' Federal appointment, provided he stopped his calculated ranting, discontinued his litigation, worked with his party's candidate to win and deliver Lagos State. Well wishes to them.
Still on the Abuja dimension, as stated in the piece referred, President Jonathan clearly in this matter gave no dam whether his 'boy' foul play allegation was true or false. However, what about if the former was the case? It means the President himself, who had been pledging to the entire world, a credible election come 2015, has in earnest begun to act in the contrary?
If Koro's recent outburst was false, yet President Jonathan still finds him relevant in his scheming, it signifies the political corruption which he (Koro) could easily be hanged, is never an issue to the President, who has just declared a fresh and holistic war against the social evil in all facets in Nigeria.
Whatever political values or relevance, President Jonathan calculates or thinks Obanikoro has, he should please be informed that the reports had that the political leaders in the State – Chief George and Senator Adeseye Ogunlewe were not in attendance while he, Koro made public his litigation back out. Whereas, it could have made a good political statement and sent strong signals were the two personalities attended.
This again casts doubt if Obanikoro will be able to work harmoniously and peacefully with those ordinarily supposed to dictate the pace and directions of affairs in the State chapter of the party. And he stated at the declaration briefing that he had to back out because the big battle ahead was needed to be fought and won together. Didn't he realize this before the Abuja boss prevailed on him? Perhaps, he might also be taking his independent orders from the same source, but where will that take him, his boss and their party? Confusion which brakes bone, isn't that the case?
Finally, the Lagos PDP governorship primary contest; the Koro 'masterminded' rigging drama; his purposeful legal action; the Abuja input and final Lagos 'burial' ceremony – 'no more war' declaration were not only clear affirmation of the subtle infamous advances of the arrowhead of the tussle, but a window and most significantly, of certain abnormalities and shoddiness likely to play out in the next year general polls. So, the earlier the public keeps vigil of every step of the political parties, the better.
E-Mail: tjaysuccess10@gmail.com; Facebook: Tajudeen Balogun     
Short URL: https://www.africanexaminer.com/?p=21011