Between New Emir Sanusi's Frankness and Timidity of Igbo Leaders
Articles/Opinion, Latest News
Monday, June 9th, 2014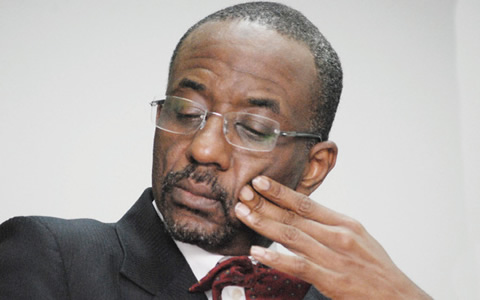 By Obinna Akukwe
The new Emir of Kano, SANUSI Lamido Sanusi had always displayed exceptional frankness in the defense of his people in contrast to Igbo leaders who show extreme timidity when it comes to defending Igbo interests. Below is a write up I penned in April 2012, widely published and drawing flaks from most of the personalities mentioned, including Sanusi's news hounds. The intention of refreshing it is not to malign any Igbo personality, some of whom have displayed rare courage in recent times, rather to draw an analysis between the apologetic stance of Igbo public servants and Sanusi's bold defense of his people. Igbos made the most noise about national conference and yet the outcome so far is a great disaster for us all . I never wrote anything about the conference because I knew that a fundamental flaw existed in the composition of Igbo delegates and the breeze have exposed the fowl buttocks.
Truly Igbos need people like Sanusi to rally the appropriate local and international attention to the systematic genocide against a people and their economic fortune as Sanusi did for the north. By Sanusi's election the north is putting their house in order. We should do likewise in Igbo land and STOP blaming others for our planlessness. Congratulations Emir Sanusi Lamido Sanusi- may you continue your reformist agenda into your new position.
Read article below
Sanusi, Ohanaeze and Timidity of Igbo Public Servants
Written by Obinna Akukwe (April 2012)
Sanusi Lamido Sanusi, the Dan Maje of Kano has become the most controversial Governor of Central Bank of Nigeria. This grandson of the deposed Emir of Kano was reported to be among the masterminds of the 1994 Kano riot in which Gideon Akaluka was beheaded and thousands of Igbos slaughtered like fowl on the unsubstantiated allegation that Akaluka desecrated the Koran. He was also suspected to have met with Osama Bin Laden during the period he was in Sudan where he obtained a degree in Sharia and Islamic studies from African International University in 1997.
Sanusi, through the help of close family friend, Dr Umaru Abdul Mutallab, former Chairman of First Bank for close to ten years and father of the Christmas shoe bomber, joined the board of First Bank as an executive director in charge of Risk Management in 2005, and later became the CEO of the bank in 2009.
During Sanusi's tenure as CEO of First Bank, he exhibited a level of fiscal discipline and helped restructure bad loans for debtors in a manner beneficial to the bank. He reduced incidences of sharp practices within First Bank which pitched him in conflict with MD'S of other Banks who derided his toga of a structural reformer. Sanusi reportedly instituted some level of sanity in the corporate governance of the bank and ensured effective risk management strategy.
Sanusi was recommended for the Governorship of Central Bank when the northern oligarchy convinced late president Yaradua that the South cannot control both the banks and the regulatory body at the same time. Sanusi, being a risk management expert, understood all the manipulations of accounting books to produce a determined favourable financial statement and cash flow statements used to hoodwink shareholders, investors and evade regulatory scrutiny. He equally understood the negative impact of massive unsecured loans towards liquidity management in the banking system. Sanusi took the banking industry by storm, by the time he finished the first stanza of his own transformational agenda, a list of monarchical bank MD'S were sent to their villages while others became perennial customers of the EFCC, Nigeria's anti graft body.
Sanusi's introduction of Islamic Banking has brought him in conflict with the majority of Christians and Southerners of Nigeria who are suspicious of his intentions. His sympathy for Boko Haram and his position that poverty was responsible for the bloodletting drew flaks from informed sources who believe that Sanusi is deliberately distorting facts to suit the north. When Sanusi donated the sum of N100 million naira of CBN money to his home state of Kano in the aftermath of the dastardly Kano Boko Haram attacks, he drew a lot of criticism from Christians, Southerners and other well meaning Nigerians who believe that Sanusi should have been fair enough to extend the same largesse to other non muslim states.
Ohaneze Ndigbo criticised Sanusi for the selective donation. According to Ohaneze publicity secretary, Ralph Ndigwe, ''We want Sanusi to tell us what he has done for the hundreds of Igbos who were victims of Boko Haram attacks in various parts of the north'' The criticisms by Ohaneze Ndigbo is reasonably to some extent, but inadequate to redress the constant marginalization of Ndigbo. The fact is that Sanusi dared where his colleagues of Igbo extraction trembled. Sanusi, as CBN helmsman, is loquaciously protecting his people with his influence, position and power. He has succeeded in convincing the Europe and the United States of America with his theory of poverty being responsible for Boko Haram terrorism. He has also succeeded in drawing the attention of the entire world to the fact that Akwa Ibom State gets more federal allocation than all the six states of North East put together. How culpable is Sanusi of bias. Sanusi is guilty of bias while fellow public servants of Igbo extraction are guilty of indifference, petty jealousy and timidity in matters relating to their people.
Andy Uba was presidential aide and the most influential person in Olusegun Obasanjo's cabinet for close to eight years and yet there is no single project that was cited in Igboland as a result of his influence. The Niger Bridge could not get any federal allocation, Onitsha Seaport and Oba Airport couldn't get federal attention. Enugu-Onitsha expressway was in a deplorable state of disrepair while some other federal roads were getting attention in other parts of the country especially the north. The only federal presence in Anambra State was the security forces who massacred thousands of people at Onitsha while claiming to be looking for MASSOB members.
Chukwuma Soludo was Governor of Central Bank; he discharged his duties professionally for Nigeria but there is no CBN policy of his that is beneficial to the commerce and cottage industry disposition of his Igbo kinsmen. He probably propagated Igbo cause by changing his name from Charles to Chukwuma.
Ngozi Okonjo-Iweala served Obasanjo and Nigeria to the best of her professional ability and she was another influential cabinet member yet she did nothing to draw the attention of the federal government to the fact that Delta Igbos is the most marginalized in Nigeria. There is no fiscal policy of hers that was favourable to the Igbo race.
Ojo Maduekwe was influential throughout Obasanjo tenure and yet he was never known to have defended any Igbo cause. Oby Ezekwesili was another influential figure during the Obasanjo era and yet none of her policies was of assistance to the Igbo traders and businessmen. While in office it was a taboo to speak Igbo to these women and most of their male counterparts while their colleagues from the north and south west regale in using their native tongue as second official languages in their respective government offices.
When the presidency decided to replace Ringim as the IG of police, they settled for Azubuko Udah, the DIG Admininistration, the most senior public official of Igbo extraction in Jonathan's cabinet brought a strong counter recommendation in his reply memo to the president which rubbished both Ivy Okoronkwo, 2nd in Command and Azubuko Udah, 3rd in command. The attempt by Elder statesman Edwin Clarke to convince the president to follow seniority and appoint Udah was shot down by his fellow Igbo and former church member. Anyim Pius Anyim, Ike Ekweremmadu and Emeka Ihedioha are senior Igbo public servants in the Jonathan presidency and they have considerable measure of influence. They should remember the South East now that budgetary cake is being shared because nobody knows the fate of Nigeria tomorrow.
Sanusi is implementing policies to help his people especially the masses through his position on revenue allocation, Boko Haram, appointments and donations. What are Igbo public officers doing? They are playing safe in order not to stir the hornets' nest. They want to be in the good books of everybody in the North, West and South- South. These Igbo public servants should not hesitate to constantly draw the attention of the entire world to the lack of federal presence in Igbo land. They should also donate funds to victims of injustice and Boko Haram attacks from the South East. President Jonathan is channelling over 40 percent of all federal allocations to the Niger Delta region with about 15% of it going to Bayelsa State. He is also ensuring that ex- militants are given adequate professional training by allocating massive funds to the Amnesty Programme. He has handed over Nigeria's waterways to former militant Tompolo. His people are enjoying unprecedented government patronage. This suggests that Nigerian public officials constantly use state privileges to enhance the progress of their regions. This is not so for Igbo public servants, they are more Nigerian than Nigerians yet the same establishment views them with suspicion.
Igbo public servants should wake up from civil war hangover. The war is over and the position of Biafrans for which over three million people lost their lives is now being revisited by other ethnic nationalities who sold the Igbos during the war. Therefore, instead of focusing on Sanusi, they should focus on themselves and use their offices to redress the constant marginalization and humiliation of Ndigbo in the scheme of affairs of Nigeria.
Obinna Akukwe
profetobinna2@yahoo.com
Short URL: https://www.africanexaminer.com/?p=12291