Dakuku Peterside and the Task of Repositioning NIMASA
Articles/Opinion, Celebrity Stories, Featured, Latest News
Monday, May 23rd, 2016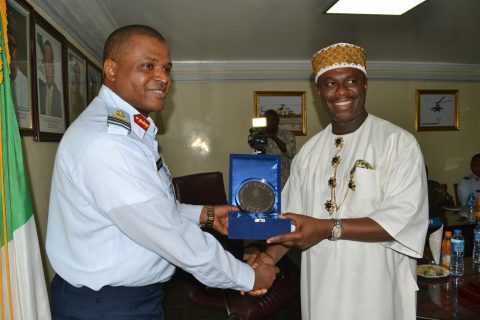 Oyewale Oyelola
The Federal Government in 2006 established Nigerian Maritime Administration and Safety Agency (NIMASA) with main responsibility of regulating the Maritime industry in Nigeria.
NIMASA Act 2007 empowers the agency to oversee Maritime Safety Seafarers Standards and Security, Maritime Labour, Shipping Regulation, Promotion of Commercial Shipping and Cobatage activities, Pollution Prevention and Control in the Nigeria.
Without mincing words, the establishment of NIMASA by former President Umar Yar'adua aimed at regulating Maritime industry in-line with international best practices, thereby generating revenue for Federal Government.
However, the agency under its immediate former Director General, Patrick Akpobolokemi outsources core duties and allegedly mismanaged the funds generated by NIMASA.
The Minister of Transportation, Rotimi Amaechi in January 2016 scolded the agency for not performing its responsibilities and failure to remit N63billion generated in 2015 to Treasury Single Account in compliance with President Muhammadu Buhari's directive.
Amaechi said: "Currently, the way NIMASA is, if you look at it very well, it was worse in the last administration. It was as if it was established just for the purpose of collecting money and nothing more. What we need to do is to ensure that NIMASA discharges its core responsibilities.
"If NIMASA outsources its core responsibility, then it has no business existing. If it is just to collect money from individuals, anybody can do that. We can hire a tax collector to collect money from maritime operators on behalf of Federal Ministry of transport.
"So, it is either NIMASA sits up and carries out its own responsibility or we come to the National Assembly to repeal the Act setting it up and allow the department of marine security in the ministry of transportation to discharge the responsibility currently being discharged by NIMASA."
With appointment of Dakuku Peterside as the Director General of Nigerian Maritime administration and Safety Agency (NIMASA) for a four-year term, agency will definitely perform its responsibilities as contained in NIMASA Act 2007 and work with Minister of Transport to ensure safety of Nigerian Maritime space.
Dakuku Peterside's knowledge of business administration, project management and public policy would help him pilot the affairs of 10-years agency to fulfil their mandate by operating according to international standard and best practices.
Peterside upon resumption of duty ordered NIMASA to take over more than 20 of its vessels in the custody of Global West Vessel Services. Global West Vessel Service, which handles maritime security issues for NIMASA has Government Ekpemupolo, also known as Tompolo, as one of its major shareholders.
The energetic Director General of the agency during his meeting with senior management staff at the NIMASA Head Office in Apapa, Lagos solicited the cooperation of the staff to reposition the agency for greater productivity.
The Opobo born politician must harness his longtime cordial working relationship with Rotimi Amaechi to bring necessary reform and strengthen NIMASA to operate to its full potential.
Short URL: https://www.africanexaminer.com/?p=32928