Editorial Commentary: Nigeria; A Blessed Nation With Discomfort People
Articles/Opinion, Featured Contributors/Columnists, Latest News
Friday, August 1st, 2014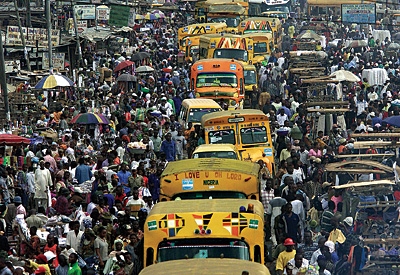 By Tajudeen Balogun
Nigeria is a big country with people of diverse ethnic and religion background. These to a large extent, determine its complexity as well as the citizenry. No doubt, Nigerians are diligent, brilliant, productive black people. Despite this, the nationals of this part of the globe can be sometimes terrible and difficult to deal with coming to certain fundamental issues.
Many Nigerians painfully sleep, wake and live with distorted mentality: 'nothing works here' or 'no system can work' in the country. This erroneous orientation subsequently leads to so many other misgivings, among of which are: undue demand for gratification, abuse of privileges of offices and exploitation of unsuspecting individuals. These again subsequently result to poor or lack of results, failure of system/policies and cold relationship between the citizenry and the constituted authorities. Most significantly, the untoward attitude occasions a lot of discomfort to many individuals. In other words, it appears the citizens have been jinxed to truncate success of every progressive idea, move, project, scheme or policy.
In the financial sector, bank customers in the past used to lose huge amount of money (N100) per interbank transactions done via Automated Teller Machine (ATM). Relief however came the way when the former Central Bank of Nigeria (CBN) Governor, Mallam Sanusi Lamido Sanusi directed that the policy be stopped. Use of ATM is an aspect of the developing cashless policy in this country, yet the former surcharge besides being a rip off was an impediment to the success of the policy itself.
Aside that, there remain till date, certain policies in the banking sub sector that call for review. For instance, if a customer's ATM card is ceased by another bank's machine, such card cannot be retrieved again either from another (where the card is ceased) or sthe (original) customer's bank after one working day. In this case, such customers end up losing the card and apply for another, with account debited for reprocessing. This is a harrowing experience and definitely not customer – friendly.
The National Population Commission (NPC) is in charge of issuing certificate of birth to every child after delivery. The certificate which is available at the affiliated NPC offices in all local government headquarters nationwide and some health centres is supposed to be issued free of charge or with token of about N100. But today, issuance of same attracts up to N500 or N1000! NPC certificate is meant to keep record of birth across the country for accurate economic planning. But the exploitation introduced by the officers in charge has constituted a barrier to many poverty – stricken Nigerians, benefiting from the age long scheme, hence failure to achieve its vital goal.
Some years back, the Lagos State Government under the current dispensation of Governor Babatunde Fashola launched the State's Security Fund (LSSF). It was a policy meant to generate enough money to stockpile adequate, modern and sophisticated weapons to combat crime in the state. The fund has been successful as many, including private sectors have embraced and contributed immensely to it. The utilization of the money voted to the fund to some extent can be justified given available security apparatus and humble level of crime in the state, within the last seven years,
Still, the scheme has its minus at the implementation level. Penultimate this week, I engaged in a conversation with some Lagos residents. My take was that the traditional military's high level of discipline due to their working relationship with the police has since waned. My position was criticized as the other folks insisted that our Military were still refined. But I can confirm this position is absolutely incorrect.
Today, on the streets of Lagos, police and army move around in LSSF donated vans from one bus stop to another, one junction to another and one base to the other, extorting money from commercial bus drivers, Okada and three wheelers' 'keke Marawa' operators. For instance, cases have been reported of violent collection from non-cooperative operators. A three wheeler operator was reportedly killed by a soldier in Ijaye, Ojokoro, a Lagos suburb bus stop when allegedly failed to pay the illegal due in time. As good as the security initiative appears, the officers to implement it have unfortunately abused the privilege given to them and made nonsense of the scheme.
Around early last year, the Federal Road Safety Commission (FRSC) rolled out new number plates to the vehicle owners. Virtually, there is nothing harmful in the new development as it amounts to another milestone in the annals of transportation sector in the country and a big plus to the country's foremost traffic management agency.
FRSC at the inception of the new number plates announced that the old number plates would cease to be valid from September 30 last year, declaring that any car owner who failed to re – register would found his vehicle impounded by the law enforcement officers. Inundated with torrent of complaints and criticism as well as pleas for extension, the agency hinted about another deadline – June 30 2014 as last new validity date for old number plates.
These directives have elicited concerns and disgust from members of the public, even prompting a legal action against FRSC. For example, a lawyer, Mr. Emmanuel Ofoegbu, in September 2013, Ofoegbu, through his Counsel, Ogedi Ogu, filed a suit with reference number FHC/L/S/13332/2013 before a Federal High court in Lagos and sought to restrain the FRSC from arresting and impounding vehicles without FRSC's new number plate. (The Punch Newspaper, March 27, 2014).
The legal practitioner threatened that any attempt by the FRSC to enforce arrest or impounding of any vehicle without new number plates introduced by the FRSC shall be met with stiff resistance.Justice John Tsoho in his ruling dated March 26, 2014 granted Ofoegbu's prayers and held that it was unlawful for the traffic agency to impose the new number plates on motorists.
FRSC was not satisfied with the ruling, therefore approached court to file an appeal in a suit with reference number CA/L/412 – seeking to upturn Tsoho's of Federal High Court judgment.
This and cross appeal by the defendant briefs were still awaiting date of hearing when the news broke yesterday (Thursday, July 31) that the parastatal has suspended the enforcement on the new number plates scheme. FRSC disclosed the decision was reached at its recent and series Joint Tax Board (JTB) meetings in Edo State. This is a cherry news anyway. Still, it must be noted that the agency is merely suspending, pending the Appeal court's ruling, and not really quashing the enforcement in its entirety.
However, some facts both on legal and moral grounds must be established here. First, mandating motorists to re-register a duly documented vehicle amounts to double taxation, an action arguable before the law court; the order is a sheer exploitation and exposure of many struggling Nigerian car owners to yet another economic strangulation. Why can't FRSC recall and go back to history? Since Nigeria changed from the right to left wheel (in 70s), righties vehicles are still imported and driven on Nigerian roads till date. Although, there is law that outlaws driving of such auto mobile, yet the enforcement is almost at zero level, understandably owing to its non-practicability.
Therefore, the best direction and decision for FRSC is to naturally allotting her new number plates to the thousands of new vehicles lining for registration, make re-registration optional, wait and watch how the old number plates will naturally and gradually fizzle out. These certainly lack the unfolding needless friction and debate. It will not and cannot in any way impede ground breaking success of the scheme.
President Goodluck Jonathan again has role to play here. Since FRSC is an agency of Federal government, he should call it to order and direct reversal of the planned enforcement, just like he recently did to some South Eastern states on issues relating to identification cards registration of indigenes of Northern extraction. So, enough of the needless deadline and fruitless enforcement. Rather, productive energy and resources should be invested on some other lofty debates, not like new number plates as orchestrated by FRSC.
Ebola Sneaks in; But May Remain With Us If…
It is no more news that Nigeria last weekend recorded the first case of Ebola causality. Similarly, it is now a common knowledge that the transiting victim, Patrick Sawyer was a Liberian – on his way to United States (US) enroute the country.
Yet, what is urgently required are measures to be taken to avoid becoming the victim of the deadly virus. But before that, here is a re: tip of the Ebola origin. According to abc NEWS,the first reported case of the deadly virus came in 1976 and it is named after the Ebola River in the Democratic Republic of Congo, formerly Zaire. The virus has since spread throughout the region. Non-human primates, like gorillas and chimpanzees, have been cited by the World Health Organization as possible infection sources for humans, but experts have realized that they are not the source of the problem, but rather as "accidental hosts." Ebola had reportedly killed 90 per cent of its victims according to the physicians.Experts have also confirmed the virus symptoms to include: malaria, high body temperature, vomiting and in some cases internal bleeding due to rupture of intestines.
So, if Ebola must not remain here, high level of hygiene must be maintained. If you eat bush meat, boil and cook them very well before consumption. Always wash your hand, possibly, cleanse with disinfectants after toilet and before eating. Again, it can be contacted via bodily fluid mixture of the victim. We do not have victim in Nigeria and the primates agents are not commonly consumed either. Therefore, the spread can largely be checked via personal hygienic habit.
Tajudeen Balogun; Head, African Examiner, Nigeria Bureau, Lagos. E – mail:tjaysuccess10@gmail.com
Short URL: https://www.africanexaminer.com/?p=15437