Opinion: Fayose, It's Time To Work
Articles/Opinion, Featured Contributors/Columnists, Latest News
Friday, October 31st, 2014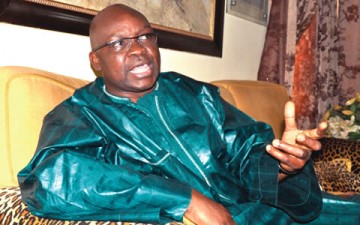 By Adewale Kupoluyi
In the last few weeks, the Ekiti State Governor, Mr. Ayodele Fayose, has dissipated too much energy trading words with his predecessor, Dr. Kayode Fayemi, over how Ekiti State, also known as the Fountain of Knowledge has been badly run and why things are bound to go from bad to worse. Fayose seems to be pre-occupied with petty matters making many people to wonder whether the governor really have much to offer his people. Almost on a daily basis, the media is awash with how state resources have been wasted on white elephant projects, mismanaged and channeled into wrong use thus portraying the last administration as being wasteful, insensitive, 'after self comfort' and terribly corrupt. Ordinarily, one should not be too surprised by such actions as politicians are used to raising false alarms, discrediting their opponents and showcasing what they perceive as the dark side of their political rivals and hopefully, usually through propaganda, garner public sympathy. This time around, Fayose had among others, accused his predecessor of spending a whopping sum of N50m on beds in the newly-built Government House and another N100m tax payers' money on toilets and bathrooms. Not only that, the helmsman in Ekiti has branded the N3.3b lodge built by the ex-governor as ill-conceived, misplaced and too costly for the state to maintain.
Over the years, Fayose has remained a highly controversial person even before he became governor under the first dispensation, before his eventual impeachment from office in 2006. One of the main accusations against him as a controversial person is his alleged youthful exuberance and penchant for violence. Even though he disagrees with his critics in that what people call his 'youthful exuberance' is nothing but a display of fraternity with the common man, which to him, many political elite often relegate to the background and as such, this is the best way for him to identify with the common man. While it is completely not out of place for a new government to appraise the situation on ground with a view to working towards effective service delivery and good governance, which not only promote accountability and transparency, it could also help give a clear picture of some sort of where-we-are-coming-from, where-were-are-going and what-it-takes-to-get-there. But the way Fayose is going about his seems to be completely different.
Although, the statistics given by the governor himself look scary in terms of the rot in Ekiti, the scenario may not necessarily mean that the situation is completely hopeless and irredeemable. All that is required is the zeal, focus and the team spirit to move forward. According to Fayose, the liabilities of the state include the dangling bond capital market and agricultural loan (N21.2b), other bank loans (N15.5b), outstanding salary for two months (N3.2b), unremitted deductions for four months' salary (N2.4b), unpaid subventions to parastatals and tertiary institutions (N700m), 2014 leave bonus (N400m), unpaid pensions and gratuities (N3.2b), unremitted withholding taxes and other deductions (N850m) and indebtedness to contractors (N10.0b), all totaling N57.45b. Thus, based on the governor's account, the state would have to seriously work hard to put smiles on people's faces in view of the meager monthly dole that comes from the Federation Account, which stands at N2.3b, Value Added Tax (VAT) proceeds that hover around N650m and an internally-generated revenue ranging from between N350 and N3.4 billion.
To move the state forward, government should painstakingly actualise the key component of its five major restoration agenda that is hinged on: virile intergovernmental relations, regional integration, effective local government administration, sustainable developmental objectives and highly professionalised public service. Certainly, while a lot could be achieved in terms of federal-state relations because of the existing party influence in which the state is bound to enjoy with the central government with the same party platform, there is need to maintain cordial relations between the executive and the state legislators dominated by the opposition party, All Progressives Congress (APC), which appears to be worsening by the day. This should be the priority of Fayose. He should not waste precious time on intimidating the state legislators to decamp to his party. Rather, he should see the present arrangement, where both parties have a reasonable representation in the house as good for democracy, though the APC controls more members. Already, this tension is evident in the impeachment threats and the confrontation between the state government and the state House of Assembly with the sealing off a filling station belonging to the Speaker, Dr. Adewale Omirin; T. Five Integrated Service. Many observers are wondering why the sudden action of the state in shutting down the station on an unconvincing excuse of forestalling fire outbreak.
Secondly, regional integration is something he cannot do in a hurry. He would need to take time to study events as they unfold. Apart from Ekiti, the only state that is controlled by PDP is Ondo, which recently joined the ruling party following the recent defection of its governor, Dr. Olusegun Mimiko from the Labour Party. Without sounding pessimistic, this integration would remain elusive until the South-West governors truly align themselves politically. I don't foresee this happening for now. On local government administration, Fayose should prove his mettle as a truly grassroots politician by courting the local councils, which are supposed to be very close to the people. He should ensure that funds meant for the LGAs are released promptly. The 16 Local Council Development Areas (LCDAs), created by Fayemi – as I have observed in my articles titled, "Fayemi's Last Minute Rush in Office" (The Blueprint and Daily Newswatch (08/07/2014) – could be the first casualty in the new governor's stride to bring governance to the doorsteps of the people. This is because of the controversy that trailed their creation. This will be more effective and impactful than the 'Friday beer parlour' rendezvous option adopted by the governor.
Also, the developmental objectives mapped out for the implementation of the above should be well designed and executed. This should wholistically cover security, empowerment, agricultural development, infrastructural transformation, health, education, science and technology while the fraying nerves of civil servants that have embarked on industrial action in the past few weeks, should be calmed. Meanwhile, I take exception to the governor's tokenism when he announced to his people that: "I am already grooming your Christmas chicken and your bags of rice", through the office of his Personal Assistance/Special Assistant on Stomach Infrastructure and Special Duties. This is rather childish. It would have been better to, as the Chinese would say; to teach the people how to fish rather than giving them fish.
Also, all outstanding remuneration and entitlements due public servants in the state should be paid within the next two months. In line with the directive that all public service personnel issues including recent appointments, promotions and discipline should objectively be reviewed. This should be done with all sincerity of purpose. The review panel should not witch-hunt perceived political opponents. He should urgently ensure that the dignity of the judiciary, which was ruffled a few weeks back, is restored and preserved. The governor should turn a new leaf in the interest of his people avoid unnecessary distractions, jettison primordial sentiments and face the enormous task of governance. This is not what Ekiti needs now. That is why he should reconsider his approach, leave rhetoric and settle down for work. Time is fast running out. He could investigate the affairs of the last administration if Fayemi truly has any case to answer. Afterall, the former governor has offered to defend himself when the need arises. Lastly, the governor should show more decorum in view of his alleged uncouth behaviour. Or, how do we explain what played out a few days ago when the governor reportedly wept after prostrating for primary and secondary school teachers for not abandoning him since his impeachment in 2006 and "rolling on the floor"? This is simply unbecoming, Mr. Governor!
Kupoluyi writes from the Federal University of Agriculture, Abeokuta, vide, adewalekupoluyi@yahoo.co.uk, Twitter, @AdewaleKupoluyi
Short URL: https://www.africanexaminer.com/?p=19293