NAFDAC Bursts Fake Wine, Beverage Factory, Nabs 9 Suspects
Featured, Latest News, News
Friday, January 13th, 2017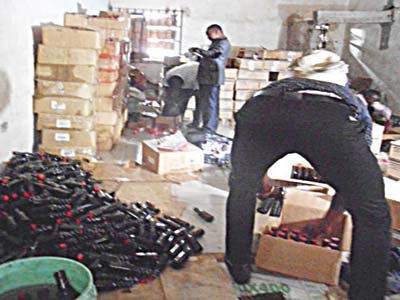 By IGNATIUS OKPARA, Enugu
ONITSHA NIGERIA,  (AFRICAN EXAMINER) – The National Agency for Food and Drug Administration and Control, NAFDAC has uncovered a fake wine and beverage manufacturing factory at the Relief Market, Onitsha, Anambra state, South- East Nigeria and arrested nine suspects connected with the company.
According to the agency, the action followed a special raid and enforcement operation of the Federal Government's ban on imported fruit juices in the commercial city.
Head of NAFDAC's investigation and enforcement, Mr. Kingsley Ejiofor, who made this know to newsmen Thursday, said  those apprehended were involved in the bottling of unwholesome, counterfeit and dangerous drinks.
He added that: "We came here for a special assignment to mop up all counterfeit and prohibited products which include imported fruit juices, food, drugs, medical devices, cosmetics, detergent and bottled water, among others.
"We were able to uncover illegal manufacturers of bottle, unwholesome and dangerous chemicals, they call wine and spirits. It was so disheartening," he said.
The NAFDAC official disclosed that popular brands of beverages like Hennessey, 501, Johnny Walker, Red Label whisky, Best Marula fruit cream, Pure heaven, Amarula, Baron De Vals, Eva and J&W, among others were being faked at the factories.
"And the beverages were being produced in unhygienic factories with cockroaches.
Ejiofor, listed items discovered in the factories to include stoves, colourants, plastic containers, cups, labels, corks, unidentified chemicals and recycled bottles.
"In one of the shops, the smell was so pungent that we could not even recover the materials and had to destroy them right there.
"This is why we find the incidences of cancer to be high in this country because we don't know what we drink.
"I will like to use this medium to tell people to destroy cups, plastics or bottles after use because not doing so encourages these illegal producers.
The NAFDAC senior staff, equally advised retailers and consumers to issue and collect receipts for every product purchased to enable tracking.
He said the arrested suspects, which includes five males and four females, would be interrogated and prosecuted while the recovered items, especially the chemicals would be taken to NAFDAC laboratory for analysis.
He, however, urged Nigerians to always avail the Agency with useful information on such nefarious activities, in any part of the country, assuring that any credible information provided to the agency would not be divulged.
Also speaking, a Deputy Director in the Agency, Mrs. Christiana Esenwah, explained that  the exercise was in continuation of an earlier raid in December 2015 to mop up all imported fruit drinks.
According to her, aside the imported fruit drinks, the NAFDAC team also confiscated diverted United Nation condoms, injectables and prescription drugs.
"We saw illegal tramadol (200mg) and all sorts of aphrodisiacs that are very enunciating and obscene with some terrible labels.
"Some registered products which the illegal manufacturers changed the label were also recovered.
"This is a call for traders and the totality of the citizens of this country to be vigilant.
"It is heartbreaking to know that such illicit business was going on there and people are just going about their businesses.
"People should know the type of job they are being offered and what their neighbours are doing for a living, we say in NAFDAC, Shine your eye".
African Examiner reports that the Onitsha main market, believed to be one of the largest markets in the West African sub region, had over the years  been synonymous with mass production of fake and adulterated products, especially drugs.
Short URL: https://www.africanexaminer.com/?p=37410