Niger Delta People, Flow into a Common River, By Owei Lakemfa
Featured Contributors/Columnists, Latest News, Uncategorized
Wednesday, March 2nd, 2016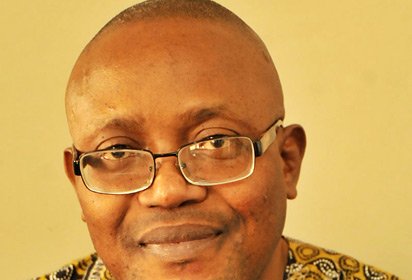 BALTIMORE, MD (AFRICAN EXAMINER) – The people of the Niger Delta are "one people from the same tree" This is a basic fact, but it assumes far greater significance when this open secret is revealed by HRH Omoba Godfrey Ikenwoli Emiko, the Olu of Warri, leader and symbol of the Itsekiri Nation.
His actions since his coronation on December 12, 2015 and interview in the Saturday February 20, 2016 Vanguard Newspapers maybe an indication that the restive Niger Delta has a mighty force of peace sweeping through it.  One of the major statements he made in the interview is that "Being in conflict with the Ijaws  is the most unfortunate thing to have happened to the Itsekiris, because they are supposed to be our closest neigbours, with whom we have inter-married the most."
During those  tragic conflicts in the 1990s I was a sort of special correspondent for Vanguard on the Niger Delta and was assigned to do some reports which required my interviewing  leaders from both sides. I was given the address of a house in Lagos where leaders of Itsekiri youths  met regularly to strategize on the conflict and plan new moves. When I announced my presence, the inhabitants seemed stunned.  They knew me, and one of them blurted "You are Ijaw" I answered in the affirmative.  Another asked in surprise why I was not afraid to come to the house, I answered that we are basically brothers, besides, the person who sent me, Mr. Sam Amuka, Publisher of the Vanguard, is an Itsekiri elder and one of the best known Itsekiris. He knew I was Ijaw before assigning me, but he knows I will  do a professional job.
The Olu told a personal family story "My father  of blessed memory, Erejuwa II, his mother is from Escravos. The five prominent Itsekiri royal families today, their mother is Ijaw"  This is quite familiar. During the conflict, I had often wondered how both sides could differentiate themselves; it was not unlikely that blood relations attacked themselves.
I recall the Urhobo-Itsekiri conflict. Again, I was confident that blood relations were attacking themselves. At that time, I had a journalist colleague in Lagos who seemed lost in thought. I asked her what the problem was, she shook her head and smiled ruefully "Its my parents, old people; my mother asked my father 'why are your people killing my people?" The mother is Itsekiri, the father, Urhobo. That was the dilemma many from the Niger Delta had during  those crazy conflicts which were partly  elite fight over crumbs from oil companies. I had often wondered what I would do if Ijaws and Isokos were to have such a conflict; my paternal and maternal grandmothers were Isokos, and both Ijaw and Isoko were spoken in my home. In my part of Ijawland, it is difficult to find a family without Isoko connections, and the language  is used as one of commerce.
My father told me a story that happened in the 1920s about a dispute over land with some Isokos in the creeks. The youths mobilized to go and retake their lands. He said at a point, he got up and said while it was painful that part of their ancestral land was being occupied by Isokos, he cannot shed the blood of his mother's people. His brother got up to support him, more youths took his side, and the attack had to be abandoned.
I agree with the Olu's analysis that  most of the problems Ijaws and Itsekiris have are "more political because an Ijaw man, who knows  how the relationship was built over the years, would not attack an itsekiri man on whatever ground"
The Olu's recall of two other incidents were quite touching. The first  was that when Itsekiris were excluded from the National Conference  convened by the Jonathan administration, "Chief Tunde  Smooth, an Ijaw, was the first person that wrote in the papers that it was wrong  for an Itsekiri man not to be there" Subsequently,  Chief Issac Jemide  was invited to the conference. The lesson he says is that " The Ijaw man should fight for an Itsekiri man  and an Itsekiri man  should do likewise. The same  thing should apply to an Urhobo man, and this  would in turn make us a strong body defending  each other"
This brings me to his next illustration. The Olu's  father,  His Majesty  Erejuwa II was dethroned as the Olu in 1964. But when Major General David Ejoor (Rtd) an Urhobo, became the new Governor of the then Mid-West Region, he reinstated  him. The Olu recalls "An Urhobo man brought my father from there (exile in Ogbese, behind Okada) saying 'go away, go back   to your throne' and that was it. I will never forget that experience"
The Niger Delta  people are tributaries  flowing into a common river; the waters cannot be differentiated, and if any of the tributaries is contaminated, the whole river is polluted.
The Olu's recipe for development in the area is simple; engage the people in gainful employment, provide basic infrastructure such as a link bridge from Ogbe-Ijoh to Ode-Itsekiri and resuscitate Warri Port.  On the national level, he suggests grazing sites for Fulani herdsmen to eliminate the recurrent bloody farmers-herdsmen conflicts
The Olu who is reaching  out to traditional rulers in the Ijaw and Urhobo kingdoms need be encouraged and supported in his chosen path. There are those who profit from conflict, such people who can be found in all nationalities in the region including  the Itsekiri, will not want him to succeed.
Short URL: https://www.africanexaminer.com/?p=30629