Opinion – Ameachi Vs Wike: Between Facts And Fiction
Articles/Opinion, Latest News
Friday, June 5th, 2015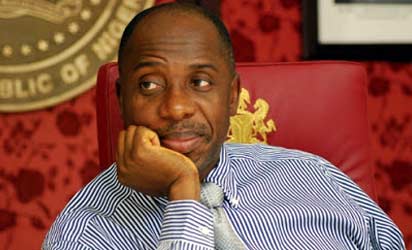 By Phrank Shaibu – A little after the present Governor of Rivers State, Nyesom Wike accused his predecessor, the immediate past governor, Rotimi Amaechi of looting and vandalising properties in the Rivers State Government House by taking away items like bullet proof doors, carpets, cars, furniture, curtains and windows, a container of controversial narrations and analysis has emerged with Rotimi Ameachi's response that 'the current governor is trying to intimidate, threaten and blackmail officials of his then administration, including civil servants into making false, phony and bogus claims of alleged corruption and corrupt practices against him and his wife, Judith'.
Indeed, Rotimi Ameachi's detailed response has now made it difficult to sieve the truth from a big basket of allegations by Nyesom Wike. An understanding of how politics is practiced in Nigerian would suggest that what Wike has done with accusations of looting of furniture and cars at the Rivers State Government House is nothing far from the usual strategy of distraction that is observed every time an incumbent State governor hands over to an opposing party. As such, Wike's disclosures are not strange, however what is different from the customary allegations is that this time round, it is not money that is being talked about but basic domestic items which ordinarily should have their inventory well documented in the office of the Permanent Secretary that serves as the chief accounting officer of the Government House.
To claim that Ameachi looted the Rivers State Government House is very premature as confirming such allegations is far beyond using doctored images to portray a scattered House as vandalized in the presence of some selected journalists.
Ordinarily, if Governor Wike meant well, good logic would have informed him to seek an inventory of what items were there in Ameachi's stay in office and what he left behind at his exit from office. The simple question that has been raised is, did Wike know what was in Ameachi's former bedroom to have been able to reach a conclusion of looting? Otherwise, Wike's claims are best thrust in the dustbin and regarded as weak political ploy to score cheap points. Indeed, until a proper and transparent inventory analysis is professionally conducted, it will be difficult to regard Wike as serious. Certainly, from every reasonable analysis, what Wike has done in his first day of official resumption of duty as governor, shows that he is acting out a script which explains that his main purpose in politics is to fight dirty rather than focus on the right measures that will advance the governed.
Ordinarily, one would have thought that Wike as a trained lawyer would have known the essence of well articulated evidence when presenting a case. Simply put, the pictures of scattered chairs and tables cannot sufficiently serve as proof that an accused is responsible for looting except where there exist documentary evidence from security cameras and or uncompromised individuals to buttress such. On the issue of vandalised kitchen cabinets, I think if a man of Ameachi's status really meant to cause discomfort for his successor, the seeming destruction of property should not start and end in a kitchen of a house he literally renovated to an edifice status. Perhaps, if Ameachi had capacity for evil acts, he would have started the so termed vandalisation from the foundation of the House than go to an irrelevant portion of the mansion. That Wike never mentioned any colossal damage to the said Government House rightly suggests that he is just obsessed with trying to get unnecessary attention in an issue that he could even be accused of simulating or master minding.
Granted that anyone that has held or is holding a government office deserves public scrutiny but when such inquiry translates to blatant absurdity and half-truths as demonstrated by Wike, then the reasons behind such must be investigated thoroughly to ensure that this is neither an intent to divert attention, weak attempt to discredit another person nor design to deplete the treasury of the State.
Consequently, any objective analyst should appreciate that the media outing by Wike is obviously a tragic error because what he attempted to portray on alleged looting could have been left for the journalists to confirm from witnesses present at the time of the alleged vandalisation or could it have been possible that as at the time he resumed office, the entire security personnel at the Government House had fled and the security camera gadgets destroyed? Wike's claims are appalling especially coming from a lawyer and he really needs to be reminded that as a legal professional, he should have taken the proper step to assemble credible evidence before considering a visit with pressmen. Indeed, the churning out of this unconfirmed story in major Nigerian newspapers is also huge minus for the press as it has exposed the embarrassing fact that in Nigeria, investigative journalism is almost dead or highly compromised. For anyone to use Wike's lies and misinformation, it simply suggests a willingness to stray from the truth in preference for reporting a stream of fabrications. The big story for any journalist wanting a real scoop might be: who opened the premises for Wike and what did they see there, a vandalized House or not?
For ease of recall, anyone that has given some reasonable attention to politics of Rivers State would agree that there is a gulf of gap in the relationship between Ameachi and Wike, hitherto described as two close friends before they went separate ways in the wake of 2015 general elections. Be that as it may, Wike from all reasonable logic has acted dishonestly and appears to be venturing into dangerous political path scarcely towed in Nigeria. Granted that on many occasions, we know politicians to be economical with the truth, at other times we know them to stretch lies against the opposing camp, nevertheless, the disclosures made by Wike against Ameachi share great semblance with willful and purposeful lying. Indeed, it will be good for Wike to be challenged by the public on these allegations not necessarily for the purpose of advancing any political party's interest but for advancing both morality and integrity of Nigeria's democracy.
Wike's stream of mistruths cannot reap him any political awards or help win his case at the tribunal. Rather,these ostracized falsehoods will only thrust him further into unhealthy controversy. As such, now that a large section of the press has debunked his false claims, the honourable thing for him to do is to concede the truth for the restoration of personal honor and integrity. Otherwise, the blatant lies Wike has tried to spread must be confronted and exposed because any political office holder ought to distance himself from such especially in any modern society which abhors lies and largely associates leaders with such traits of lying with incompetence.
Wike's attempt to engage lying as a useful political strategy clearly portrays him as a man that may be clueless on how to manage the affairs of Rivers State. The simple question to ask here, is why should he claim that he would need about four months to fix the vandalized items whereas some people can even build a house in less than four months. In fact, it is only a person that is dumb that will accept what Wike says without questions. Wike lack of truthfulness is not only huge indictment of the character of person the PDP has selected to rule Rivers state but that his party has weak vetting process which encourages men of questionable character and dishonesty to be in office.
Wike's River's state PDP has a long history of attempting to smear the APC at any opportunity. For anyone still unaware, the smear campaign was launched by Wike when it became obvious that Rotimi Ameachi had settled for another candidate as his successor as Governor from the APC. For the average peace loving person, this dirty politics should have been over but Wike's recent expressed dishonesty is a real tragedy in the making. That is the truth, and it is time the Rivers people knew this and the consequences ahead.
*Shaibu'a Public Communication Consultant writes from Abuja
Short URL: https://www.africanexaminer.com/?p=23912