Prof. Soludo's and his fresh Political Woes in Anambra
Articles/Opinion
Monday, August 26th, 2013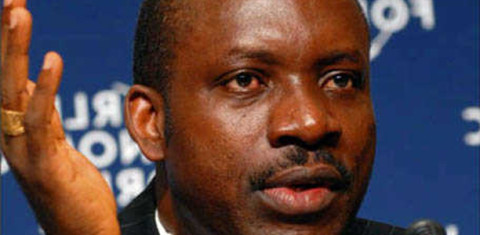 By Chukwudi Nwokoye
It was direct from the horse's mouth about what occurred before, during and after his disqualification by the APGA Screening Board. There have been lots of claims and counter-claims concerning what actually happened that led to his disqualification by the Board and subsequent ratification of the said disqualification. Many of the things we heard from the internet chatter or news media were correct and many were not correct.
First of all, Prof. Chukwuma Soludo promised to issue a statement in a Press Conference to be organized very soon. But he corrected the impression that his joining APGA to contest the governorship election was hasty and abrupt. He said that it was the APGA Chairman, Chief Victor Umeh, that came to his house in Abuja to persuade him to join APGA and to contest for the 2013 Governorship Election; that was as far back as the 16 July, 2011.
There were very wide consultations made by him to whole lots of stakeholders in Anambra that were enthusiastic about his prospects. In fact, many APGA party insiders and the party faithfuls encouraged him to join and to contest. He stated that the reason why he did not join right away was because there was a leadership tussle that was bedeviling the party and he decided to stay away and watch things as it unfolds before joining. To him, it would have made no sense joining a party that was in turmoil and in crisis of leadership. It was after the issue was resolved that he joined and the part primary was around the corner. He also confirmed that apart from Governor Peter Obi, other important members of APGA were on board with his quest to move in with the party. He reasoned that if he could get every other principal officer on board, then he could proceed and know that it is only the governor to try to convince. He said that it was not true that there were no wide consultations and that joining APGA and deciding to run had been in the pipeline for more than 2 years. Even the governor was not against his candidacy. It was after he joined the party and announced his candidacy that the tune changed.
He confirmed that it was after peace meeting between Gov. Obi and Chief Victor Umeh that things started changing. "Abuja" as was widely reported was not comfortable with Prof. Soludo candidacy under APGA. There was a distrust by "Abuja" of Soludo who as many suspect has an eye for the presidency. In other words, President Goodluck Jonathan was not comfortable with a "Gov. Soludo" and the president did not waste time to let both Gov. Obi and the APGA Chairman, Chief Umeh to know. Prof Soludo was asked by Umeh to withdraw from the race of which he refused insisting on going all the way through the primaries
even if he loses.
On the issue of his disqualification, he stated that the information fed to the press about his disqualification was not true. First of all the APGA's nomination guidelines stipulated three major things that would enable a candidate to qualify for the primaries:
1. Membership of APGA
2. Tax clearance
3. Not in violation of any portion of the Electoral Act or the party
constitution.
He pointed out that he met all the three conditions. He tendered to them his APGA Membership Card, his Voters' Card and his complete Tax Clearance to the Screening Board even though he was not asked to attach any documents or bring any to the Screening. On his form, he was asked if he has ever been arrested, he answered "NO". When they finally disqualified him on the grounds that he was a subject of ongoing EFCC investigation; he showed up at the Appeal Board with a letter from EFCC inviting him to come and make clarifications on an issue that EFCC was investigating, which issue for clarification does not pertain to him. At no time, according to him, was he ever been notified that he was a subject of any investigation anywhere in the world. He had never been arrested ever in his life or under investigation by any agency including the EFCC. Meanwhile even if he has ever been a subject of an investigation, there is nowhere in the party's nomination guideline that says that you are disqualified if you under an investigation, when there was no indictment or a criminal conviction. There has been a precedent about candidates running in an election when under criminal investigations like Senator Omisore, Theodore Orji, Orji Uzo Kalu etc.
Also he was not disqualified as a result of lack of financial muscles to prosecute the election as was widely publicized. Moreover, providing financial statement by candidates was not stipulated in the nomination guidelines. The report was that he and five others were disqualified for not having a Membership Cards, not having a Voters' Cards and not showing their Tax Clearance and financial muscles. All the candidates were lumped together in the report as failing to provide those listed requirements. The issue of his ongoing EFCC investigation was an afterthought since he met all the requirements that the Nomination Guidelines stipulated. Besides his Letter of Invitation by EFCC was by no means a disqualifying factor to any candidate.He questioned the propriety of 3 Ad Hoc Panel instead of a 7-man Board as stipulated by the guidelines of the party.
From every indication, even though he has accepted his fate about the primaries and has also accepted the ruling of the Abuja High court which he promised not to appeal against; he is ready to head back to court soon if only to have the court to rule that the party is bound to follow its own laid down rules and its own constitution. He would fight on to see that in the future, candidates would not suffer the same fate as him and due process should be followed in determining who wins the party primaries.
It is still unclear what he intends to do going forward even though he vowed to stay in APGA, but from every indication he is not giving up on running in November.But going forward, I do not see Prof. Soludo winning this election no matter what party he joins to actualize his political aspirations. The options available to him are very clear. However, like a tse-tse fly perching on a scrotum, it would take great tact in killing it. Staying in APGA and fighting the same party from within might attract a charge of
"anti-party activities"; staying in the party and not trying to effect changes would defeat the reason why he joined the party in the first place.
I hope that he has learnt some political lessons. Soludo is a star. Like a golden fish, he has no hiding place. Whatever party he joins, he brings to it the star power. He would have target on his back anywhere he goes and it is only a naïve person would believe that he does not have his eyes set on a bigger prize. He has a towering status both in Anambra and beyond; but like I always say, politics is different from mathematics and academics. To succeed in politics, you must learn the trade. Waiting until the last minute to get involved and work with the party machineries are counter-productive.
Like I said earlier, there are many questions that were left unanswered which summarized Prof. Soludo's political naïveté. Why did prof. Soludo disappear after he conceded the 2010 election? How many political activities had he engaged in since 2010? What part did he play before, during and after Ikemba's death/funeral? How many candidates has he mentored or stood up for morally and financially over the past years? What does his political base consist of? What is his relationship with the incumbent governor and the APGA political machine? How did he play politically by aligning with forces (Turakin Adamawa) contrary to GEJ's 2015 dreams? How many weeks prior to her primaries did he join the ruling party, APGA? What is his visibility level prior to joining APGA few weeks ago? What was his stand on volatile issues concerning Anambra: like Ezu 50? Unity Schools? Orient Refinery being claimed by Kogi and Enugu? Deportation of Igbos from Lagos? Etc.
The political drama in Anambra would continue to unfold as we enter this week.
Stay tuned!!!!
(c) Chukwudi Nwokoye 2013
Short URL: https://www.africanexaminer.com/?p=444