A Rejoinder to Buhari Versus Jonathan Written By Prof Soludo
Articles/Opinion, Featured Contributors/Columnists, Latest News
Thursday, January 29th, 2015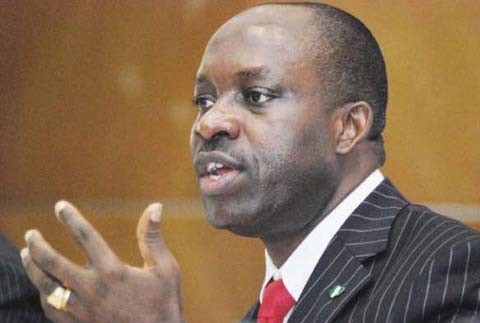 By Prof R. A. Ipinyomi, University of Ilorin Nigeria
The article written by Prof Charles Chukwuma Soludo and published in some Nigerian dailies and online media, January 26, 2015, is very commendable and has good intent. Prof Soludo must have written the article from both a professional and his once inside the Central Bank of Nigeria (CBN) experience. He could also have written the said article as a Nigerian or African patriot. He was not sectional or emotional. It would be recalled that Prof Soludo was a CBN governor under the Obasanjo second term regime (2004-2009) and had worked from inside the apex banking sector. His main charge bothers around his expressed doubts on whether the political parties are aware of the main issues that should drive the 2015 elections and be focused on such essential issues. In a similar vein Dr Fayemi, the immediate past governor of Ekiti State and an officer of the APC campaign team, made a sweeping and academic rejoinder to claim that APC that he represents is accepting the views of Soludo, even though with clarifications. Dr Fayemi is of the opinion that APC is in good political standing if judged by Soludo's parameters only. Fayemi even listed his party's manifesto regarding their proposed job creation methods.
On the other hand the PDP campaign team, being represented by Fani-Kayode, has rather been responding with sweeping statements and attacking Soludo somewhat. Campaign managers should know that they are to present their candidates with persuasion, packaging and repacking them, using facts and figures as necessary. They are never to attack or abuse even their opponents because such tactics won't work anymore. For example the honourable Minister for Finance and national economic coordinator, Dr Mrs. Okonji-Iweala, might have been the right campaign manager for President Goodluck Jonathan and PDP government because of her knowledge and style of presentation. She is both a professional guru in economy and an academic encomium that is aware of her job and the need of generations of Nigerians. She is equally aware of economic models elsewhere and how to compare things. Even though the reaction she has given to Prof Soludo's write up is rather hash she made up for it in her NTA presentation of the State of Nigeria economy. What she has described may still be planning in the books when she thinks that such policies are already on the ground of implementation. Her presentation exposes the other stakeholders in the economy, especially the state governments and business entrepreneurships, who may have been pulling down the economic growth in many ways but blaming the president in return. I pray that Dr Mrs. Okonji-Iweala would survive this regime to continue to participate in the larger economic life of Nigeria.
Nigeria issue is far more fundamental and deep rooted to be simply that of Soludo, Fayemi, Fani-Kayode or even Okonji-Iweala's affairs, neither is it APC versus PDP nor Jonathan versus Buhari affairs. These are coincidences of our time and they are none Nigerian solutions to our deep rooted problems. Soludo was writing more on the economic angle (ignoring so many other sectors like health, education, institutional failures, etc., which were discussed on NTA by Okonji-Iweala), on how to save funds and by minimizing wastes, how to improve on foreign reserves and job creation profiles. We have the feelings that the professor is still talking to but above the average elites of Nigeria and not even to the politicians. Or that the professor does not seem to know the average Nigerian politicians. We are not contending with people who know and mean well for Nigeria and Nigerians but with a class of people who have half truths and are also mean to the Nigeria nation, garage-boy-approach versus office-tie –boy-approach, people who would use any weapon like Boko Haram to fight a political battle, people who would send a messenger on errands without adequate transport or feeding allowances and people who think campaigning is dressing fashionably. (Who is paying for the huge cost of clothing they use for campaign? They change like the chameleons by wearing each state's cultural attires but at whose price?). If Soludo had written the truth but failed to praise a particular party or regime such writing to them is condemnable. We wish to tell Prof Soludo and his cohorts that Nigeria's problem is no longer looking for in-dept analyses and articulation in presentations but who to present them to, who would listen to you and who would implement them. Economic and development articles that could be used to move Nigeria to the 22nd centuries have been written by many Nigerians in all works of life.
The February 2015 election in Nigeria has raised very high expectations to the extent that whatever its outcome Nigerians will still be short changed because there is no robust candidate or a promised programme in town. For example and since 1999 the PDP we used to know has lost a large junk of his party members through decamping as a result of what they claim to be an intraparty dispute. The PDP party of 2015 is no longer the same PDP of 1999, 2003, 2007 0r 2011 that won many elections. Similarly the APC that has emerged is an amalgamation of different views and from diverse political spectrum; consisting of people from PDP, AD, ANPP, ACN, CPC, etc. Such a heterogeneous political spectrum may not have been as focused on any Nigerian issue as Prof Soludo seems to be advocating. In addition, that APC could admit decamping members without passing them through due political process would not augur well in future. I am delighted however that we have two main political parties rather than just a PDP in the market. Someone has been whispering to me that the losing out party in February 2015 election will disintegrate or run back to their parent names and Nigeria will be back to a one strong political party and several pressure groups here and there. Therefore Nigeria's problem is not just corruption or stealing as we seem to call it but rather mental disorder whereby even the so called Bishops in charge of churches are actually business men and women in our midst. The light has been switched off in Nigeria for a very long time and the darkness we find ourselves seems to be what the class of politicians we have wants. In advance countries politicians are supposed to be people highly respected and above board in ethic, characters and where making money and being in politics are two different things; not here in Nigeria and therefore Soludo's warning is not consider as a note for them.
As our first inference we see that where a system is led by experts and intelligent individuals the system works at its best as contained in this write up, supported by facts and figures rather than emotion and simply making noise. Nigeria system needs expertise and career citizens that could work undisturbed by the frequent political volatilities and continuous government interferences. A nation is built on men and women rather than monetary values. A major task before Nigerians is that of survival and moving away from a cycle of merchandises that have been taking over the affairs of governments. Most often governments misunderstand the functions of the big business men and women in the community. These are the job providers but the very people government is set to regulate, these are the investors but not people we should allow to mortgage our future or the destiny of our children. They aren't meant to be part of government policy makers or even government functionaries. Neither is the religious leaders meant to be seen in the open making business of political statements. The Nigeria government has a Church Chaplain to handle the affairs on spiritual matters for government officials. We also have a Chaplain and a Mosque for same purpose. Don't drag our so called men of God to politics.
Any government can measure its achievement but using a standard index. The size of the population, the input and the output, the time taken and the areas covered are all functions of the evaluation to get the index. It is not enough to say that there are more accidents in Lagos State than in Edo State for example. We need the population of vehicles and of people, number of accidents to compute the necessary rates and the period we are referring to. It is not enough to compare two places just based on raw numbers as some government regimes are comparing their relative performances. The population of Nigeria has been growing so rapidly just as the volume of naira coming in has also been growing. The fact however remains that the quality of life has been getting poorer even using a measure like GDP or GNDP. Government should rather bother itself with ability to start and complete a programme of essential importance to its people.
This type of academic and insightful write up will be useful for genuine policy makers and governments who wish to actually perform beyond looking for mere praise. Nigerians are being short-changed and they are compelled to go through avoidable pitfalls. We must advise them to also avoid poor choices. This is the spirit of this writing and an in-dept analysis. Government and politicians will always prefer to pick and choose as they please. They have almost reduced what should be a campaign on issue to a certificate contest. Yet we are aware that a paper has been suggested at the national assembly and the debate was aired on raising a minimum level of education for a political office seeker. A minimum of B.Sc. / B.A was suggested but the debate went to equating HND with University degrees. The papers have either stalled on just one of those yet to be accented to. Any pronouncement that will throw our country into flames at this stage should be avoided.
We wonder really how anyone should run away with the idea that making an analysis on issues connotes that one is supporting candidate A and not B. This is our country and where the best choices may not be our own choices. The candidates you want may not have the political will or understanding to deliver. The fact that writings or analyses of this nature are coming out at election period make them politicized and their essence imports may be lost to politics and misunderstood by campaigners. The risk of the writing should be taken nonetheless. Campaigning periods are the best times for incoming politicians to learn. The old politicians will be confused thinking that when you don't write about them you are against them but if they have very free minds they too can still learn. People want to know why they lose or what makes people vote for them.
When the elections are over we shall appeal to government of the day to have a nonpartisan think-tank to drive its economic and social policies for the benefits of Nigerians. This think-tank should consist of a very few but brilliant policy makers that have no political affiliation or interest except to develop policies that would work. The recent national conference was rather too large and heterogeneous to have wanted to achieve any objective of significance it was designed for. Our men of God should also be told to concern themselves with things that are God's and leaving the things that are for the Ceacers. They should pray for a mighty wing of favour and goodness to blow across the entire Nigeria space, open every great door of opportunity for the people, making roads and ways where there are otherwise no way, eliminating our enemies and crushing them out in humiliation and defeat, end all tendencies to doing evil and putting an end to all our plagues. Hopefully through their prayers and steadfastness Nigeria will be finally librated and begin to sing new songs of victory, triumph and praise.
Prof. R. A. Ipinyomi, ipinyomira@yahoo.co.uk or/and raipinyomi@unilorin.edu.ng
Short URL: https://www.africanexaminer.com/?p=21985