ANALYSIS: Amaechi And His Magic Winning Wands
Articles/Opinion, Latest News, Tajudeen Balogun
Friday, October 30th, 2015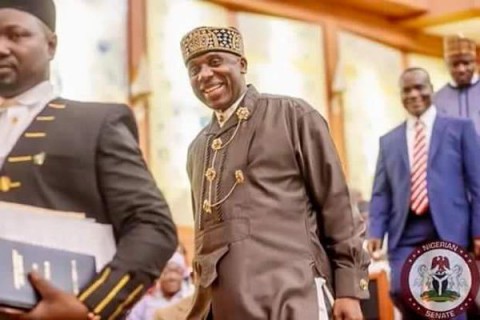 By Tajudeen Balogun, Head, African Examiner, Nigeria Bureau
If he is likened to the proverbial cat with nine lives, I believe such description is definitely not misplaced. Else, you might declare him as another 'special being' Ebora (the uncommon one) with a special talisman – to always wage battles and wrestle his avowed enemies, no doubt, it is simply saying the obvious. Better still, you might reason and call the astute and very blunt politician a mobilzer; newsmaker and 'political bridge builder', surely, your thoughts are real and factual. Rt. Hon. Rotimi Chibuike Amaechi, former Governor of Rivers State is one man that Nigerians must beam their searchlight, significantly to study and understand his philosophy of life; practice of partisan politics and ultimately his struggles and fight for a deserving right. This dogged and political tactician last week, during his delayed screening as a Ministerial Nominee, uttered a strong, shocking and challenging statements, that he hated corruption and he has never taken bribe in his life!
Expectedly, the outburst attracted so much public attention and comments, but ironically being discussed (not even debated) with triviality on the new and conventional media and by extension, has since turned a good topic for beer parlour gossip.
Briefly on this, I feel rather than gossiping away a weighty submission of this nature, Nigerians should have taken it upon themselves to consider it and verify further its authenticity. Politics and blackmailing apart, the extra effort I canvass here is to guide Nigerians from making a general but wrong assumption, in particular to establish whether true or false, that every public office holder is corrupt and embezzles public money. Note, the same mindset applies to the Nigerian policemen – that all of them are corrupt. Amaechi is not alone in making the somewhat strange public declarations. I wish to shock Nigerians that I have heard a serving Governor in Nigeria, affirming publicly that he had never slept with another woman in his life. What about that?
In the same vein, we have heard so many music icons, saying they do not go the popular ways, (do not consume stimulants) to be on top of their performances. Some even claim they are virgins. These are uncommon submissions and they are not necessarily just for the fun. It only takes the folks who are very closed to them or those who go extra length, to verify the claims and confirm whether they are substantial or not. The same applies to the character in focus today – the man being acclaimed as the "Lion of The South South Politics".
Just as rainbow unexpectedly appears in the sky, Amaechi came into the Nigerian political limelight in October 2011, when he unseated the then Rivers State Governor, Celestine Omehia through a Supreme Court verdict, which held that the plaintiff (Amaechi) was wrongly substituted by his ruling party then, but now in opposition, the Peoples Democratic Party (PDP).
His brawl with the wife of former President Goodluck Jonathan, Dame Patience, was so severe that it divided the then Rivers PDP into factions – the Amaechi and former First Lady camps. Soon, his differences with Jonathan on questions of moral and integrity started. The crisis dragged, giving way to many political altercations and throwing of salvos at one another, from Jonathan, his wife and the Amaechi's camps.
Amaechi's political superiority over the immediate past President was tested 2014 in the Nigerian Governors' Forum when he was re-elected as the Chairman (19 against 17) against the wish of his then party's Leader, who supported and presented another candidate.
The South South strong politician went ahead and led out five PDP Governors to join the rival party – the ruling All Progressives Congress (APC). This later (after the PDP loss to APC in the Presidential Poll) turned out to be the most grievous offence committed by the 'activist politician'. Specifically, the exit of the Governors and their supporters was considered as one of the strong factors why former President Jonathan lost to the incumbent President Muhammadu Buhari. Therefore, the travails he faced, as well as hostility he was subjected and risks he was exposed to after he and his colleagues dumped the ruling PDP then and now, are expected.
Again, the fact that Amaechi played a central role in the campaign of President Buhari; his headship role of his party – APC in his geo political zone have again drawn him against his political opponents. These are certainly the background and build up to the so called petition by the Integrity Group and report of his State's Judicial Commission, both which indicted him of corruption and amassing to himself the State's assets.
Despite the multiple forces against him, the magic winning wand of Amaechi will not and never cease to work in his way and put him on the edge. Against the wishes of his enemies, the former Governor was screened, considered and finally confirmed by the Nigerian Senate, yesterday (thursday).
As I pointed out earlier, what is this man's view and philosophy of life and politics such that all the political battles he had fought ended in his favour? What is that magic talisman he always deploys in his struggles? It is also significant to ask that who are those or what type of people he has been dealing with until recently? Similarly, I must ask what actually do people Amaechi formerly belonged (political circle) stand for?
Above all, I must submit and reiterate that Amaechi is such a character, whose many political foray and battles (he had fought and won) would make a good case study for the political pundits; the media practitioners; legal luminaries; students of history and politics. I will later revert to this political enigma, to allow focus on the related dimensions on his latest victory.
The PDP Senators, Saraki And Animosity
Any structure erected on a weak Foundation will sooner or later give way. This is definitely the case in the 'marriage' of inconvenience between the opposition PDP Senators and upper Chamber President, Bukola Saraki. It is no more a news that the PDP only used advantage of stalemate which ensued between Saraki and his party's leadership with regards to his election and appointment of the Senate's Principal Officers. Their motive of supporting him is highly political and sinister – to instigate him and make him act against his party and to ensure that their party controls the red chamber. So, that the PDP Legislators despite their iniquitous alliance and romance with the NASS Chairman, fell out; abandoned and resisted from dictating to the Senate Thursday, was not in any way surprising. Simply, the PDP Senators' hobnobbing with Saraki and differences that played out between them was a clear case of the 'end justifies the means. Therefore, no sympathy for them.
The Screening, Confirmation And Saraki's Coordination
In one of the recent analyses, I warned the Senate President not to use the just concluded screening and confirmation exercise as a fight back tool. In that particular piece, he was advised that in his interest, he should avoid vengeance and being vindictive. Today, I can attest to the fact that Senator Saraki took to the letters all these warnings. There were two good instances to drive home this point. For example, in the case of the APC National Publicity Secretary, Alhaji Lai Mohammed, Saraki tactically shielded his party's publicist from being embroiled in controversy, likely to be ignited by the opposition lawmakers when he prompted the motion that he should take a bow and go. Not only that, the Senate President also veto his confirmation when some Senators attempted to dramatize and thwart his approval. Despite almost equal "Yes and Nay" response, Saraki gaveled to certify Mohammed's confirmation.
Another very commendable approach to his coordination was the maturity and high level of understanding he displayed during the row that trailed Amaechi's confirmation. All through, Saraki accommodated the anti and pro-Amaechi arguments until it was established even to the conviction of the protesting PDP Senators that the Senate Committee on Ethics, Privileges and Public Petitions was "constitutionally" wrong in its recommendations that Amaechi's confirmation be delayed till the courts determine the allegations of corruption against him. Yes, the final decision of the Senate he pronounced was hard, yet he must be commended for acting with courage and on the right part. I believe not few Nigerians will agree with me that had Saraki connived with the opposition, Amaechi would not have been confirmed. So, to the Senate's President, I am convinced he did a good job for his party and acted in line with the interest and expectation of Nigerians who voted the CHANGE government.
Amaechi; The APC Unifying Force
If you like, call it another victory for the uncommon Ikwerre-born politician. Ahead and up till his nomination as a Minister, the ruling APC was definitely not a one house. Ironically, the petitions against him which has generated so much heat and made front page news headlines in the last three weeks has eventually become a factor that united not only APC Senators, but on the way to reconcile Saraki, his supporters with their party leadership. Who ever imagined the stalemate and division among the APC Senators; the Senate Leadership as well as APC's would be laid to rest in this manner? Well, it will be on record again that the animosity against Amaechi has signaled final peace in the APC family. Lai Mohammed confirmed this Thursday and I strongly believe he was holding brief for his party. This Amaechi; what a man; what a politician!
Finally, Amaechi's confirmation was not surprising as the entire rants against him were virtually politically motivated. In any case, why won't he be confirmed when those who petitioned the Senate refused to drill him with questions, when they had the opportunity to do so and when he even challenged them that the Judiciary commission report never indicted him. Imagine, if you alleged I'm a thief and confronted you with a counter, if you really mean business, you will articulate and justify to the onlookers your grouses as well as points against me. The PDP Senators failed woefully to exercise their right under the constitution; rather they whipped sentiment on moral, which has no place in constitution and which some of them lacked. As for me, I congratulate the Lion of the South South Politics on yet another landmark and well deserving victory.
Another Thanksgiving Mr. Wike, Please
In a build up to the 1993 Presidential Election, the two candidates coincidentally Muslims – Alhaji Abubakar Tofa of the National Republican Convention (NRC) and Chief Moshood Kashimawo Abiola of the Social Democratic Party (SDP) took to prayers war, when they sent delegates to the Saudi Arabia to engage in prayers on their behalf in Kabba (sanctuary) in Haram the (Grand Mosque) for victory at the poll, the reactions and question asked by many then was that did the two men were out to confuse God? For sure, no mortal can put the creator in dilemma. But the question is, were their prayers answered? The answer is yes. God is a realist; He is pragmatic and just. He rewards according to the efforts put forward and intention of every effort. Apology, these are spiritual. Abiola clearly won that election. As for those who were closer to Tofa, his prayer was also accepted; he would have shared his story (the manner his prayers was answered) with his confidants and his followers too. Also that is philosophical as well as spiritual. So in their case, God was never confused.
History repeated itself last weekend in Port Harcourt, the Rivers State capital, when understandably, the winner in the State's Governorship Election Petition Tribunal ruling, Dr Dakuku Peterside of the ruling APC organized a thanksgiving service over his victory against his opponent, the Caretaker Governor, Nyesom Wike of the opposition PDP. Wike did the unexpected when he put up another thanksgiving with his supporters; over what O? Please, spare me the answer as I wish to evade the wrath of the die-hard supporters of Mr. Governor who is so popular among his people, but must get into the office with an election like a war. Serious matter, you might say.
Now that Wike's litigation against his opponent has suffered another serious setback, at the Supreme Court, another thanksgiving must hold this weekend for the loss. Nigerians know the fact of Akwa Ibom and Rivers States' Elections. My position is that anyone that is sure of his popularity must and should allow a free and credible election to hold, not resorting to intimidation and harassment. I have heard comments that this same man could have won, if they had allowed free poll. And my response is that if he was or they were sure of victory, why the violence and killing? Well, the judiciary would do its job conclusively on the two States, and we shall live to witness how issues play out.
For now, my message to those who pretend to be holier than Pope, is that they should in their interest stop the deceit, as nothing is hidden regarding last general elections, particularly in Rivers and Akwa Ibom states.
E-Mail: tjaysuccess10@gmail.com; Facebook: Tajudeen Balogun; Twitter: @tjaysuccess10


Short URL: https://www.africanexaminer.com/?p=26881