ANALYSIS: If Saraki Is Found Guilty Or Survives His Present Travails…
Articles/Opinion, Latest News, News, Tajudeen Balogun
Friday, November 6th, 2015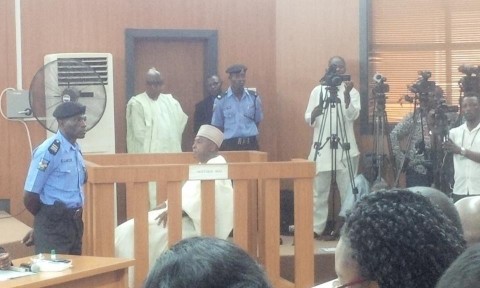 By Tajudeen Balogun, Head, African Examiner, Nigeria Bureau
The incumbent President Muhammadu Buhari has been consistently and repeatedly linked with the zero tolerance to corruption. Perhaps, his best alternative appellation could be "Mr. No Corruption". For instance, his short-lived Military junta (1983-1985) confronted this national challenge relentlessly; introduced some disciplinary policies and attempted change of orientation and attitude of Nigerians. Even before he was re-elected as the President in March this year, many Nigerians have lamented resistance of his Military junta as well as criticism of autocracy against him and his Second-in-Command then, Late Gen. Tunde Idiagabon. Many therefore hold today, that had his and Idiagbon junta been permitted, the corruption which is today endemic in every facet of Nigerian life, would have been successfully tackled and wrestled and the country would be better for it.
Exactly 30 years down the line, the man – President Buhari has remained his real self – maintains his very thick skin against corruption. It is like the President thinks; sleeps; eats and so inspired by his aversion for corruption. He spoke repeatedly and tirelessly against it, in his electioneering campaign and rally speeches. And when elected, he never ceases speaking against it and after his swearing-in up till date, his words, disposition, policies, body language and everything about him is anti-corruption.
President Buhari has also refuted the claims that his anti-corruption war has been lopsided. He has told his critics that his government did not target anyone in the opposition camp. He has also said and demonstrated in some instances, that any of his party members who is alleged to, and in the end, convicted of corrupt practices, will not be spared. In other words, his administration would not shield anyone, or treat any single case of dishonesty with gloved hand, no matter the relationship and party affiliation.
With the ongoing travails – the petition before the Code of Conduct Tribunal (CCT) over allegations of false assets declaration and 13 other criminal charges against the Senate President, Bukola Saraki, it is gradually dawning on everyone that Buhari's anti-corruption posture and campaign is for real and indeed, issues relating to sharp practices might no more be business as usual.
Please recall, when Saraki was summoned by the Tribunal but snubbed it twice, President Buhari's reaction was that the accused should be bold enough; answered the court and clears his names. The Senate President's ordeal from the outset, was linked with his affront to his party's the ruling All Progressives Progress Congress (APC) leadership, with regards to his emergence as the National Assembly (NASS) Chairman and choice of his Principal Officers.
However, overtime, the rift appears resolved and Saraki was believed to have made moves to extend olive-branch to his party leaders. But this thought, giving the events that have played out weeks back to date, cannot be totally relied upon.
Recall, despite the obvious his warm disposition to Mr. President's Ministerial Nominees and his fair coordination of the screening, the Appeal court's ruling which has been adjourned indefinitely was last Friday delivered by Justice Moore Adumein, who dismissed his appeal against being tried by the CCT.
Interestingly, the ruling came less than 24 hours Saraki presided over a divided Senate – where for the first time, he and his colleagues of the ruling APC acted collectively and spoke with one voice, while their colleagues from the opposition Peoples Democratic Party (PDP) acted in contrary. Despite his good public rating over his maturity and openness while the screening and confirmation of the Minister Designates lasted, the Appeal court ruled that the CCT has right to pursue and entertain allegations against him.
Again, I feel it is getting to a level every politician and public officer must sit tight and begin to understand, appreciate as well as embrace the concept of due diligence and shun sleazy acts.
Barely 48 hours when Saraki skipped the old tradition of sending aides to present the formal confirmation of the Ministerial Nominees to the President, personally visited President Buhari's office and presented the report, his trial at the CCT took another interesting twist, as the Court's Chiarman, Justice Danladi Umar insisted the trial would proceed, despite the accused suit on the same matter at the Supreme Court.
Saraki today (Friday) again lost in a Lagos High Court in a renewed bid to stop the CCT in hearing the alleged criminal case against him. These are definitely not the best of the times for Saraki.
Although, while leaving the Presidential Villa in Abuja, Saraki told newsmen that his visit was not only for the submission of screening report, but for other issues (no insinuation here please). He defended anyway that his visit has nothing to do with his ordeal at the CCT. Of course, the Presidency has denied having hands in the entire proceedings.
If despite the speculated reunion of Saraki with his party leaders and reconciliation with his party members in the Senate, yet still in the present logjams, then the witch-hunt and lopsided anti-corruption war advocates (against Buhari's administration) must be called and asked questions.
Well, if the strong man of Kwara politics survives his ongoing rigorous and very challenging legal firework, a big congratulations to him. However, if found and legally proved guilty of the alleged crimes against him and subsequently punished as provided by the constitution, then it can be confirmed that era of sacred cow is gone and Nigeria is getting there – sending signal to the politicians, public office holders, the opposition and by extension, the international community that truly, the real war against corruption has begun and that the disease might be on its way out of the country's (National) life.
From their advocacy and agitation over the years, the position of many Nigerians is that any suspect, irrespective of status or position, found guilty of corrupt practice, should face the wrath of the law. They say no and reject the era and practice where it is only the unknown fowl or cattle thieves sent to jails; they want the rich to really cry and pay dearly for their misconducts and abuse of privilege of public offices.
As for me, anyone who labours himself preaching anti-corruption for President Buhari's Ministers is only engaging in a needless service. Buhari's body language and everything about him had confirmed that he is definitely not for shielding any aide, friend, associate or his Minister accused of corruption. After all, Saraki's ordeal is enough a point and evidence to a normal and right thinking individuals. To this end, my stress is not really about Buhari's Minister Designates but on something else.
Here I go again. When the DSS operatives recently stormed the homes of former National Security Adviser (NSA) Col. Sambo Dasuki (rted) and Akwa Ibom State House, the opposition cried about human right abuse, harassment and molestation of its members and loyalists of the immediate past President Goodluck Jonathan. The same party has been crying loud, alleging manipulation at the Election Petitions Tribunals of some States.
So I ask here, what happens or would have happened if Saraki were to be a member of the opposition or an aide of the immediate past President or one of his Ministers? If yes, won't Nigerians enjoy their peace? Will the entire Nigeria be pulled down or the heaven would have been made to collapse?
With Saraki obviously being told to carry his cross alone, the PDP, its leaders and members as well as its mouthpiece should and must begin to review the manner of packaging and disseminating information involving their members, this government and corruption related allegations and trials.
Like I always posit, Nigerians know the facts about the past administration, in particular, their performance records and corruption profiles. Therefore, the opposition might and should be ready to make much noise if the hands of law caught up with any of its members. Those who cry aloud about political scape goat or selective justice should also come out now and please tutor Nigerians on the best way to describe Saraki's present travails.
Finally, President Buhari is not the first Nigerian Leader who has shown an appreciative zeal to check corruption in the country and taking the crusade very far. Former President Olusegun Obasanjo has done the same in his eight years tenure (1999-2007). He instigated many impeachments against his corrupt State Governors, friends and co-politicians. Regrettably, there was fundamental error on the side of "Ebora Owu", thus unfortunately, leaving the war halfway and the corruption still leaves with us up till now. The personal dimension is an aspect President Buhari must watch in his anti-corruption crusade. The explanation on this is that if he really wants to battle corruption; please do, but never as a fighting tool against the perceived enemies or again making compromise for personal gains. If the error sets in, even if it is not evident from the outset, it will sooner than later play out and that becomes a big and indelible scar on both the President and his administration.
Ministers Without Portfolio
President Buhari last weekend in Delhi, India, shared the terrible state of Nigerian economy and subsequently submitted that not all his 36 Minister Designates would have portfolios. He clarified that what the constitution says was to have 36 Ministers, but all, not necessarily to be engaged with the offices, even as Minister of State. How Mr. President intends to achieve this still remains unclear to me. But we shall all wait and see. However, with respect to the constitution provision on Ministerial appointment to reflect the Federal character, when our public system is sanitized; attitude of Nigerians changes (positively) and orientation is improved, the country must review the constitution, to promote and legalize "meritocracy" not "mediocracy". But for now, Federal character is a necessary burden we still face and fight.
Meanwhile, President Buhari must be convinced that the country must invest heavily on human resources and our institutions; if we must develop and grow. What an average Nigerian cares about is the public investment that provides stable power; good education; sound healthcare; adequate security and real hope of a better tomorrow. They might not bother on taking loans to provide these services, provided the process is done transparently and followed up with high degree of discipline. They are aware that Government is continuum and a process. Therefore, Mr. President, while appreciating and applying prudence principle in governance, there is need to be aggressive in achieving more for the populace, most especially in adding values to their lives via the provision of adequate and functional basic public services.
E-Mail: tjaysuccess10@gmail.com; Facebook: Tajudeen Balogun; Twitter: @tjaysuccess10
Short URL: https://www.africanexaminer.com/?p=27122