ANALYSIS: Jonathan's Defeat And Vengeance 
Articles/Opinion, Featured, Featured Contributors/Columnists, Latest News
Friday, April 24th, 2015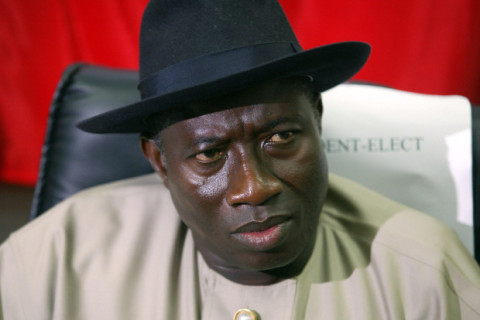 By Tajudeen Balogun, Head, African Examiner, Nigeria Bureau
Truth is constant. It is natural and fundamental. In a way, truth can be likened to foundation of a building, suggesting that whatever its state looks like, will certainly be evident and determine the quality and live-span of the structure. In contrary, deceits are weak and often fail to survive for long. Also, every lie is followed with another false action and the conclusion is nothing, but disaster.
Today, I take delight in recalling an instance of a political figure I cited in one of my previous commentaries, with respect to his desperation and repeated gaffes to satisfy his boss. Recall former Special Adviser to President Goodluck Jonathan on Political Matters, Ahmed Gulak? His background as a Lawyer, ordinarily was expected to serve as a guide in his conduct, but the Adamawa-born one time Presidential aide failed to heed the sterling ethics of his calling; therefore, threw caution to the wind and chose to be reckless about his actions and public reactions in serving the interest of his boss.
Unfortunately, Gulak, despite his 'fanaticism', was found wanting (of clash of interest) by the same person (master) he was shielding with all his might, thus in the end, was shamefully and summarily relieved of his position! Recall again, I once drew the attention of the ruling PDP National Publicity Secretary, Olisa Metuh to his unbecoming attitude, in my commentary which actually focused on him, titled: "Olisa Metuh Should Be More Cautious And Reasonable" and posted Sunday, June 8, 2014.
Again, history has repeated itself. On Tuesday, April 21, 2015, big news about the unexpected and shocking firing of the immediate past Inspector General of Police (IGP), Suleimon Abba and replacement with his successor (acting), Solomon Arase by President Jonathan was broken to the entire world. As we speak, what still transpire in the public domain, regarding reasons for Abba's dismissal are conjectures and hearsays as no official reasons have been given for the action.
Before the justification or otherwise, for this sudden development, I wish to belabour the connections in Gulak and Abba manners of approach to their duties. The former IGP disappointed not a few in his less than 12 months on the hot seat. Despite being a historian and lawyer, the man failed woefully to allow good sense of a well-bred professional, to influence his thoughts and actions. Instead, he chose satisfying his boss (Mr. President) at all cost, as the priority.
This was evident, when last year, he encroached and arrogated to himself, the role of judiciary, as he cited breach to  Section 68 (1) (g) of the 1999 Constitution, by the House Representatives Speaker, Rt. Hon. Aminu Tambuwal, to justify withdrawal of security of the latter after dumping his ruling PDP for the opposition APC. Interestingly, given his body language and subsequent errors committed by him, he succeeded in creating impression that he was not necessarily acting a prepared script, rather, was all out to be a good 'servant' to Oga patapata– the overall master. But in the end, he and those who he was subservient to, in the illegality, were later disgraced in court as he was ordered to re-install the Tambuwal's security details. His disregard to the Speaker had no boundary as he vowed and declined to address him as the Speaker, while the desperation lasted.
The same Abba, whose (supposedly long) peak career was abruptly truncated, came from nowhere, some hours to the last general elections and made misleading and inconsistent statements that waiting at the polling units after casting of votes would amount to breach of law and an invitation to chaos. He therefore directed voters to return homes after exercising their civic right.
The incongruent order was utterly criticized and condemned, not only by the leading opposition, also the ruling party stalwarts, including a former National Chairman, Senator Ahmadu Ali and wife of the outgoing President. Subsequently, the former Police boss contradicted himself; reversed and retracted the offensive and mischievous directive! This is too bad and disappointing of a senior officer (well-read) in charge of a sensitive security institution like Police Force.
Since neither the Ministers nor President or none of his aides has adduced any official reason (s), then the assumptions on Abba's failure to properly do the bidding of the ruling party and ultimately Mr. President (to ensure his victory) in March 28, Presidential poll, as the basis for his sack will unarguably stand. This is the bitter truth, otherwise, Nigerians challenge President Jonathan to make public, Abba's misconducts which must have warranted termination of his appointment at this time.
If no convincing reason is given after all, then, I make bold to say that Mr. President was again not fair and unjust in his belated and needless vengeance action. Of course, if it is about Abba's failure to compromise the electoral process, I expect more heads to roll in the Police hierarchy. For instance, why should the bully, AIG Joseph Mbu be spared? Just like his boss, he failed to manipulate his men to earn victory for Jonathan, during Presidential poll as well as the PDP during Governorship election in his zone. What about the Commissioners of Police in the States under the control of the PDP but which lost in Presidential Election and to the APC in Governorship poll? Niger, Jigawa, Benue, Jos, Gombe, Katsina and Bauchi States make the list here.
What instruction or message is President Jonathan passing or sending to the world, after conceding defeat? Please, did Mr. President expect the polls to be as bloody, controversial and disrupted as witnessed in Akwa Ibom, Rivers, Delta and Imo States? Again, is Mr. President saying only the outcome of polls in the South South and South East geo political zones were free, fair and credible and acceptable to him, despite being fraught with obvious manipulation, confrontation  and killings in some of the States within the zone? Mr. President is the hurried order of redeployment (without Abba's knowledge) of AIG Tunde Ogunsakin from Rivers to Cross Rivers State less than 48 hours to the last Governorship election was part of standard of a free or manipulated poll? Back to Mbu, why did PDP again lose, despite the errand officer's unofficial demotion and temporary assumption, as the Lagos State CP for about 48 hours during the Gubernatorial Elections? And the same President will gladly and repeatedly declare he advocates for free and credible poll; that no blood of any Nigerian worth sacrificing for any politician – to secure victory.
Really, Mr. President is not fair in sacking only Abba for his misfortunes and his party in the just concluded Nigerian 2015 general elections.
However, is the sacking of an officer who had kicked in the past to be in the President's good book and who still have almost four more years to stay in the office, is the next right step and correct decision to be made by the outgoing President? Is Abba really the stumbling block to Jonathan's victory in the last Presidential poll?
The answer is no as many factors severely worked against Mr. President's chances of winning. On his electoral promises, the President failed as only he, his cabinet members and political party lustered and convinced over the rhetoric of Nigeria running the "biggest and largest economy" in the continent. Similarly, the administration's rating on security ahead of the polls was far below the average. On the political front, it was amazing listening to President Jonathan still hoping and boasting of winning, despite his party, losing his ex-political God father (former President Olusegun Obasanjo); five PDP Governors and the Speaker, aside other big names in the ruling house, among them, the Vice President Atiku Abubakar.
Again, despite failing to cajole and entice duo of (Atiku and the APC National leader, Asiwaju Bola Tinubu) with the alleged interim National plot leadership as well as unfavourable outcomes (to President Jonathan) of many online and offline pre – election polls, which the PDP; its Presidential Campaign Organization and Presidential aides always disputed, Mr. President still expected Abba to do the magic – ensured his men were compromised for the elections to be manipulated!
Even if the polls were to be as fraudulent as that of 2007, which produced him and his former boss, former President Umaru Musa Yar'Adua (Late), the task would still not be achievable this time. Rigging is possible where a candidate is not only popular but accepted by the people. The fact of the matter therefore is that President Jonathan was not accepted in most parts of the country, except in the South South and South East and this was even on the strength of ethnicity and religion sentiments, not about performance. So, if polls manipulation could have provoked such large scale of resistance, violence and killings in the President's region, (especially as occurred in Akwa Ibom and Rivers States) one could easily imagine the genocide that could have been recorded in the zones where the same candidate did not have anything to work for him. This was the strong factor why the President and his party consistently lost in the recent general polls.
On his vengeance mission, more personalities are being allegedly touted to be shown the way out of the party, with the approval of Mr. President, for their questionable roles during the lost elections. Notably among the marked, is the PDP National Chairman, Alhaji Adamu Mu'azu. Presently, collection of signatures on resolution to sack him is said to be underway. If I may add, the same gesture ought to be extended to Jonathan's Vice, Namadi Sambo for the woeful defeat and loss the PDP suffered in his Kaduna home state both in the Presidential and Governorship elections.
The reality which the President and his party are faced with, but refused to accept is that the current administration totally failed to meet the aspirations and need of so many Nigerians. If the current government had performed creditably well, Sambo, being a former Governor of his State, with a good reputation, would have had easy ride in the metropolitan North Western State.
Now that the PDP is becoming an opposition party, is intimidating, frustrating and sacking of perceived enemies – career officers or politicians by Mr. President are the solutions? President Jonathan must be conscious of his raging witch hunting and its implications. If the intimidation due to his defeat is not stopped, then PDP stands to lose more members to another opposition. And if care is not taken, the defection might be so biting and damaging to the extent that (the PDP) might be relegated to the second or third opposition party in this country, especially now that the APC had reinforced its embargo on PDP members and leaders' cross carpeting to its fold. Certainly, the PDP might be in for a serious dilemma if the aggrieved and 'rejected' members regroup and form alliance with another averagely bigger opposition.
President Jonathan, as I have previously established, you cannot afford to wreck the party that you had benefitted so much from, just because your re –election bid was not actualized. The best you could do, for this party is to stay back in its trying moments and continue to work for the peace within it and its stability. Remember, it is your political ambition that caused disunity and crisis of interest within it and which finally dealt serious blow to its fortune. More significantly, your failure at the poll was largely due to failure of your party in the last 16 years and painfully; you added to its pathetic and tragic story in almost four years of your administration.
I must again establish here that despite the latest vindictive steps embarked by you (Mr. President), some Nigerians, yet, will quickly admit you are a hero of this year's general elections – majorly for conceding loss to the opposition candidate; that you are a leader who desires peace; as well as free and credible polls. But I insist on my exception, given many previously identified and contradictory factors and signals.
Finally, the PDP, its members, President Jonathan should realize that the embarked vengeance 'mission' is not a good way to go after losing an election which the result has been accepted and hailed by the same leader. Instead, the real task ahead, is how to mend fences, re-organize and re-strategize on how to become an opposition that will be side by side with members of the public to continuously put up reasonable and genuine critics, arguments and debates, which ultimately will put the incoming administration on its toes and spur it into actions which will in turn, sway far reaching socio – economic and political benefits on the common man on the street.
Good Governance And Check On Unsafe Migration
Brain-drain – exit in droves of the professionals to another country for a prosperous career, has remained one critical challenge in Nigeria for almost three decades. Alongside the unpleasant development is the nastier trend – desperate and massive migration of the young folks (skilled and unskilled ones) from Nigeria, either to the neughbouring African; European or Middle East nations in search of means of survival.
And the saddest aspect of the exodus is the 'human labour', in which young ladies are illegally and dangerously moved and transported via different regional and continental borders to Europe, only to end up being engaged in commercial sex work. Regrettably, some victims in this category and their younger counterpart without skills, lose their lives either in transit or recount the depressed tales, when they eventually and manage to make it back to the country! In most cases, the desperate youths, some without proper resident documentations suffer more in the foreign lands to make ends meet. They are for instance, confronted with labour casualization; racism and different forms of maltreatment from their employers; co-workers, indigenes and governments.
This is what is playing out in the yet to be completely subsided Xenophobic attacks in South Africa (SA). The latest attacks as a matter of fact, are just one out of many unreported heartless treatments being meted out to the migrants at different fronts before now. Just last Sunday, not less than 800 passengers (migrants) perished in Malta when the boat they were traveling with, to Europe, capsized in the Mediterranean. The Sunday disaster reports indicated brought to 1,750 altogether, similar incident that has occurred so far in the current fiscal year! What are the factors prompting this alarming rate of Trans-border human movement? Significantly, the reasons are poor governance and bad economy. This brings to question why are most of the African countries are still craving for accountable leadership that will deliver good governance?
Having a responsible and sensitive government in place is not a mirage. With a strong political will and discipline, the task is obviously achievable. This is the big assignment before the incoming administration in Nigeria. On Xenophobic attacks, we have heard of the Federal Government calling on SA authorities to halt further assaults; moving to evacuate the country's nationals from the troubled areas as well as summoning the SA envoy to Nigeria over the discriminatory violence. All of these are palliatives. Therefore, we need to and must do more, on a long term measures, most especially now that the European Union (EU) leaders are perturbed by the trend and presently considering ways of checking the number of migrants, risking their lives in search of greener pastures.
In view of this, the General Muhammadu Buhari – led administration (in view) should prioritize attention on power, vis-a -vis enough generation, transmission and distribution in the Nigerian industries and homes. With this singular achievement, it is certain every sector of the economy will perform effectively and efficiently; businesses will be expanded; employment will be created while SMEs will be encouraged, buoyant and survive on a long term. Also, government must advance the country's educational system and develop it, such that it promotes and encourages self-reliance. In the same vein, technical education must be given key attention, such that the drop out are promptly and adequately trained in their choices of trades. Investment in this area should as well be huge, with operational synergies to be initiated and put in place, between the formal technical institutions and the existing conventional artisan bodies and operators.
All of these will fully engage qualified professionals, across the board, refocus them as well as change their orientation to economy empowerment and wealth creation. In effects, threats to fate or survival of SA businesses in Nigeria or lamentation on the attacks, (of any form) are not the solutions, rather and ultimately, the good governance which will take Nigeria far and free her citizenry from abject poverty and exposure to avoidable external degradation in the name of survival.
E – Mail: tjaysuccess10@gmail.com; Facebook: Tajudeen Balogun; Twitter: @tajudeen balogun          
Short URL: https://www.africanexaminer.com/?p=23327