ANALYSIS: Nigeria Needs Political Maturity, Not 'Executive' Rascality
Featured, Latest News, News Features/Analysis, Tajudeen Balogun
Friday, June 3rd, 2016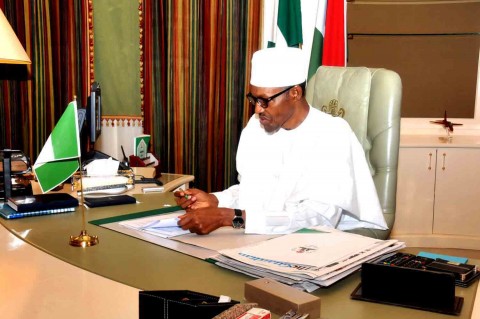 By Tajudeen Balogun, Head, African Examiner, Nigeria Bureau
When President Muhammadu Buhari assumed office Friday, May 29, 2015, some Nigerians felt that the political mood in some States of the Federation will tilt towards another direction. Among of the States on the list were Akwa Ibom, Ekiti and Rivers. A whole lot of Nigerians felt that the victories of the incumbent Akwa Ibom State Governor, Udom Emmanuel and his Rivers State's counterpart, Nyesom Wike would be upturned, by court, thereby giving the ruling party – APC and its candidates another opportunity to test their popularity in the two states. The Governors did lose in lower courts, but the Supreme Court so to say delivered a "peace searching" ruling, thus the duo were made to remain in power.
Also, many believed that it was necessary for Mr. President to stand his ground in ensuring that the grandstanding and stalemate between the ruling party (APC) -dominated Ekiti State House of Assembly and Governor, Ayodele Fayose was brought to an end, in particular, in favour of his party.
Then, the APC Ekiti lawmakers, were on self exile, due to the altercation between them and Fayose. The legislators lamented then that they were forced to vacate the State as security of their lives was no longer guaranteed. Therefore, the expectation of some, was that President Buhari arranged a State visit which would have lasted for 48 or 72 hours. If this had happened, the estranged lawmakers would have gained access to the State, sat for legislative business and successfully moved the motion for Governor Fayose's removal.
Of course, the sacked Governor would have approached the court and the legal battle would have still been ongoing. 'Starting on a confrontational note, is neither good or gainful for me; my party nor the country as a whole' I feel the President might have thought, hence, allowed Fayose to gain upper hand and had his way at the expense of his party men, until the tenure of last State's Assembly lapsed and the current sworn-in last year. .
In other words, Buhari in the three instances, appeared not to be so keen in the muscle flexing (in whatever form), hence, the apex court ruling that Emmanuel and Wike were the valid winners of Gubernatorial contest of their States (Akwa Ibom and Rivers respectively). Also, that Fayose has today constituted himself to be his first political 'foe' not only during the last Presidential contest in 2015, but till the moment.
Beside the socio-economic challenges presently posed to many Nigerian families by the government policies, I am further puzzled by Fayose's outbursts, many of which lack the needed relevance and have so far, failed to add any value to the Nigerian still growing democratic system. At best, Fayose's unsolicited advances and verbal attacks could be considered as those coming from a sinking, irritant, reckless and ruthless fellow, who again unfortunately, appeared to have been abandoned by his 'family members' (party men) to rehearse and act his scripts alone and possibly, face the music alone, when the day and time of reckoning eventually come.
It was the same Governor Fayose who sponsored the infamous death wish newspapers' adverts on President Buhari while the last Presidential campaign was in the top gear in 2015. Fayose had attacked Buhari severally, accusing him of impair health, the reason he alleged he had visited London shortly after his victory and about other two times after being sworn-in into power. He had at each point, argued that Buhari's trip to UK was to seek medical attention. By the way, can one ask, does Fayose have regular dates with his personal physician? If he does, for what reason (s)? Again, if yes, is there any big deal in a regular medical check-up or an 'unscheduled' date with one's doctor if need be? Fayose's conscience must prick him here, if he is that humane and reasonable.
As I have written previously, Mr. Fayose seems to have seconded his constitutional obligations to Ekiti people who he claimed voted him into power, on June 21, 2014, to regular, but needless and useless verbal attacks on Buhari. He recently took up his brawl against the President (Buhari) to People's Republic of China, where he warned the Asian country not to grant Nigeria loan under whatever guise. However, Fayose's argument on $6 billion purported loan by China to Nigeria was punctured. As explained by government and widely accepted by many experts, the deal carried out in Chinese Yuan and being referred to by Fayose was purely a capital exchange – every good received from China is exchanged with the crude oil. Did Fayose care to find out about this, before he started his unsavoury whistle blowing?
Fayose has in the past, before the Monday bloody clash between the members of Indigenous People of Biafra (IPOB) and security operatives in Onitsha, Anambra declared that President Buhari must be held responsible for the killings of innocent people in the previous skirmishes which have erupted between the security and members of the same body – IPOB and its parent's organization – Movement For Actualization Of The Sovereign State Of Biafra (MASSOB) in different parts of South Eastern Nigeria.
It was the same outburst credited to Fayose he made, when the so called Fulani herdsmen on Monday, April 25, 2016, stormed Nimbo, in Uzo-Uwani Local Government area of Enugu State and killed many residents.
Ekiti is one of the affected States in the bloody herdsmen's menace. Governor Fayose subsequently announced his 'brand' of preventive measure. Now, rearing of cattle in the South West State (Ekiti) outside the owner's ranch is a criminal offence.
For the first time, Fayose was applauded by many who are his ardent critics for coming up with a rational policy and uttering a responsible statement. Yours truly joined in the massive commendation, yet, with caution. I joined the discussion then, by warning that Fayose's manner of implementation of his administration's policy was a big issue to me.
Speaking about the enforcement of the order, I wish to ask, has Fayose approached his State's House of Assembly with an executive bill on the matter? Has he earmarked cattle ranch zone in each of the 16 Local Government Council areas of the State? Who are those to enforce the directive, or the bill when at last assented to law if at all he goes that far? The Nigeria Police abi or the 'locally recruited boys'? I wish to repeat here that giving Fayose's style, I am not comfortable, therefore, urge well meaning Nigerians to be very vigilant and remain focus on the way and manner the "no ranch, no cattle rearing" order by Governor Fayose is applied on Ekiti residents.
If there is no hidden agenda, Fayose's order must not result to, or evoke any altercation, be it with religion, ethnic or political colouration.
Fayose has been extra ordinarily hyper-active in his public statements. For some weeks now, the oil production in the country has been thwarted through the devastating, strange and persistent attacks on facilities of the oil companies, in Bayelsa, Delta and other parts of the Niger Delta region. The sponsored, restless and ruthless criminals' operate under the name of the Niger Delta Avengers with 11-point demand. I make bold to say here that none of the 11 points made by the so called Avengers make any sense to any sensible being, and patriotic Nigerian. Nigerians unanimously agreed that the boys who enriched themselves through the dollars paid them by their masters are criminals; enemies of Nigeria, who must be found and crushed by all means possible. But I add, it would do this country a great lot, if the militants' sponsors were fished out and dealt with according to the law.
The same Fayose Thursday opened up and shocked not a few Nigerians when he dropped another bombshell. In his assessment, Buhari has handed over the Niger Delta region to the Avengers' militants as attacks by them persist. He defended himself that there was nothing he has done to President Buhari, which his State of Osun counterpart, Ogbeni Rauf Aregbesola and notable members of the ruling APC did not do to the immediate past President Goodluck Jonathan, if not more.
I think Governor Fayose on a serious note, must be corrected here. And I feel his wrong perception of the names he cited are the prompts that are misleading him and which provoke his misgivings. Fayose thinks and concludes that everything must be politicized. He thinks every politician must always shout on top of his voice, even when there is no need, all in the name of playing politics. Fayose despite coming from an educated State and highly cultured tribe in Nigeria, thinks that politics lacks dignity and respect, therefore, grandstanding is to everybody; every time and everywhere. But I think and submit that Governor Fayose got it all wrong!
For the record, former President Jonathan in his time, was criticized for only being in power, but failed to be in charge of his government; he was scolded for being too weak and this, among other unpardonable factors accounted for high level of corruption in his six years administration. He was blamed for being too lackadaisical which was among the reasons the war he waged against the Boko Haram terrorists in the North East was not successful while still in power. Again, the opposition then, criticized former President Jonathan's administration traded so much in lies and this accounted for lack of public trust and subsequently caused disconnection between his government and the general public. The factor contributed a lot to his defeat at poll last year.
All of these are facts and defendable. If all Fayose's outburst since the last Presidential campaign till date are put into similar perspective, the Governor is not on the right track, therefore, must tread softly and do a "rethink", if that is not too late anyway.
This is why I think that Governor Fayose's colleagues, especially his fellow Governors in the opposition PDP must invite him and address his 'executive grandstand and excessiveness'
Another reason why Fayose must have a rethink is the recent accolade on former President Jonathan which was credited to his successor, Buhari.
Mr. President for reason (s) best known to him this week, showered praises on Jonathan for his courage to have accepted defeat as a sitting President. Buhari thanked his predecessor to have salvaged the country from being plunged into another political crisis and mess.
I was one of those who debated that despite his conceding loss, the immediate former President had no choice, giving the political temperature at his time, than to quit and leave. So, that he called and congratulated his successor, even before being officially declared the winner by INEC, was not a big deal. I then posited (I still) that Jonathan only faced the reality confronting him and decided to avoid the wrath of the Nigerian people if he attempted any manipulation. Good for him that he took a honourable decision.
Be that as it may, if Buhari despite the irrational attacks from the likes of Fayose and few like him in the first opposition, who are yet to be confronted with the records of their sleazy conducts while the former President was still in power, the Governor must think seriously; do a rethink and change his present way.
Finally, while being admonished, if at all that happened, (I wish it does), Governor Fayose must be told by his family members (party men) that this time, in our political history; things are changing (hopefully for better – as I feel the pains of the present hardship), what we need to move on and prosper as a nation, are strong political will, maturity, purposefulness and inclusiveness, not executive ludicrousness and rascality, the types coming from the Ekiti man. So, if it is not too late for him, Mr. Fayose, please "RETHINK O!!!!!"

E-Mail: tjaysuccess10@gmail.com; Facebook: Tajudeen Balogun; Twitter: @tjaysuccess10

Short URL: https://www.africanexaminer.com/?p=33283