Britain's PM Says Trust Must Be Restored In London Police
Latest News, World News
Tuesday, March 21st, 2023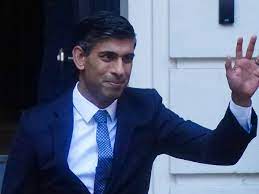 (AFRICAN EXAMINER) –  British Prime Minister, Rishi Sunak, has acknowledged a loss of trust in the agency following a devastating report on the culture within London's police force.
Sunak, in a BBC interview on Tuesday, said the trust in the police force was severely damaged, given what has happened over the last years.
Asked afterwards whether he thought his daughters in London could trust the police, he said: "I need the answer to that question to be 'yes' and at the moment trust in the police has been hugely damaged."
The independent enquiry report published on Tuesday described London police as institutionally racist, misogynistic and homophobic.
Violence against women and girls was not taken seriously, it said. It also said there was widespread bullying, sexism and homophobia in the force.
The report was commissioned after a police officer abducted 33-year-old Londoner, Sarah Everard, using his badge and then raped and murdered her in March 2021. Scandals also came to light after that.
In February, an officer was sentenced to decades in prison for repeatedly raping a dozen women over nearly 20 years.
British Home Secretary, Suella Braverman, called on the new police leadership to get a grip on the situation.
Braverman told Sky News that the report showed there was systemic and ongoing problems with police leadership and the force's culture.
Current police chief, Mark Rowley, has been in office for about six months.
He promised to crack down and publish an interim update by the end of March on how many problem officers had already been removed from the force.
He told Sky News that he accepted the diagnosis of the report.
"We have racists, misogynists and homophobes in the organisation. And it's not just about individuals. We have systemic failings, management failings and cultural failings," he said.
He said the reason he did not use the term "institutional" was because he thought it was "a very ambiguous" term.
"We've got toxic individuals, some of whom who've got concerns about their predatory behaviour.
"We've got people suspended. We've got people under investigation. We are rooting them out of this organisation," he said. 
Short URL: https://www.africanexaminer.com/?p=86397