Editorial Commentary: The Victories, Intrigues of Teen Malala Yousafzai's Visit to Nigeria
Articles/Opinion, Featured Contributors/Columnists, Latest News
Thursday, July 17th, 2014
By Tajudeen Balogun
July 17, 2014
It is doubtful whether before now her name rings bell to many Nigerians, hence the poor visibility (probably) in this part of the world. Yet, the national dailies were awash with her arrival to the country last weekend, her visit and the mission. The 17 years old Pakistani child education and safety crusader, Malala Yousafzai's three – day visit to Nigeria is indeed pleasant, timely, needed and has since turned out to be a result yielding foreign trip to both the teen activist and the country in general.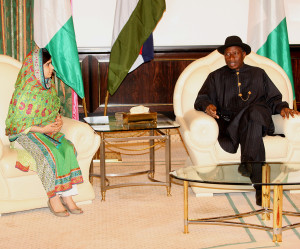 Before dwelling into the visit proper, the profile of the girl as chronicled and reported in the local media, had it that Malala who visited with her father, Ziauddin and members of Malala Funds (Foundation for child education and safety) was once a victim of Taliban Militant network. She was however survived and escaped from the group's captivity by whiskers. The young Yousafzai has since after regaining her freedom gone into activism – advocating for safety and education of the younger ones.
The teen at a dinner to mark her 17 years birthday celebration in Abuja last Saturday, stated it was her wish to see every child go to school and that over 200 abducted Chibok girls were released by the insurgents, so that they could go back to school and continue their education. She indicated that she wished to listen and share experience with the girls who have managed to escape from the captive as well as their parents.
Yousafzai's line of activities included a date with President Goodluck Jonathan on Monday. Interestingly, her meeting with Mr. President's was very eventful.
While at the Villa in Abuja, President Jonathan shocked not few Nigerians when he announced intention to meet with the families of the abducted girls and about five of them who escaped from the forest. It will be recalled that Mr. President promised in May to visit the families, but information to that effect was denied by his aides. This did not go down well with the victim families, Chibok community and so many pundits, who accused him (President) of not being keen about the girls' freedom and parents' travails.
It is also interesting to listen to Mr. President announcing during Malala's visit plan to constitute a Presidential steering committee – Victims Support Fund to look into how comprehensive solutions would be provided to the girls, their families, the security personnel who were one way or the other have fallen victims of the insurgency. The committee which was inaugurated on Wednesday is headed by former Minister of Defence, General Theophilus Danjuma and has as its members, Messrs Fola Adeola, Jim Ovia, Wale Tinubu and Mrs Folorunso Alakija among others.
Expectedly, heavy and torrent criticism have trailed belated Presidential meeting with Chibok women (victim parents). The meeting which eventually was aborted has been described in some quarters as mere 'cosmetics' as the President allegedly only couched on the teen's visit, her passionate story and child safety as well as her education campaign to gain some cheap points within the country and in the international community. In fact, it was alleged that President Jonathan had to seek approval of his United Kingdom (UK) Public Relations (PR) firm, before the announcement of the meeting with representatives of the abducted girls' parents. It will be too bad if these allegations are later confirmed to be true.
Still, it is gladden that Mr. President who previously appeared reluctant to do the expected has eventually deemed it fit to embrace what many had expected him to do. It is also delightful that our daughter from another land has spurred Mr. President to a courageous, passionate and 'prosperous' action.
And just on Wednesday, the nation was told about President Jonathan's letter to the Senate, seeking its permission to obtain $1 billion (over N160 billion) external loan to buy modern and adequate equipment, provide for training and logistics of the Military and other security agencies to wage lasting war against Boko Haram insurgents. Sound so interesting, but what a huge sum? What has happened to the security votes in the current fiscal year budget? Again, why all these 'kind' and mind provoking gestures and approaches only when teen Malala was in the country?
President Jonathan and his team owe the country answers to these vital questions. Yet, I strongly feel Nigerians should be grateful to the young education and safety crusader, for without her visit, the latest amusing events would not have played out! I am also sure so many cans of worms, relating to the Victim Support Funds committee, the aborted and to be rescheduled meeting with abducted girls parents, the approved huge loan to curtail terrorism and others will sooner or later be opened.
However, Malala Yousafzai deserves our appreciation. Whether her visit was natural or instigated, she has at least played another significant role in 'Bring #Back Our Girls' struggles and fight against insurgency in Nigeria. I have no doubt that a lot of Nigerians would have wished the freedom of the girls was coincided to her visit. Nevertheless, the memory of elicited actions, utterances and body languages at different quarters within and outside Nigeria at the instance of Malala's visit will linger for long.
Now to Nigerian youths, there are lessons in Malala's life history. First, her desire to opt for manpower development project and activism is inspiring and instructive. Therefore, to some of our youths who were opportune to pay attention or read about her visit and activities, it is an opportunity to aspire to be self-inspired and motivated, in the face of every odd situation.
Malala was smart enough to have converted a challenging and terrifying experience to an opportunity which has given her global attention and accolade as well as chance to add values, remould and reshape the lives of upcoming but needy young ones for a prosperous future.
The import of this is that, never should one be bogged down by any situation, no matter how debilitating and harrowing it may appear. This same applies to every other individual – to begin to believe and appreciate that there are unlimited but hidden chances in every situation. Nothing happens in vain, but for a definite purpose. But it takes one to be intuitive and calculative to get this thinking right.
Short URL: https://www.africanexaminer.com/?p=14567