Mbah Takes Oath As Enugu Governor, Says Tough Decisions Will Be Taken    
Featured, Latest News, News, News Across Nigeria
Monday, May 29th, 2023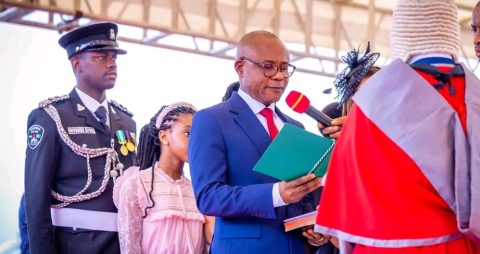 (AFRICAN EXAMINER) – The Newly sworn in Governor of Enugu State, Dr. Peter Ndubuisi  Mbah, has reassured citizens of the state that his administration's driving force and governance philosophy would always be anchored on transcendental values.
He said this Monday at the Micheal Okpara square Enugu during  his inaugural speech at the formal handover ceremony heralding his assumption of office as governor.
Mbah, stated that  his administration would not be business unusual.
"Tough decisions will be taken. Those decisions will however be taken in the best interest of Ndi Enugu and Enugu State in general"
 "We will invoke the spirit of enterprise, the creative energy of our people and the remarkable industry on the streets of Enugu state to create the difference in governance.
According to him "We will pursue an economic growth that is unrivaled in this part of the country. We will tap into the limitless resources of the private sector to provide world-class infrastructure and productive sector growth.
He added that "We will retool and re-energize our agriculture/agro-allied sector. We will unlock our rural economy through the implementation of Special Economic Zones and Special Agro-allied Processing Zones.
"The commerce and industry sector will help us to kick-start this drive. We also plan to provide a N100 billion revolving fund for our SMEs in partnership with the Private Sector and other Development Financial Institutions.
"Today is a historic day in the life of Ndi Enugu. Again, providence is placing Enugu State at the threshold of history.
"As offspring and heirs of a great historical heritage, we are aware of our proud and lofty past.  Right on this soil, our forebears worked relentlessly for the greatness of Nigeria.
"We are inheritors of centuries of pedigree of a hardworking, industrious and brave Igbo race. Our forebears toiled to produce the coal that powered Europe and grew her economy, extracting the black gold locked inside the bowels of the earth.
"We thus cannot be repositories of this great history and yet be laden with poverty and want. It will be unacceptable for us to be heritages of those massive resources that are still buried in the bowels of our soil and yet be trapped in underdevelopment. It is a contradiction of immense proportion which we are poised to unravel.
Mbah, elected under the platform of the people's Democratic Party PDP said "We cannot afford to delink from our glorious past. The soil of Enugu boasted of a retinue of great leaders and committed followers.
"The legendary Dr. Michael Okpara, whose astounding leadership qualities later got celebrated, decades after, in Ivy League universities like Stanford, demonstrated the component of his leadership ability right here on the soil of Enugu.
"The soil of Enugu has always been a fertile ground for the growth of leadership. Nnamdi Azikiwe, Akanu Ibiam, and others who administered Igboland, right from the soil of Enugu, exhibited memorable leadership, aided by the great support offered them by our people.
He said: "They administered a great people who gave their leadership abilities ample and fertile soil to flourish and flower.  
"These are the testaments that point to the fact that greatness runs in our DNA. This is the sort of greatness that the soil of Enugu breeds.
He recalled: "For six months, I traversed the length and breadth of Enugu state visiting the 68 development centers that make up this land of history.
"During this time, I listened to you, saw your challenges in the midst of considerable resources and felt your pains, but I saw that you remained hopeful of a better tomorrow.
"Two very instructive anecdotes explain the future that is here today for Ndi Enugu. One is the narrative of an imaginary youth, whom I shall call Emeka, who plies his craft right here on the soil of Enugu State.
"Like many young men who struggle with existential survival issues in Nigeria, life was becoming an excruciating and lost battle to Emeka.
"He had gone through the unease of struggling to study and here he was, with a certificate that looked worthless. So Emeka decided to join the now popular Japa movement.
"Life must be blooming on the other side of Europe, he thought. So he was enfolded into a ship that travels on the Mediterranean. Hope was beginning to build in him. 
"As the ship took him to a new life he had conjured, that hope suddenly evaporated.
"The ship sank and the Mediterranean Sea swallowed Emeka and his lofty dream.
"Conversely is the other youth whom I shall call Ikechukwu. Like Emeka, life was troubling for him too. He scarcely could make ends meet. He also struggled to go through school. Life was tough.
"However, he suddenly woke up to the creative genie in him. Ikechukwu, with friends on Ogui Road, was able to develop an app and before he knew it, entered his creative genius products in a global contest.
"All of a sudden, he won a prize in Dubai and the World stood still for that hitherto hopeless boy previously roaming the streets of Enugu.
"The above anecdotes spoke to the power of ideas, as against the escapist belief in the redemptive power of Japa.
"The two of them – Emeka and Ikechukwu – lived in this same city. The question that our administration is asking is, how many of Ikechukwus do we want to produce? How do we stem the tide of the Emekas? How do we address the 'hopelessness' among Enugu youths?
"Beyond anecdotes, what qualifies me to stand before you today is the conquest of the can-do spirit, the type manifested by Ikechukwu. I am an Enugu boy whose creative energy saw him through all his existential life battles and brought him to where he is today.
"Like Ikechukwu, while growing up, I struggled against the tides of adversities that made the future look bleak. Failures and frustrations dogged my way. 
"I worked as a shop attendant at Alaba Market in Lagos, struggling to stave off all kinds of negative manifestations of an inclement environment. 
"Like a determined swimmer, I swam against the tides of these adversities to embark on my scholarly journey.
"In 2008 when we began operations at Pinnacle Oil and Gas Limited, I came into that industry as a backbencher. 
"The DNA of exploits and creativity that is innate in every nwa Enugu was my driving force. It pushed me to go beyond the limits of expectations in the industry.
"A few days ago, I resigned as the CEO of Pinnacle. By the time I was leaving, Pinnacle Oil and Gas had conquered all odds, displacing the incumbent in the petroleum industry within a short time.
"We succeeded in driving the upstart of yesterday into reaching the Pinnacle of the downstream oil sector.
"The youths of Enugu State will be one of the biggest beneficiaries of the tomorrow that is now here today.
"We want to expose our youths to the skills required to grasp the emerging future and create opportunities for the genius in them to flourish.
"We also want to invoke and instill in them the can-do spirit that is innate in the Igbo man. Enugu will rubbish Japa, not by legislation but by creatively addressing the challenges to the future of our youths.
"We will equip our youths with e-commerce, fintech and cyber-security skills, such that they will become globally interconnected, and can indeed 'Japa' all over the world by providing services online through their e-commerce skills. They will be champions of the globe without necessarily having to leave Enugu.
"I am standing before you today pregnant with ideas on how to rescue our youths and indeed the whole of Enugu State from the threats against our existence.
"You can trust me. I will be operating from the vantage of transcendental values and not narrow interests. That is what we are driven by. 
"I will not let you down. We believe that the only purpose of leadership is to bring the best out of every one of us. You are why all these are possible.
"As we enter the threshold of history with this signing of a social contract with Ndi Enugu, we are immensely aware that the contract also has the spirits of our ancestors as witnesses.
"They hear us as we proclaim our resolve to transform the lives of our people. God's supervening eyes are also watching us.
"My prayer is that every citizen of Enugu State will remember today and be glad that we took a bold step forward for the benefit of our children unborn.
"There is no doubting Enugu's capacity to recreate the iconic wonderment of economic prosperity and phenomenal growth witnessed in Singapore and the United Arab Emirates. 
"Our will is strong and unshakeable, adding that 
We are also acutely aware that where there is a will, there is always a way. 
"When their forebears conceived the models of Dubai and Singapore some few decades ago, they too began to sow their tomorrow like a tiny seed as we are doing today.
"At that moment, the conceivers of the dreams appeared like some theatre jesters. Today, those countries have become models of the wondrous depth of human capacity.
"Today, we too are announcing the conception of same humongous dream, right here on the soil of Enugu State. 
"All the ingredients needed to actualize this dream are present in us. Today, God is bestowing upon us a leadership that keys into those yearnings and aspirations.
The colorful event was attended by past governors, Members of the state and national Assembly, Religious, Traditional rulers amongst others. 
_______________________________
Support African Examiner's Free Journalism. By making a little donation, you are ensuring this site is free for all; you are also helping us to stay afloat and fulfill obligations to our reporters and other service providers: Thank you for your supports.
Send donations to:
AFRICAN EXAMINER LTD, 1016408743, UBA
AFRICAN EXAMINER LTD, 2028842299, First Bank
AFRICAN EXAMINER LTD, 1012873398, Zenith Bank

For Enquiries send text to: +234.809.111.3268, +1.443.904.1239
Short URL: https://www.africanexaminer.com/?p=88288