NEWS FEATURE: Amb. Adetunji Makes Case for Concept of ONE WORLD at UN's SDG7 Bangkok Conference
Articles/Opinion, Featured, Featured Contributors/Columnists, Latest News, Sunday Fase
Monday, May 21st, 2018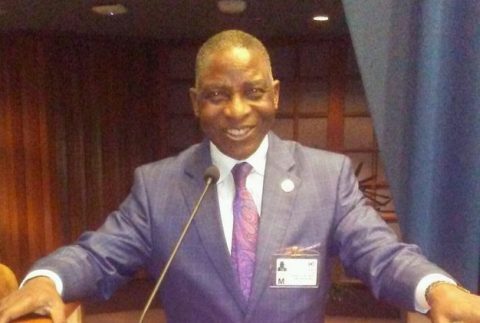 By Oludare Sunday Fase, Baltimore, USA
Photo 1: Amb. Tunde Adetunji, the President of the National Heritage Foundation and centre, Atlanta, USA
Photo 2 & 3: Amb Adetunji posts for photograph with other participants at the SDG7 Bangkok Conference
(AFRICAN EXAMINER) – The concept of "One World" is not new as it has been eloquently pursued many years ago by an American preacher, Wendell Willkie.  However, the idea was given a new breath of life at the February 2018 meeting of the United nations at Bangkok, Taiwan, by no other person than the articulate and inspirational speaker, Ambassador Tunde Adetunji, the President of the National heritage foundation and centre in Atlanta.
The Bangkok conference embraced participants from all works of life which makes the participation diverse. It brought together experts and people who have made significant contributions to various communities and policies affecting different issues with global community.
The high-level calibre of people at the conference and their fields of expertise have established them as individuals with significant potential to influence discussion that will last for decades. The level of participation and the overall conference was a tremendous success.
There is no doubt that, the outcome of the conference touches and addresses the need, wants, dignity and pride of all nations. There is an urgent need to implement the strategies agreed to amongst the participants. Most of the policies discussed require urgent application to correct some of the notions that are promoted in the world today.
There is a consensus that the global community are not given the right opportunity to express who and whose they are. People, despite race and color must be able to forge ahead to embrace their identity and contributions with freedom and ease to design and develop their environment with class of technology that will galvanize a significant appreciation of their trade and community.
Ambassador was tapped by the UN to speaker and participated in the conference based on his track record and his works in the area of education, non profit and culture exchange.
Hon Ambassador Adetunji, a multi-talented philosopher, an outstanding citizen of Georgia is a visionary, an idealist, a realist, and a pioneer of many  successful projects including the creation of Diaspora as  the  six  regions of  Africa, Human resources and  capacity  building for sustainable  development, Research Institute and center for museum of  cultural Anthropology, Radio and Television studio, Speaking Engagement/Train the Trainer, and Better life for  humanity  in  the  21st century  and  beyond.
During the conference the erudite cultural ambassador spoke on many issues and won accolade for his sound knowledge on array of topics and issues affecting the world.
"It is quite imperative to state that for decades people have dreamt of one world, one international government, a just society, and a common approach towards the problems facing humanity, both black and white. Thought the goal and the dream have eluded mankind, with the passage of years such an entity has become imperative." Amb Adetunji explained in an interview for the article.
In line with Jawahar Lal Nehru optimism referring to the hat frequent and wised-ranging talk of 'one World', Adetunji reemphasized the concept is right for implementation and must bear fruit for global development change and transformation. Even though it has been the wishes of many school of thought over centuries, the time is ripe for actualization to witness sustainable joy, peace, Love, unity that 'the concept of One World' both in our and generation, to come can practice.
Ambassador Adetunji asserted that, the world has changed drastically despite numerous wars. Despite the failure of the world body to get peace to the globe there is no reason for despair. The modern world has accepted democracy as a better option of governance throughout the world and a better awakening among people throughout has strengthened the hope for peace.  There is a frequent exchange of thoughts and experiments on the problems relating diverse knowledge and its implication between people belonging to different countries, otherwise not friendly with each other.  This healthy interaction can be attributed to a foundation for 'One World' and the political differences of nations cannot stop such interactions. Ambassador Tunde Adetunji thought of promoting Diversity has made it possible to identify the problems of brain drain to brain gain which has derailed Africa and numerous nations in the world of sustainable development, better life, equitable leadership, and better opportunity for humanity.
He eulogized courageous achievement of great philosophers like Socrates, Aristotle, and great Leaders like Mahatma Gandhi, Martin Luther king who identify the problem of civil right and champion it, Nelson Mandela who identify and solve the problem of Apartheid.
Similarly, Adetunji has identified the problem of Diaspora and Brain Drain to  Brain gain Syndrome not only for Africa alone, but for humanity in the  21st century and  beyond.
Adetunji  concept which has now  become the  case  study for growth and  transformation for community  development  at  the  world  body gathering  in Bangkok has  put  the  city of  Atlanta /Marietta  and the state  of  Georgia on global  recognition for achievement as well-wishes of humanity who assert that a world government must come together  because there is no other remedy for global ailments certainly have, now endorse  reason to adopt  citizens of  the world which now impacted for example the Jews in diaspora, India in Diaspora, Chinese in Diaspora, Irish in Diaspora, African in  Diaspora and all other world  entity in Diaspora to  work together towards the new world order of change  and  transformation sweeping across the  globe for a better and  most  prosperous  place  for humanity.
Ambassador Adetunji asserted that, the Foundation through its educational project equally have launched its academic/scholarship project through its Training and development, brain drain to brain gain and youth Leadership program. The goal is to discover, train and develop future leaders by turning their passion to purpose with integrity total commitment and dedication. The Train the trainer program of the foundation in Marietta and Atlanta Ga. focuses on entrepreneurship, job creation, business development under which the Africa open for business with direct connection between Africa and USA and the global community matters most with the direct transportation, importation and exportation of goods and services.
He also explained to the global audience that, the Historical genre of the Exhibition, has depicted the world as a global village on the context of love, peace and unity defining the universality of race created by God as only one Human race. For researchers in quest of Africa studies, the economic aspect of this Historic exhibition has equally proved that AFRICA MATTERS, AFRICA IS THE FUTURE, and, Africa is a continent of possibilities and without AFRICA the world is a vacuum.
On the Celebrate Africa journey through the ages Exhibition which debuted and promoted tourism and the centennial Olympics 96 globally, Ambassador Adetunji explained  that the exhibition has underscored its significance from the anthropological point of view and has proved  beyond  reasonable  doubt  that Africa  is the cradle of civilization and  the birth of  mankind.
The Exhibition which comprises of over five thousand unique images with 250 mediums of Arts, ranging from wood carving, collages, stone carving, Metal works, Fiberglass, cow horn, Tapestry, Acrylic, Oil painting, Engraving, Wood burning, will be showcased in New York as follow up on the project on sustainable project and renewable Energy and also billed for world tour at the Tokyo Olympics 2020.
On record  the  history  making  exhibition marked the inauguration of Nelson Mandela 1994, featured  at the centennial  Olympics 96, France FIFA world cup 98,All Africa games Johannesburg 99/FIFA World cup 2010 in South Africa, Africa summit Washington 2000, former Africa  union chairperson Jean ping visit to Atlanta  2013, The United  Nations  undersecretary Generals Ambassador Diara visit to(SPSU) now Kennesaw state University Marietta, Brazil FIFA world cup/Olympics 2014/2016. The Historic exhibition in conjunction with Africa/Atlanta project have equally created annual Africa heritage lifetime evergreen achievement awards which has recognized score of distinguished world leaders, history makers and achievers like, late Coretta Scott King, Nelson Mandela, Andrew Young, John Lewis, Mike Boyce, Jean Ping, Muhammed Ali, and many others.
Ambassador Adetunji also explained  to the  International  gathering  that His foundation through the unique exhibition has achieved a greater goal with the state of Georgia passing a resolution SR 9 and  proclamation on AFRICA/ATLANTA project as a  dream  accomplished for promoting Diversity, Business opportunity, Unity, peace and progress by bridging the  gap  and  building  the  bridge  making the city  of Atlanta, Marietta  and environ an  epicentre  and  gateway of  the 55 nations of  Africa potentials and business opportunity.
It is also imperative to reference that the AHF AFRICA/ATLANTA project initiatives, for over two decades in the Diaspora have launched several successful projects listed below which has now  become a cynosure for structures in other countries willing to  partner with AHF successful projects.
Africa Heritage center/Extended University program at SPSU for all university institutions globally.
Celebrate Africa/Journey through the age's exhibition for world tour launched by the UN Undersecretary General.
Africa Horizon movement (promoting the positive image of Africa as the continent of possibility and the future of the world) launched for global peace, unity, understanding and progress for humanity.
Africa matters / Africa is the future — Annual AHF Lecture series, symposium, seminars and workshop on African Human resources and capacity building for sustainable development
Africa initiative as food basket of the world—An initiative on green revolution, food production, Agro allied industry and better life for rural dwellers.
Africa open for business, Africa is the answer —An initiative on Africa global investment opportunities.
Africa professional and practitioners in Diaspora —An initiative to turn brain drain to brain gain.
Georgia/Africa partnership Economic bill pioneered and sponsor by the Africa Heritage foundation making the city of Atlanta and the state of Georgia the destination of Africa Business potentials to USA.
The Creation and Launching of the Diaspora as the six region of Africa pioneered and promoted globally by Africa Heritage foundation since 1996 Olympics.
Establishment and launching of the Africa Heritage Diaspora Radio and Television broadcasting, promoting and branding Africa positive image and AU union commission objective in the Diaspora.
Establishment of Africa Heritage Center and Library system in conjunction with the department of Africa studies and Extended university system for Archival materials, Teaching of indigenous Africa Languages, Historical values, civilization and culture in over fifty universities institution in the Diaspora.
Establishment and Launching of the Africa heritage scholarship program for less privilege and outstanding brilliant students for their academic pursuit.
Launching and creation of Archival data for professionals and practitioners in the Diaspora as Experts, for consultancy and training for research purposes, human resources and capacity building for sustainable development of Africa nations and the landlocked countries.
Launching and campaign for the first ever Olympic game in Africa. The proposed centers in other countries will preclude the already achieved AHF structures.
Indeed the Africa Heritage foundation centre participation at  the just  concluded United Nations SDG7 Conference in Bangkok  was highly  successful  and has  carve a niche and spotlight  on the city of Atlanta/Marietta, the  state of Georgia as a  centre of EXCELLENCE promoting Tourism, International relations, diversity, sustainable  development, business development, research/education, Historical Center for Diaspora  global initiatives, development and  better life  for humanity towards  the  United nations ultimate  goal in  the 21 century  and  beyond.
On United Nations side, there is hope for a binding program that will lead to a quantum and active participation amongst the member nations. SDG7 conference has created a new beginning towards the actualization of sustainable development and renewable energy for humanity by the year 2030. The next conference for UN-DESA SDG7 conference is scheduled for July 2018 at the United Nations in New York.
Ambassador Tunde Adetunji is open for speaking engagement and the successful outcome of this historic conference in Bangkok has equally created a global  exposure and numerous invitation  for speaking engagement and  conference from many countries, universities, communities and business organizations in support and  collaboration with the Africa heritage foundation's concept of bridging the gap and building the bridge in 21st century  and  beyond.
Short URL: https://www.africanexaminer.com/?p=44003