Reactions Trail Kwankwaso's Plan To Review Sanusi's Dethronement
Exclusive Reports, Exclusive/Investigative Stories, Featured, Latest News, News Across Nigeria, Trending Stories
Saturday, April 29th, 2023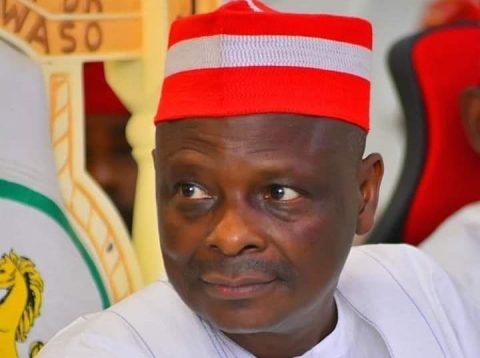 (AFRICAN EXAMINER) – The news that the presidential candidate of the New Nigeria Peoples Party, NNPP Rabiu Kwankwaso, has stated that the Kano State governor-elect, Abba Yusuf, will review the dethronement of the 14th Emir of Kano, Alhaji Muhammadu Sanusi has set social media on fire.
The African Examiner writes that Kwankwaso made this revelation on Saturday in a video that has since gone viral.
Sanusi, who was Emir during the final term of Kwankwaso as governor, was dethroned by outgoing Governor Abdullahi Ganduje in March 2020.
He was subsequently banished from Kano and sent to Loko, a remote community in Nasarawa State.
Ganduje also divided the Emirate into five and appointed emirs who were at par.
Reacting, Kwankwao, said, "We have campaigned and as you know we are popular in Nigeria especially in Kano state, we are now back and God willing we will continue with the good works our administration left.
"This incoming governor and his team will take them up."
The African Examiner presents some of the reactions of netizens concerning the issue as seen on Twitter.

@AbbaM_Abiyos writes: "Kwankwaso wants Governor-Elect Abba to revisit SUNUSI dethronement immediately as sworn in to office. Kwankwaso doesn't have any good plan to Kano people rather than creating more chaos and diversication among the royal bloods, this is a shame to Kwankwaso for taking this step."

@DoublePrince001 writes: "Let me ask you, what is called justice? Should Aminu have taken the offer in the first place knowing SLS was unjustly removed? You may think all is well within the royal blood but immediately Ganduje did what he did, bad blood was activated."

@engrfaruq writes: "You'd earlier predicted that Abba will lose and now you resort to campaign of calumny, even as you are not Kano State indigene. Can you provide proof for this allegation? I watch the interview, and Kwankwaso refrained from commenting, he said that the decision rests with Abba."

@FairouzNajib writes: "Please sir, when Ganduje did such why didn't you guys made objections. All the good people of kano has already in mind that one day if the state administration is change something like might pop back & here we're!"

@salees333 writes: "So when Ganduje was doing his own, it was an achievement but now it's kwankwaso you guys are saying rubbish. Allah yasa ku gane."
@aleeyoou writes: "When Ganduje tore the emirate apart, divided it into 6 and dragged Dabo's house dignity to streets, where were you? I command the kwankwaso's attempt to save the nobleness of house."

@abubakar_naziff writes: "Shame on you for playing double standard by not calling out Gandujen when he did the same to Emir Sunusi back then, wato Kwankwaso ne kuka mai daɗin hawa ko?, don't come and be giving people lectures on morality when you lack any."

@White_Superion writes: "Omo these APC people tire me . Why was he dethroned in the first place? Cos he disagreed with Gandollar the thief? Reverse the whole anomalies of APC all over the nation and we would have peace and progress . Watch and see Kano rise now."

@Don_Aley writes: "Is revisit of emir SLS dethronement a crime? If it is? then state the reasons why he is dethroned and if is not then revisiting dethronement will serve as fair treatment to both camp."

@Garba_Ambursa Writes: "I think the federal government needs to put some senses into Kwankwaso and his followers. And Sanusi needs to publicly show that it's for that title."

@anyebe_lawal writes: "It'll be good news if the new governor revises what crime Ganduje committed against the emirate, and particularly HRH Sunusi II."

@abetterlife80 writes: "Kwankwaso is the President of Kano and can do whatever he likes. The people of Kano will have to decide whether to belong to the FRN or the FRK."
Short URL: https://www.africanexaminer.com/?p=87518