With Machar Back, Can South Sudan Now Heal?
Latest News, North Africa
Tuesday, April 26th, 2016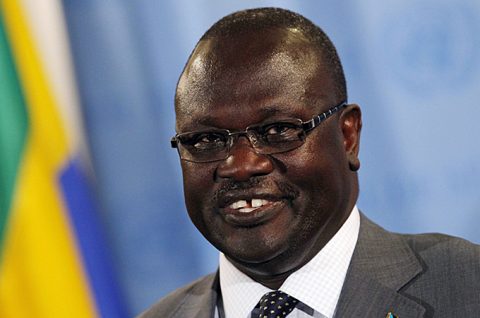 South Sudan rebel leader Riek Machar returned Tuesday to the capital after fleeing two-and-a-half years ago as civil war broke out. Now back in Juba, he was sworn in as the country's top vice president under President Salva Kiir.
Machar's and Kiir's forces have waged a brutal war against each other since December 2013, a few months after the president fired Machar as his deputy. Tens of thousands of people have been killed and some 2.3 million have fled their homes.
The two men signed a peace deal last year, but implementation has been slow with fighting continuing in some areas. Machar's return raises hopes that the deal can take effect, and the conflict-torn nation can move toward peace.
Talk of unity
At the airport upon his arrival, Machar said security must become a reality.
"There will be challenges ahead," Machar said, "there will be obstacles. But as long as there is political will we can overcome all these challenges, all these obstacles."
After arriving, Machar was whisked away to the presidential palace, where he was sworn in. At the ceremony, Kiir spoke of uniting the broken country.
"Our people are tired of war and they need peace now," Kiir said. "Together, we can accomplish far more than what we can when we are divided. Our strength lies only in our unity."
The two men face a daunting task. Machar said the country's failing economy must be stabilized.
The former rebel also called for aid to help those affected by the war, and for national reconciliation to take place. The war has bitterly divided the country by ethnicity.
"It is important to start thinking of how we should kick off national reconciliation and healing in our country," he said. "The war was vicious, we have lost a lot of people in it, and we need to bring our people together so that they can unite, reconcile and heal the wounds."
Deep mistrust
Kiir and Machar themselves must reconcile. There is deep mistrust between the two men and their supporters. Whether Kiir and Machar can put aside their power struggle and lead South Sudan to peace and prosperity is an open question.
British Ambassador to South Sudan Tim Morris said the leaders must show they are putting their country first if they expect the rest of the world to back them.
"This is not about power, this is about a country," Morris said. "It's about millions of people who face hunger, who are dispossessed, who are not planting their crops, half of whose children are out of school. That is the agenda, and that is the test. If the transitional government of the leaders of South Sudan can shift their attention to running their country, that will have our support."
By Jason Patinkin, VOA
Short URL: https://www.africanexaminer.com/?p=32175