Annan Tasks African Leaders on Electoral Integrity
Featured, Latest News, News
Thursday, October 17th, 2013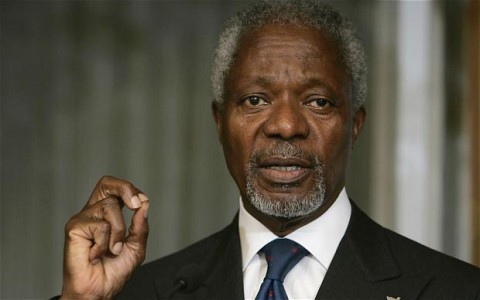 By Eric Ojo, Pretoria
Kofi Annan, the former Secretary General of the United Nations (UN) has urged political leaders in Africa to ensure that electoral integrity and democratic ethics are improved upon in order to consolidate the gains of democracy which is increasingly taking root across the continent.
Annan said elections, when conducted with integrity, bolsters democracy, promote development, and produce governments which are more likely to represent the interests of the citizens, adding that elections also provide citizens with the opportunity to debate priorities, choose their leaders and hold them to account, without fear of repression or violence.
He however lamented that elections in Africa, as in other places around the world, can become a trigger for conflict rather than a peaceful way to regulate competition for political power.
He noted that elections must be based on the principles of universal suffrage and political equality, and must be professional, impartial, and transparent in its preparation and throughout the electoral cycle.
"When elections lack these characteristics, citizens lose trust in the democratic process and look to other ways to have their voices heard. But taking to the streets is not an alternative to the ballot box", the former UN scribe further stated in a keynote address delivered  at the annual Desmond Tutu International Peace Lecture held in the University of Western Cape.
Annan also observed that genuine multiparty democracy provides mutual security to political opponents and encourages them to take part in the process rather than subvert it, noting that the role of legitimate opposition and the need for a multiplicity of voices must be appreciated and nurtured across Africa. "After all, it is transparent and accountable institutions, not 'strong men' or strong leaders that safeguard democracy and create the conditions for peace and prosperity", he added.
To further deepen democracy and build effective and legitimate institutions grounded in the rule and law and respect for human rights, he said politicians in the African continent must jettison the "winner takes" mentality which has been very pervasive.
"We must turn our backs on the 'winner takes all' approach to politics which has been so damaging to our continent. We have seen how this has led to abuses of power and encouraged losers to reject democracy as a peaceful means for change", he added.
He said political leaders, who derive their position and legitimacy from the people, and are elected to serve them, according to him, can never be considered above the law, adding that African countries must do more to uphold rule of law and combat impunity.
"In countries as far as apart as Rwanda, Bosnia and East Timor, we have learnt that justice is not an impediment to peace but a partner. When we abandon justice to secure peace, we most likely get neither. The parallel pursuit of justice and peace does present challenges, but they can be managed.
"We must be ambitious enough to pursue both and wise enough to recognise, respect and protect the independence of justice. And we must always have the courage to ask ourselves 'who speaks for the victims?' For on too many occasions, we have failed the victims of the worst crimes by neglecting to bring the perpetrators to justice.  Correcting this failure was the primary aim when the international community created the International Criminal Court (ICC)", he stressed.
In adopting the Rome Statute, according to him, the international community courageously tipped the balance away from impunity in favour of justice. "I was there at the time and I urged delegates to act as if the eyes of the victims of past crimes, and of the potential victims of future ones, are fixed firmly upon us. I am therefore concerned by recent efforts to portray the court as targeting Africa. I know this is not the case", he further explained.
The former UN scribe pointed out that four of the cases on Africa before the ICC were referred by African leaders themselves to the court while in two other cases (Darfur and more recently Libya) was referred by the UN security Council and the court initiated the proceedings accordingly.
"When I meet Africans from all walks of life, they demand justice from their national courts i possible from international courts if no credible alternative exists. Let me stress that it is the culture of impunity and individuals who are on trial at the ICC, not Africa", he posited.
Annan also expressed his worries over the upsurge in organised crime, including drug trafficking and terrorism which according to him, poses the danger of eroding the fragile institutions of governance and development progress on the continent, noting that the recent terrorist attacks in Nigeria and Kenyan have underlined, extremism and that the proliferation of armed groups pose a serious threat to peace and security.
He equally lamented that despite Africa's wealth of natural resources, poor governance and lack of transparency have resulted in fuelling the embers of corruption, exploitation and environmental damage. "We are also seeing the impact of climate change on water supplies, agricultural productivity and the environment. As a result, food and nutrition insecurity is rising, while increasing tensions over dwindling resources could lead to violence", he added.
He harped on the need for governments in Africa to empower women and promote gender equality because, according to him, the evidence is overwhelming that the healthiest societies are those which promote gender equality and invest in the education for girls.
"We know that no single factor can be more effective in furthering development than the empowerment of women and girls. So we must dedicate ourselves to transforming relations between men and women at all levels of society, and put the welfare of women and girls at the heart of all we do.
"Let me end on a note of optimism. Africa is a continent with tremendous natural resources, but none more than the talent of its young people. As I know from my discussions with them, they care deeply about our world and are actively engaged in fostering positive changes in their local communities.
"We need to do more to provide the conditions where their creativity and potentials can flourish and where they have a voice in finding solutions. With courage and vision, Africa can develop the institutions and qualities of leadership that will ensure a stable, prosperous society. Dear friends, we must remember that cohesive and healthy societies rest on three pillars namely,  peace and security, development, the rule of law and respect for human rights", he further posited.
Short URL: https://www.africanexaminer.com/?p=3113