OPINION: Buhari and the Search for Redemptive Courage
Articles/Opinion, Featured Contributors/Columnists, Latest News
Friday, September 9th, 2016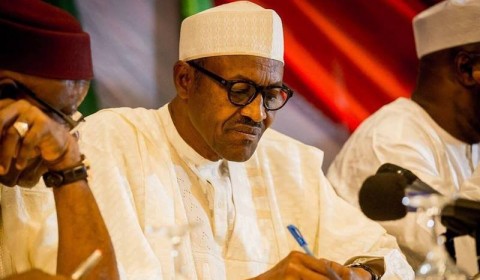 Steve Orji, United Kingdom, Brainpac@yahoo.com
 The post-military era of 1979-85 was only the beginning of Nigeria's deepening social and economic woes.
Nigerians barely survived the Shehu Shagari' "Austerity measure", the signature byeword to that era of hunger and spontaneous decline of Nigeria' middle-class.
That era no less, triggered long-range economic shocks that lived into the second advent of Nigeria's democratic governance.
At that time, many thriving public utilities and state corporations like the Nigerian Telecommunications, NITEL, Nigerian Railway Corporation, NRC, even the Delta Steel Complex, DSC, suffered systemic liquidation, a plummeting economic syndrome that caught on with the military interruption of the Ibrahim Babangida regime.
Nigeria's "economic suicide" was soon consummated, as the regime perpetrated one of the worst till-pillaging and large-scale patronage of corruption, and by around the 90's, Nigeria was already a hollow-barrel economy, with a severely desperate and impoverished 150 million people.
Nigeria's present economic situation is not a new trend, neither is it the most profound, fundamental item in the pecking order of our social and political conundrum.
There is something beyond economic hard times that has consistently rocked the fragile social and political cohesiveness of Nigeria, which time and again registers it's perennial presence, distorts our developmental visions, and often times threatens terminal dissolution of the Nigeria state.  It's the unwholesome structure of Nigeria. It transcends any other challenge confronting Nigeria.
Nigeria's political class, active or in retirement found a convenient, yet, self-serving navigation around this fundamental problem. And this problem has not been solved; talk less of outlining clear road map to solving it.
Buhari's government inherited a historical minefield of many unsolved issues, an artificial stringing together of ethnic nationalities haunted by morbid fear and suspicion of one another.  A nation racked by social and political hypocrisy, of ruthless political elites with hollow credo of patriotism. Nigeria is now ever more disunited than at independence.
Over the years, successive leaders, paid lip-service commitment to the social problem of ethnicity, promoted the culture of regional supremacy, and cleverly enshrined an unwritten charter of collectively oppressing and exploiting the weaker minorities, or other tribes who lacks sufficient political representation, where it matters. And these have become the potent nemesis of contemporary Nigeria.
Unfortunately Buhari's APC and sundry political stakeholders are busy polishing their soft-sell propaganda hinged on the "change" mantra with hope of repositioning Nigeria's economy.
Can a revamped economy solely account for the subterranean angst and frustrations of the people hidden under false nationhood?
Nigeria requires something beyond the narrow coalition of timid actors to one of bold and visionary courage in fundamentally confronting the real problems of Nigeria. Nigeria is a structurally dysfunctional nation founded on the whims of the British patriarchs, solely as a fealty territory of its colonial enterprise, and the British had had neither moral duty nor visionary commitment in sharing in Nigeria's historical burden.
Where are we? Buhari is lost in the maze of a gigantic Nigeria, bogged down by a catalogue of issues we had had no courage to confront, since independence.
Buhari requires redemptive courage in doing what other leaders were unwilling to confront, to engage Nigeria and Nigerians in honest dialogue.  Nigeria at the moment is perching on a precarious tip of self-implosion.
This government has to have spartanic courage to confront the problem of social inequities. It's apparent at the moment, going by the appointments of government officials, the nepotic disposition of this government, which utterly negates the character of equity and meritocracy. In the developed world, the interest of the whole nation outstrips every myopic consideration.
Far more than anything, the collusion and conspiracy of Nigeria law makers in perpetuating Nigeria's low-efficiency social and political architecture simply because it's beneficial to a narrow group, is gross disservice to the spirit of redemptive change.
The leader who dreams to fundamentally transform Nigeria, and place her on the high way to enduring progress and development cannot be preoccupied with petty goals. He would also not be hounded by the fear of displeasing the narrow clique of his kinsmen and acolytes, but more than anything, be a man imbued with redemptive courage.
Nigeria is in dire need of change, but even this late in the day, it's certainly looking like business as usual.
Short URL: https://www.africanexaminer.com/?p=35489