Buhari Identifies Agriculture, Power, Housing, Others As "Policy Options" To Revive Economy
Featured, Latest News, News
Monday, March 21st, 2016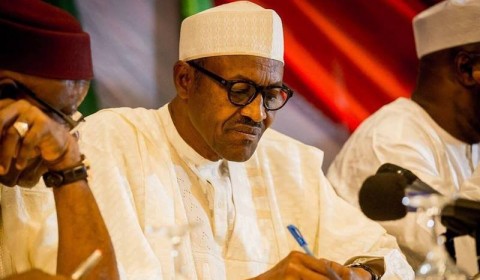 By Ganiyu Nasirudeen
President Muhammadu Buhari has identified Agriculture, Power, Manufacturing and Housing as "policy options" to revamp the country's distressed economy.
Speaking Monday at the National Economic Council Retreat on the economy at the State House Conference centre, Presidential Villa, Abuja, President Buhari admitted that, both the peasant and the mechanized farmers agreed with the general public that food production and self-sufficiency required urgent government action, adding that for too long, government policies on agriculture have been half-hearted, suffering from "inconsistencies and discontinuities".
While restating that the real wealth is in farming, livestock, hatcheries, fishery, horticulture and forestry, Mr. President noted that the worrisome trend Nogerians are currently facing included: ·rising food prices, such as maize, corn, rice and gari; lack of visible impact of government presence on agriculture; lack of agricultural inputs at affordable prices; cost of fertilizers; pesticide and labour compound the problems of farming. He added that extension services were virtually absent in several States.
Buhari lamented that imports of subsidized food products such as rice and poultry discouraged the growth of domestic agriculture; wastage of locally grown foods, notably fruit and vegetables which go bad due to lack of moderate scale agro-processing factories and lack of feeder roads.
Ultimately, the President advocated that the Government needed to carry the public along with the new initiatives, with the Federal Ministry of Agriculture collaborating with the States as well as convene early meetings of stakeholders and identify issues with a view to addressing them.
"Inform the public in all print and electronic media on government efforts to increase local food production to dampen escalating food prices.
"Banks should be leaned upon to substantially increase their lending to the agricultural sector. Central Bank of Nigeria (CBN) should bear part of the risk of such loans as a matter of national policy.
"States should increase their financial support through community groups. The appropriate approach should be through leaders of community groups such as farmers cooperatives.
"Provision of feeder roads by State governments to enable more effective evacuation of produce to markets and processing factories" the President reiterated.
On paucity of funds, Mr. President complained that farming unlike before; is now faced with challenges such as poor access to small scale credits; inputs (fertilizers, herbicides and others) and extension services.
On how to achieve the targeted 10000 megawatts by his administration, President Buhari declared that there was classic dilemma of privatization, which he noted is evident on "public interest vs profit motive".
Nevertheless, he assured the process must be completed; hence, Buhari's assertion that the National Electricity Regulatory Commission (NERC), has a vital job to ensure consumers get value for money and over-all public interest is safe-guarded.
He promised the Government would fast-track completion of pipelines from Gas points to power stations and provide more security to protect gas and oil pipelines, as well as power companies should be encouraged to replace obsolete equipment and improve the quality of service and technicians.
On manufacturing, President Buhari bemoaned that so many manufacturing industries in the country today were groaning under the pains of loss and frustrated because of lack of foreign exchange to import raw materials and spare parts.
Although, he admitted that the experience is painful, the President disclosed that the present difficulty was a temporary phase which "we shall try to overcome but there are deeper, more structural problems bedeviling local industries which this Retreat should identify short and long-term answers to."
The President encapsulated the manufacturing problems in: inadequate infrastructure;
power; roads; security all leading to increase in costs of making Made-in Nigeria goods "pricier than imports".
While noting that the Nigerian Capital Market has not completely recovered from the 2008 economic meltdown crisis, Buhari stated Banks' funding sources were short-term in nature due to sources of the liabilities.
"Under-developed Science and Technology Research: As with Agriculture, Nigeria's industries are in the main outmoded and industrial practices far behind those in advanced countries.
"We need to protect our workers from exploitation, but unions must cooperate with entrepreneurs to substantially improve productivity and quality of products if we are to move forward" the President warned.
On how to curb smuggling, among the recommendations by Mr. President is fast tracking of the infrastructure Development Fund to unlock resources so that infrastructural deficiencies can be addressed.
He recommended to the Council: "there should be more fiscal incentives for Small and Medium Enterprises (SMEs), which prove themselves capable of manufacturing quality products good enough for export.
"Central Bank of Nigeria (CBN) should create more incentives and ease credit terms for lending to manufacturers.
"A fresh campaign to patronize Made-in-Nigeria goods should be launched. Example: all uniforms in government-sponsored institutions should be sourced from local factories.
In the meantime, President has invited foreign investors together with local domiciled big construction companies to enter into commercial housing building, so as to achieve 250 housing units. Also, the President stated the most frequent public concerns were severe shortage of housing; High rents and unaffordable prices for prospective buyers especially middle and low-income earners.
He however considered that the country's laws should be reviewed to make the process of acquiring statutory right of occupancy shorter, less cumbersome and less costly. "Court procedures for mortgages cases should make enforcement more efficient. Ministries of Works and Housing should upgrade their computerization of title registration system for greater efficiency" Buhari directed.
President Buhari also recommended more funding for health centres to improve service delivery, noting that the World Bank and World Health Organization (WHO) could be persuaded to increase their assistance in strengthening public health propaganda in primary prevention; Environmental sanitation; Stop smoking; Better dieting; Exercising.
The secondary prevention he stated are screening and early diagnosis of diseases.
Short URL: https://www.africanexaminer.com/?p=31124