Buhari: Nigeria's Realities, Hopes And Impediments, By Steve Orji
Articles/Opinion, Featured Contributors/Columnists, Latest News, Steve Orji
Monday, April 20th, 2015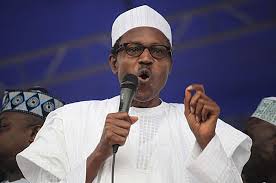 There's absolutely nothing about Nigeria that defies remedy. Not even its politics, as the last elections have well proved.
It's possible that Buhari's supporters, like am, have reduced Nigeria's complexities into a sweet, soft, lolly pop. Buhari's euphoric victory at the polls, soon dies out, as he begins to navigate the multifaceted layers of Nigeria's difficult realities. For one, Nigeria has never been a "nation" as such. Had it, why would I need to emphasis my tribe of origin, on documents and official transactions that otherwise should strongly uphold my Nigerian nationality, above anything else?
Nigeria is chaotic, noisy, systematically impaired. Buhari cuts the image of one who has sense of order. Would he bring to bear a sense of order, in Nigeria's already complicated social and political systems?
The "Federal character" must have been a brainchild of northern leaders, who fell shy of their people competing in Nigeria's vast territory, and rather would prefer "quota" to merits, so that majority of "unresourced northerners" can find a hiding place to cut their own share of the Nigerian largesse. Can Buhari have the political will to reinstate true meritocracy, knowing that the "north" has always never really had resourceful talents open to the rigours of competitive selections?
The north has always been the wobbly leg of the Nigeria tripod. It has the most unherded mass of people. Its traditional institutions are technically out of date, and as such opposed to progressive, western thoughts. Though BOKO HARAM has wider jihadist's context, but the north's conservative clique, seeded and sustained its operations, simply as tool to oust anyone outside its core political interest.
Buhari will require lots of inspired courage and generous honesty to admit these truths, so he can invite his northern people into global participation in the scheme of things.
The structure of Nigeria's institutions have been unfairly tweaked to accommodate " everyone", irrespective of the fact that some offices and parastatals have staffing that contributes nothing but bloated bills of governance and running of state. Far more than anything else, the current structure of Nigeria does not promote efficiency or excellence, but harbours within its rank and file, a huge number of people who constitute fiscal bleeding points to Nigeria's resources. We hope the brief-case carrying and Agbada donning Hausa men won't return to Abuja, buying up and selling on contracts?
Can Buhari restructure the institutions, to ensure that only the best and brightest ascend the offices? Otherwise why states would be asked to recommend candidates to fill up Federal Ministerial positions? And the best a South-western state could afford at one point was Fani-Kayode, and worst still, had him finally confirmed to the position of Aviation Minister? Who knows how much "Kickback" went into forcing a completely irrelevant candidate as he was, into a sensitive position as that? Many Nigerians also perished!!!
Should the center (ASO-ROCK) have so much power vested in it? Can't more power be devolved to the states, such that grassroots developments could be staged at regional and council levels, other than the jamboree, blurry-eyed performance often exhibited by the centre?
Buhari's victory is far from being a happy one. He is going to preside over a rag-tag, rickety economy, burdened by high-level political patronage.
On the economic front, the new government would need to strengthen fiscal policies, such that would ensure sufficient liquidity in the domestic and foreign reserves, by blocking leaking fiscal outlets. Loose or stolen funds would need to be traced to their domiciliary origins, and repatriated accordingly. Investments and property forfeitures, especially from known corrupt owners should be encouraged. Accountability would now be a prime item on the action-list of the new regime.
The knock on effect would be less prodigal spendings, better reputational asset in the global community and consequently, greater inflow of foreign direct investments, owing to growing investors confidence.
Nigeria had suffered severe reputational losses in the last eight years owing to corruption. The swing of power, and change of guards, coupled with hard stance on corruption will better situate Nigeria amongst developing nations to be taken seriously. The reality is this-It would be difficult for Buhari to initiate and sustain a wide-across-board probe, without hurting some elements in his APC cabinet-knowing that some of them had questionable riches, drawn from the same puddle of dirty Nigeria money.
To handle historical corrupt charges, especially ones committed 20/30 years earlier would somewhat unsettle the focus of the present regime. Another difficult reality is-how would Buhari bring to book his fellow northern past heads of states, who raided the till, even with loads of sophisticated assets, especially as some of them had shown sympathy lately to his political cause?
Nigeria's social and political realities are tangled as they are twisted, and would require, more than mere technocratic wisdom and military discipline to handle. An understanding of Nigeria's complicated realities opens to the Christian mind, a practical spiritual engagement platform, offers him an opportunity to specifically pray for leaders and the nation, in an informed, honest and devoted manner.
Steve Orji writes from United Kingdom
Short URL: https://www.africanexaminer.com/?p=23286