Centenary City:  Hembe Continues with Kangaroo Hearing Despite Stakeholders Objection
Featured, Latest News, News Across Nigeria, News From The State
Tuesday, February 7th, 2017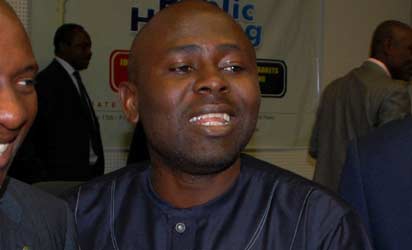 …Committee Chairman Pursuing Personal Agenda –Anyim
(AFRICAN EXAMINER) – Unperturbed by objections from critical stakeholders, the Chairman of the House of Representatives committee on the Federal Capital Territory (FCT), Hon. Herman Hembe, has proceeded with his public hearing on the Abuja Centenary City project.
Curiously, the committee is asking for documents it should have received before commencing a sitting.
Now, Hon Hembe is reported to have said the committee will write to former Secretary to the Government of the Federation (SGF) asking questions it should have sought and obtained answers long before now.
This comes on the heels of the drama that played out yesterday at the investigative hearing as the former SGF, Senator Anyim Pius Anyim, accused the Chairman of the Committee, Herman Hembe, of pursuing a personal agenda with the hearing.
Hembe's committee is conducting investigations into alleged irregularities surrounding the Centenary City project. It was however overshadowed by more drama between Hembe and a former Minister of the FCT, Senator Bala Mohammed, and also between Hembe and another committee member, Linus Okorie.
Hembe, according to Anyim, is bent on extracting a pound of flesh for his, Anyim's refusal, to sack the former Director General of Securities and Exchange Commission (SEC), Ms. Arunma Oteh, after a public spat.
Oteh, at an investigative hearing by the House into the activities of SEC in 2011 had publicly accused Hembe, who was chair of the committee, of demanding a bribe from her, and other corrupt practices.
The spat, which was beamed live, led to the suspension of the hearing.
Anyim, at the hearing yesterday said Hembe had pushed for Oteh's sack.
"You have told everybody that cared to listen that when the former DG of SEC accused you of demanding bribe from her, you pushed for her to be sacked and I refused to sack her while I was SGF, and so this is an opportunity for you to pay me back. Mr. Chairman, I will not allow you to use the National Assembly platform to pursue personal vendetta," he said.
Anyim also alleged that Hembe has been sending messages to the Managing Director of the Centenary City Project PLC, Dr. Odenigwe Ike Michael, to come and see him privately.
"It was after all your efforts to get the MD to come and see you privately failed, that you confirmed this date (after several postponements). I want you to know that nobody will see you privately, rather we are ready for the hearing," Anyim said.
The former SGF had earlier noted that the committee did not follow the right protocol in the process of inviting him as a former Chairman of the National Assembly.
Anyim was Senate President from August 2000 till May 2013. "The proper protocol in inviting a former Senate President is to have the Clerk of the National Assembly sign the invitation letter," he said.
He added that the Senate had already conducted a hearing into the Centenary City.
"The two chambers are not independent of each other, rather, they are interdependent. If any chamber takes a decision, the other can just concur…I submit that you have no reason not to consider that the Senate considered this matter, and you shouldn't go ahead to consider it again except for any other motive," he added.
At this point, several members of the committee protested with some shouting "who is he?"
Hon. Jagaba Adams Jagaba (Kaduna APC) said: "We invited you as former SGF, not former Senate President."
Hembe retorted, "as far as this hearing is concerned, I am chairman here, and I will not allow you to usurp my powers."
Anyim however maintain his ground and urged Hembe to disqualify himself, for having "a deep seated personal interest and bias in this matter and "not in a position to guarantee fair hearing to myself and the entire subject matter."
Hembe declined to disqualify himself and proceedings continued. The drama however continued when Bala Mohammed also vocally trashed the committee chairman, accusing him of being childish.
He had initially refused to take an oath saying he would not testify but would rather adopt the position of the FCDA on the Centenary City project.
Mohammed, who is also a former Senator, said he would only speak when asked specific questions.
Hon. Diri Douye (Bayelsa PDP) however insisted Mohammed and any other person for that matter is required by law to testify before House investigative committees when called upon to do so.
This however did not go down well with Mohammed who said: "you are behaving childishly."
The statement miffed the members who rose in arms and asked him to withdraw the statement.
He refused and lashed out at the committee: "I will not take it back. Do your worst, my privileges are infringed by this show of childishness. Go to Court, do your worst."
Hembe however scolded Mohammed: "We expect as an elder, as a Senator and a former Minister, your conduct should be above board."
More drama again occurred between Hembe and Linus Okorie (Ebonyi PDP) as the latter continued to demand to speak, during the proceedings.
Short URL: https://www.africanexaminer.com/?p=37937