CONFAB Lists: Traditional Worshippers Protest Marginalization, Demands 3 Slots
Featured, Latest News
Sunday, February 9th, 2014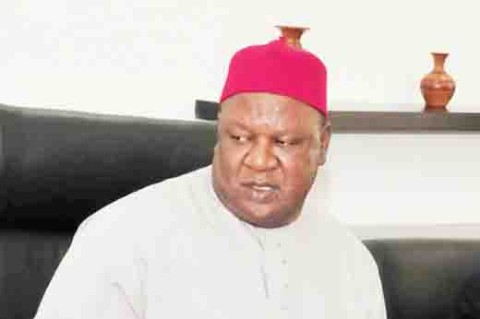 The Practitioners of the African Traditional religion have blasted the federal government for excluding them from the long list of delegates that will attend the proposed national conference.
The group thus asked the FG to consider giving three slots to represent the interest of the African Religion Spirituality.
Among the popular adherents of the traditional faith are a former Vice Chancellor of the University of Ife (now Obafemi Awolowo University), Prof. Wande Abimbola and national coordinator of Oodua Peoples Congress, Otunba Gani Adams.
Speaking in Abuja on at a news conference on Sunday, The President of International Council for IFA Religion and Dean, School of Earth and Mineral Sciences at Federal University of Technology, Akure, Prof. Idowu Odeyemi said ancestors would not be happy with Nigerians if  government fails to consider their demands.
Prof. Idowu said he has been mandated by the Ifa Council to see the Secretary to the Government of the Federation, Anyim Pius Anyim later this week over the matter.
"All practitioners of African Traditional Religion in Nigeria demand and should be given THREE (3) slots on the National conference to represent and articulate the interests of African Religion and Spirituality." Prof. Idowu declared.
His speech at the press conference reads in full:
"I greet you all, in the name of Olodumare, the Almighty creator of all things that exist. I greet you in the name of our forefathers who have sustained the social, economic, political and spiritual growth of the Black Race for thousands of years before slavery and colonialism. These our same forefathers are today being demonized, "satanised" and cast into the dustbin of history by their own children as irrelevant to the issues of the day, in preference to the forefathers of other races. Our forefathers, guided by African Religion and spirituality, built the Egyptian, Zimbabwean, Edo, Oyo, Ashanti and other great African civilizations upon which the very fabric of our Blackness is built today.
"Following the unpleasant experiences of our forefathers under Arab and European enslavement and colonialism, there became a conscious attempt, (first by the enslavers/colonialists and later by the converts, – our own brothers and sisters) to erase everything noble and African from the psyche of the black man in preference for everything Arab and Euro western.
"Today, all Africans, converts or not, are perceived internationally as an inferior breed of humanity incapable of reason and devoid of an honorable past. Africans are now caught in a cyclical, violent, proxy war between their two major colonizers – Arabs and Europeans. The proxy wars are multi-dimensional: religious, social, cultural, political and economic. Today, the black man hates his father's names in preference for other inexplicable names. Today, Africans prefer "made-in-anywhere but Africa-goods" to those made outside our continent. Today, consciously or not, Africans have become hewers of wood and drawers of water for other races.
"The destruction of the African Essence seems total and the disfiguring and disorientation of the African psyche is all encompassing, with the venom unassuaged by the scars of slavery, colonialism and mental servitude.
Nothing seems sacred and important to us Africans anymore-not even innate values that distinguished our Race from the others nor the labour, sweat and wisdom of African Prophets past gone. Neither the Divine messages sent to the whole of mankind through African prophets nor the moral and social cords that have held our society together for several thousands of years. Nothing…..not even our names or the very colour of our skins!.
"Today, the Blackman is the only race that believes that its socio-economic, political and religious salvation can only be achieved outside the shores of the continent. Today, the future of Africans is dictated by children and grandchildren of our colonizers. Nowhere else on the earth has any major race (Chinese, European, Indian, Persian, Arab, Jew, etc.) with great historical pasts, totally abnegated its existence and mortgaged its future so easily, so shamelessly and so despicably.
It is such a SHAME!
"Today, by the accident (and perhaps divine guidance) of history, Nigeria, our dearly beloved country is the largest Black nation on earth and epitomizes the Blackness in all Africans. Every fourth African today is a Nigerian.
"Naturally therefore, Nigeria should be at the core of African Spirituality. It should showcase the best that Africa represents. It should lead the way for neo-African renaissance. Nigeria should, by divine placement (accidental or not) show the world, how Africa should be perceived: as the glorious bedrock of humanity, as the origin of human civilization and as the origin of all religions and all spirituality.
"One hundred years after the amalgamation of the diverse peoples that make up our country Nigerian, a National conference is being put in place to evaluate the extent to which a true nation has been forged and to propose the way forward. Several stakeholder groups have been slated for this proposed epochal conference including youths, the disabled, Nigerians in the Diaspora, Editors and Religious leaders.
"Contrary to these false perceptions, pretensions and false consciousness, Nigeria, Africa's largest nation is made up largely of millions of Africans who exude African Spirituality and practice African Religion. These include Architects, engineers, politicians and political leaders, Nobel Laureates, professors, farmers, technicians, religious priests, students, teachers, lecturers and a lot of others who silently contribute to the growth and development of our nation.
"To consciously alienate and ignore this massive African religious class is therefore totally UNACCEPTABLE
"For the avoidance of doubt, African Traditional Religion is neither envious of, nor at war with our Muslim and Christian brethren. The reality of today is that Nigeria has been and is a multi-religion society in which, ideally, all adherents should practice their faiths in peace and harmony even as they make their modest contributions to the development of our nation.
"The constitution of the Federal Republic of Nigeria which is currently in use recognizes the existence of three major religions in Nigeria, (African Traditional Religion, Islam and Christianity) the composition of participants at the proposed National Conference, consciously and studiously seeks to ignore the pivotal provisions of that constitution. This is UNACCEPTABLE.
"It is also worthy of note that in the past there had been a tendency to accept Traditional Rulers who were in pre-colonial days the true representatives and protectors of African Traditional Religion. Today, many of these Traditional Rulers have abandoned African Traditional Religions in favour of Muslim and Christian Religions.
"Our religion is therefore not ready to accept that we should be represented by Traditional Rulers. In any case, Traditional Rulers have been SEPARATELY allocated slots as a stakeholder group at the conference.
"Ignoring African Traditional Religion now or ever, will come back to haunt our country Nigeria for several decades to come. According to Edmund Burke (1790): "People will never look forward to posterity, who never look backwards to their ancestors".
Our Request
"All practitioners of African Traditional Religion in Nigeria demand and should be given THREE (3) slots on the National conference to represent and articulate the interests of African Religion and Spirituality."
Short URL: https://www.africanexaminer.com/?p=8137