OPINION: Corruption, the NBA, and the Effrontery of Thieves
Articles/Opinion, Babs Ajayi, Latest News, Uncategorized
Wednesday, March 9th, 2016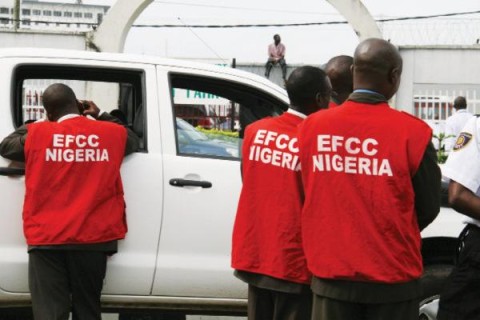 BALTIMORE, MD (AFRICAN EXAMINER) – Nigeria is in a new phase, a difficult period when thieves and looters makes it look like it pays to steal, consider it acceptable to stand up to the state and plead innocent despite overwhelming evidence to the contrary, feels good to brag about what they have stolen and show off, boldly challenge their arrests and even pay big time, big name lawyers to fight their arrests and prosecution. Lots of our people express amazement online and through social media about the shocking details and lists of recovered assets, properties and raw cash that ran into millions, particularly United States dollars. For example $1 million was recovered from the latrine (shalanga) a retired naval chief and his wife built to hide their loot, yet the man remains obdurate, unbowed, and unperturbed. Another $1 million was recovered from the home of a former chief of defence staff, yet the man pleaded innocent to stealing and looting! The list of recovered properties spread all across the nation will shock every ordinary citizen and reminds us of Ismaila Gwazo, the collector of houses during the criminal years of the evil cretin Sani Abacha.
Documentary evidence provided by the government was so compelling you will expect him to be begging for mercy, but no, no way – rather he wanted bail now; bail was all he wanted and cared about. He was led out of the court the other day – unfazed and with his head held high, dark sunshade perfectly placed, and his shoulder pumped up – after the judge ordered that he be remanded in prison custody. The showy image of this man was plastered on the front pages of Nigerian newspapers the following day. He is now the poster boy of unperturbed, unrepentant, willy-nilly looting and corruption in Nigeria. He obviously trusted his well-paid lawyers, most of them bearing the now unenviable title, Senior Advocate of Nigeria (SAN), to work their magic and get him out. Now that the SANs have the bank account numbers of the judges it is easier to buy bail, secure release and free the sinner. For now the suspect's son is holding forth the reins over the stolen loot and properties, so there is nothing to worry about. Nigeria is now at the mercy of thieves and SANs.
How did we get to this sorry and shameful pass? No one will doubt the fact that "beating" the legal system and sharing the stolen loot with lawyers and judges is the major reason why thieves and looters are so bold and audacious, and consider themselves untouchable – capable of twitching their nose at the law. The SANs reassures them of victory each time. Some of the SANs are so filthy, dirty and corrupt they render all sorts of services and make all sorts of payments to judges: burial gifts, birthday gifts, wedding gifts, Salah and Christmas gifts, and briefs' fees. But sadly and shockingly, a SAN no longer remember his age; he is not sure if he is 43 or 54. How old am I? Sorry I cannot remember. What was my DOB in my Law School admission form? Oh yes, I did an age declaration in 1986. But what DOB did I use in that age declaration? How about my FIRS tax form? And then the DOB I used in the BVN application? Oh mine, was that the same as the DOB on my international passport? I am confused now and the whole thing messed up in my head. Remember Justice Marcel Awokulehin who found James Ibori not guilty of any of the 170 charges brought against him by the EFCC? The prosecutor in the case, which hinged on the transfer of Delta State resources and money laundering, submitted as follows:
(a) That the Accused persons transferred resources;
(b) That the said resources were derived directly or indirectly from an illegal act; and
(c) That the transfer was done with the aim of either,
(i) Concealing or disguising the illicit origin of the resources,
(ii) Aiding any person involved in a crime or an illegal act to evade the legal consequences of his action.
Where collaboration is alleged, Learned Senior Counsel submitted that the ingredients will include:
(a) That the Accused person collaborated in the concealment or disguise of the Genuine nature, origin, location, disposition, movement or ownership of the resources; and
(b) That the said resources were derived directly or indirectly from a crime or an illegal act.
On the issue of allegation of retention, Learned Senior Counsel submitted that ingredients include:
(a) That the Accused retained the proceeds of a crime or an illegal act;
(b) That he did so by concealment or removal from jurisdiction or transfer to nominees;
(c) That he acted on behalf of another person;
(d) (i) That he knew or suspected that other persons to be engaged in a criminal conduct or had benefited from a criminal conduct, or
(ii) That he acquired or used that person's property or kept in possession of it knowing same to have been in whole or part, that person's proceeds of a criminal conduct.
Despite all these facts and the loads of evidence presented to Justice Marcel Awokulehin he did not find Ibori guilty of a single count from a long list of 170! It was a judgment like no other and it was all the London Police needed to realise and conclude that the justice system in Nigeria is in the firm grip of the thieves, their lawyers, and the crumb happy, ignoble judges and justices. The stench that covers the justice system in Nigeria reaches straight to the apex court. There you find justices (dishonourable, most of them) with fat bank accounts that are way beyond their income. They will say they live at the mercy and goodwill of their friends and well-wishers. But who are these friends? They are predominantly SANs, SANs who are generous enough to share the dirty cash they grabbed predominantly from thieves and looters with judges and justices, who are sitting or will sit in judgment over the cases of their criminal clients.
The Nigerian legal system is now going through a cycle of sarcasm and jest in the very hands of those who are expected to protect and uphold it. Gifts must have limits and gifts should never be in cash and never, ever more than a diary, calendar, note pad, and the like; wrist watches, shoes, suits, hand bags and cash such as one and a half million naira (N1,500,000), eight hundred and thirty-five thousand naira (N835,000), five hundred thousand naira (N500,000), eight hundred seven hundred and fifty thousand naira (N750,000), or even three hundred thousand naira (N300,000) as offered to judges by some SANs who ought to be sanitized. A lawyer handing over cash or any item that is more than five thousand naira (N5,000) in value to a judge is crossing the line and essentially offering a bribe, and a judge worth his salt and with integrity ought not to accept any gift more than N5,000. It is only imaginable that a state chief judge will invite a litigant who has a plaintiff before his court to his book launch and accept ten million naira (N10 million) from him. I am not sure what the title of the chief judge's book was but I suspect it must be "How to shake Down a Litigant." They often talk about lawyers being good liars in Nigeria, but one particular lawyer is letting everyone down as his story about the bribe he was accused of offering a judge seemed to change every week.
I remember a consulting assignment my colleagues and I did for a leading merchant bank so many years back now. We were still working in and for the bank when the Christmas season came upon us and the admin/human resources department of the bank was sharing rams, rice, turkeys, chickens, vegetable oil, etc. to staff. The bank's general manager walked into our office and offered us rams, rice, turkeys, vegetable oil, etc. He pointed through the window at the items right by the car park located in front of the building and told us, "Those are for you guys." We all chorused that we are not allowed to accept any gift that is more than a few naira notes in value. He was shocked, even offended; not used to people turning him down. We told him to remember us when diaries and calendars are being shared, but not rams and bags of rice. He raised the matter with me again a few days after and I repeated what we all said earlier: we cannot accept such. The moment you accept something substantial you become indebted to the giver. I have no doubt in my mind that the givers inside the judicial system in Nigeria surely expect something back in return. In the legal system in Naija, one good turn always deserves another and there are no free lunches in a corrupt and crooked society.
The rot in the Nigerian judiciary is so bad that you marvel at how often lawyers in Nigeria find it so difficult to separate clients' funds from theirs. Some lawyers will collect funds on behalf of their clients and never transfer the money to the clients for years. The clients will ask for their money, plead for it and begged for it to no avail. They will end up visiting the lawyer for months, even ask those who knew the lawyer to help them retrieve their money, and sometimes take the matter to court. A lawyer once collected rent for a property and denied for months that the tenants had paid. When that lie was deflated, he promptly issued a cheque. The cheque also promptly bounced. It took more than seven months to recover the one-year rent from this lawyer, who also happened to be a classmate and a distant cousin rolled into one. I totally cut him off despite his pleas and I emphatically told him that his licence would have been suspended for up to six months if he were practicing in Europe or North America and he could also have ended up in court and in jail.
Another lawyer forged a trustee's signature and took out more than eight hundred thousand naira (N800,000) from a trust account. I was shocked and surprised that a young lawyer would do that. The lawyer withdrew money from the trust account several times for a total of more than eight hundred thousand naira. The owners of the money did not know about it until one of them suspected, yet the young lawyer denied it. But he backed down when copies of the cheques were obtained and sent to him and others with interests in the trust account. The lawyer was forced to pay back and he did, but to my amazement he did so grudgingly and reluctantly. His hatred and dislike for the two people who condemned what he did has not waned since then. I also told this young lawyer that what he did would have landed him in jail in a civilized society and that his nonsense was only doable in Nigeria.
I truly doubt if there are rules and ethical standards for lawyers in Nigeria. If the NBA has a rule book, then the rules are not being followed nor enforced. I checked the website of the NBA and did not find any mention of Disciplinary Committee, except for what they referred to as "NBA Anti-Corruption Commission" with the purpose to "Set and maintain the highest standards of conduct aimed at avoiding corrupt practices at the Bar and the Bench." This is deceit at its best. The website of the Law Society of Upper Canada has a section for the public where a lawyer can be reported and a disciplinary report filed online:
How to make a complaint about a lawyer or paralegal
To make a complaint to the Law Society, you need to follow four steps:
If you have a complaint about a lawyer or paralegal, you need to follow four steps:
Complete a Complaint Form.
Provide all information that is relevant.
Sign the Complaint Form and send it to the Law Society.
Provide any additional information if we ask for it.
(http://www.lsuc.on.ca/with.aspx?id=644)
For good measure and to follow-up on complaints, the Law Society of Upper Canada also provided contact information for the various units of the Law Society. The recent pronouncements by the NBA portray it as an association that pander to and encourage corruption among its members. The NBA is unworthy and without image and integrity as an association of lawyers. It harbours corrupt lawyers, encourage and pamper them. In a nation where lawyers often dupe their clients and convert clients' assets and funds into personal use, you wonder how many lawyers have been sanctioned and how many licences have been withdrawn. It will be useful to direct the NBA to the section "Current Disciplinary Actions" covering "current Proceedings," "Upcoming Hearings," "Orders and Reasons," and "Regulatory Meetings" where misconducts of lawyers and paralegals are addressed. The NBA can learn from the Ontario, Canada bar if they are truly eager to turn things around and change the horrible image of the bar, the very same bar that Alao Aka-Bashorun, a man of unalloyed integrity and decency who made us to respect the then NBA so much. Aka-Bashorun was a man who shunned materialism and greed unlike the bar today. The NBA presents a shocking bag of a few good men/women, the bad, and the out rightly criminal in its membership. It is only in such a perilous association that a decent member like Professor Itse Sagay would be threatened by the NBA for speaking out about how senior lawyers carry huge sums of money to judges and how judges grant bail spuriously. The NBA merely demanded that Barabbas, a notorious prisoner and robber, be released to them. Release Barabbas to us because he has stolen enough and we are sure to grab our share of the loot from him. As for the masses whose funds were stolen, they will always be with us. The thieves are happy they have SANs fighting their cause and enforcing their right for a fraction of the billions they stole, and the two sides are happy for it.
Short URL: https://www.africanexaminer.com/?p=30824