ECOWAS Leaders to Visit Gambia Wednesday, Want Jammeh to Respect His Country's Constitution  
African News, East/Central Africa, Featured, Latest News, World News
Monday, January 9th, 2017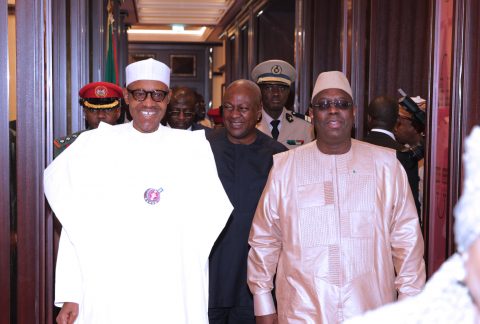 ABUJA, NIGERIA (AFRICAN EXAMINER) – The Economic Community of West Africa States (ECOWAS) on Monday resolved to use all constitutional means to resolve the lingering political crisis in Gambia.
Rising from a three-hour meeting in Abuja, the Nigeria capital, the leaders will on Wednesday send a powerful delegation to Gambia in a last diplomatic effort to persuade recalcitrant president Jammeh to hand over power to the newly elected President Adama Barrow, on January 19.
Briefing journalists, after the Abuja meeting, Nigeria's Minister of Foreign Affairs Dr. Geoffrey Onyema said leaders expressed determination to resolve Gambia's political crisis using all diplomatic and constitutional means.
Onyeama  said:
"In view of this, the meeting agree that a certain number of presidents will visit President Jammeh in two days time in the Gambia and that again will comprise the mediator President Buhari together with the President of Liberia and hopefully, the President of Sierra-Leon and the co-mediator the former President of Ghana as well as the President of the ECOWAS commission, the Special Representatives of United Nations and also a Representative of the African Union. So, this meeting will take place in two days time, on Wednesday to discuss with President Jammeh the need (to respect) the constitution".
He added that the ECOWAS leaders "agreed on the determination to resolve the Gambian political crisis in a manner that every step of the way conforms with the constitution of The Gambia and respect the will of the people of the Gambia".
Mr. Onyeama said the leaders "expressed particular concern at the deteriorating situation that has been reported in respect of security in the Gambia in particular, the closure of some of the radio stations and media houses, arrest that have been taking place and also the refugee situation that is being created with the mass exodus of a large number of people to the interior and to neighbouring countries".
Other ECOWAS leaders present at the meeting were Liberia President Ellen Johnson Sirleaf, Senegalese President Macky Sall and the immediate past president of Ghana John Mahama who is the co-mediator, Presidents of the ECOWAS Commission and Special Representatives of the United Nations (UN) Secretary General.
Short URL: https://www.africanexaminer.com/?p=37334