ECOWAS Parliament Begs Pardon For Ekweremadu
Featured, Latest News, News Across Nigeria
Wednesday, May 3rd, 2023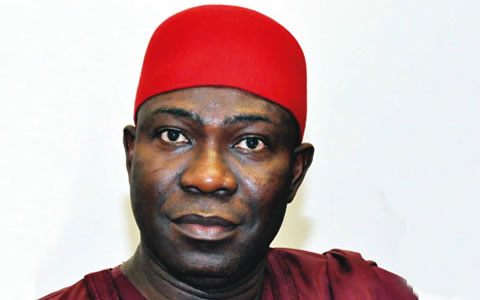 (AFRICAN EXAMINER) – Sidie Tunis, the speaker of the Economic Community of West African States (ECOWAS) parliament, has begged a UK court to show mercy to former deputy senate president, Ike Ekweremadu and his wife.
 The African Examiner recalls that in March 2023, Ekweremadu and his wife, Beatrice, were found guilty of organ trafficking by a UK court.
 In a letter addressed to the chief clerk of the central criminal court, Old Bailey, London, Tunis stated that Ekweremadu made immeasurable contributions to the ECOWAS parliament during his tenure as speaker of the third legislature.
 Describing Ekweremadu as "a major asset to the ECOWAS region", the speaker stated that "his long absence owing to his circumstance since June 2022 has denied us his invaluable service".
"It remains dreadful if he faces a long prison sentence in the present circumstance," he said.
 Tunis further disclosed that Sonia, the ailing daughter of the senator, cannot survive the absence of her parents in her current health condition.
 "I wish to state that it is a common feeling among parents, especially in Africa, not to bury or survive his or her child," he said.
"As a father, therefore, I can easily relate with the pains, dilemma, and crossroads of the senator and his wife over the health condition of their ailing daughter, who must still undergo a kidney transplant to stand a chance of surviving to fulfil her destiny.
"And who else could foot the bills better and also provide that morale support for the daughter? It still remains senator and Mrs Ekweremadu. It is certain that Sonia cannot survive the absence of her parents in her present health condition.
"At this juncture, I wish to add that I totally stand against the crime for which the senator and his spouse have been convicted. The community parliament also stands against it.
"We do not support organ harvesting in any way and by any method. Nevertheless, we believe that lessons have been learnt, not only by Ekweremadu but by everybody.
"In view of all these, therefore, I wish to fervently appeal to the honourable court, on behalf of the ECOWAS parliament, for leniency in meting out justice to the couple.
"We understand the position of the law, but only appeal that the honourable court puts on a human face in this circumstance and temper justice with mercy, especially considering his good behaviour and contributions to the good of the society, the less privileged, and democracy.

"Importantly, the typical Ekweremadu, being one, who is given to charity work and experienced in lawmaking in Nigeria and internationally, could also be very useful to the Nigerian and international community in public enlightenment and legal reforms campaigns on organ trafficking to curtail such incidents drawing from his personal experience."
Short URL: https://www.africanexaminer.com/?p=87602