Ghana's President-Elect, Nana Akufo-Addo Visits Buhari
Featured, Latest News, West Africa
Tuesday, December 20th, 2016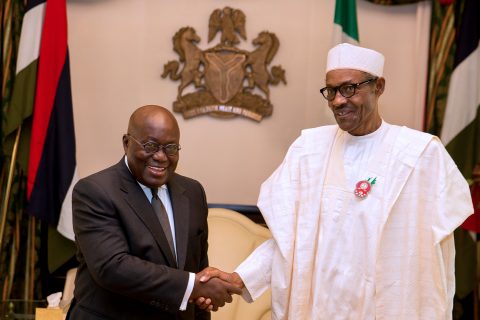 ABUJA, NIGERIA (AFRICAN EXAMINER) – The Ghanaian's President-elect Mr. Nana Akufo-Addo said Tuesday that his decision to visit President Muhammadu Buhari was for familiarization purpose.
While responding to the State House Correspondent after a closed door meeting with President Buhari, Mr. Akufo-Addo explained that he primarily came to Nigeria, to participate in the Future of Africa Awards, which held last Sunday in Lagos.
The Ghana's President-elect said after the event, he deemed it proper to call on Mr. President, so as to begin to know and familiarize with each other.
The incoming Ghanaian Leader noted that it was necessary that those who are in positions of leadership needed to know each other have an understanding and address the main concerns, including the populations.
Akufo-Addo added that the visit availed him the opportunity to send a belated birthday wish to his host, adding that President Buhari's birthday was significant in his life, because it coincides with his late mother's birthday.
Speaking further on the meeting, the President-elect confirmed that he had a useful conversation with President Buhari, stating that both were determined to grow the relationship between the two West African countries.
Short URL: https://www.africanexaminer.com/?p=37037