Journalist Killing: JP Morgan, Others Pull Out of Saudi Investment Conference
Asia, Latest News, World News
Monday, October 15th, 2018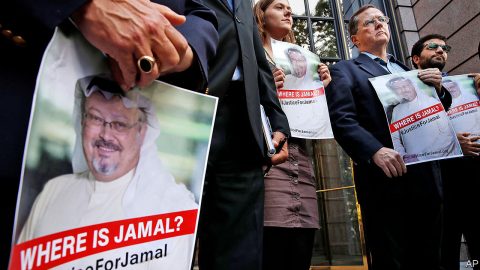 (AFRICAN EXAMINER) – Amid growing tensions between the US and Saudi Arabia, many business executives including JP Morgan boss, Jamie Dimon have pulled out of an investment conference coming up later in the month in Riyadh.
Other executives who have backed out are: Ford Chairman Bill Ford and Uber chief executive Dara Khosrowshahi.
The business conference dubbed "Davos in the Desert" is scheduled between October 23 and 25, 2018.
Mr Dimon has become the latest in a number of business leaders and firms to cancel plans to attend the Riyadh investment conference following the journalist's disappearance.
JP Morgan Spokesman said: "We can confirm … that Jamie will not be attending the Saudi event''.
The development followed the disappearance of a Saudi journalist and ardent critic of the government, Jamal Khashoggi.
However, the Saudi authority has denied being responsible for the Khashoggi's killing.
Mr Khashoggi has disappeared since October 2, 2018 after visiting the Saudi Consulate in Istanbul.
Authorities there believe he was killed in the building by Saudi agents, an allegation which Riyadh has dismissed and described as "lies".
Following the raging tension, oil prices rose on Monday on supply concerns, but the Saudi stock market rose after sharp falls on Sunday.
Softbank's share price tumbled about with 7 per cent in Tokyo as the fallout from Mr. Khashoggi's disappearance spread.
The Japanese conglomerate's $100bn (£76.1bn) Vision Fund is almost half-financed by Saudi Arabia.
Reports said a page with a list of confirmed speakers has been deleted from the event's official website.
Short URL: https://www.africanexaminer.com/?p=46252