Multi-Million Naira Ex-Rangers Hall Of Fame Underway
Featured, Latest News, Sports
Saturday, December 31st, 2016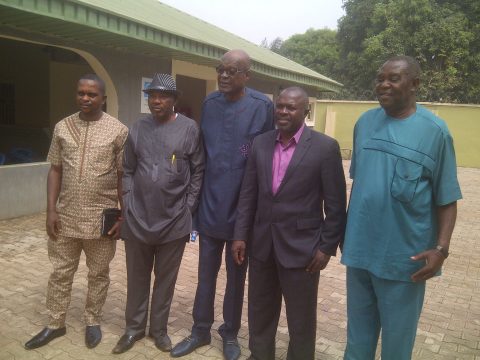 By IGNATIUS OKPARA, Enugu
Enugu Nigeria, (African Examiner) – Ex-Rangers International Football Club of Enugu, South- East Nigeria, have concluded plans to establish a hall of fame for the soccer icons, saying it will be located inside an ultra- Modern complex estimated to gulp over 500 million naira.
The complex will also house other money spinning infrastructure such as sports facilities, shopping mall, event centre, clinic, Restaurant guest house, among others.
Briefing Sports writers Thursday in Enugu on the proposed project, members of Ex-Rangers International Football Club, including ex-Green Eagles N0 1 Goalkeeper, Emmanuel Okala (MON), Chief Dominic Nwobodo,
Chief John Uwalaka and former Super Eagles Coach, Christian Chukwu, who was represented, said the project is first of its kind in Africa.
The press conference which was jointly addressed with other facilitators and partners in the project, hinted that the main motive of the project is to use proceed from the facilities to cater for the ex- Rangers players
Speaking at the event, Chief Emmanuel Okala, who is the Vice Chairman of Ex-Rangers International board of trustee, and Chief Dominic Nwobodo, who is the Chairman of the Hall of Fame committee, explained that the complex when completed would provide records, monuments and documents to immortalize the football heroes as well as provide sustainable source of income to cater for the needs of the ex-players.
The ex-players noted that the project was a private-sector driven initiative which is the sole baby of the former footballers and their partners.
Former Super Eagles coach, Christian Chukwu, also fondly called "chairman", is the chairman of Ex-Rangers International board trustee.
He was said to part of the initiators of the project but currently on a crucial assignment, hence his inability to be at the briefing.
In his remarks, a US based philanthropist and General Patron of Ex-Rangers worldwide, Chief (Sir) Benson Ike Ejindu, who announced a donation of N1million as seed money for the project, called on other well meaning Nigerians, Igbo business men and Rangers supporters to donate and key into the project.
According to chief Ejindu, the formal launch of the fund will take place as soon as arrangements are concluded, emphasising that the Hall of Fame project was purely a private initiative.
He noted that they would only require Enugu state government to provide piece of land for the complex, adding that "Rangers has always been a movement and we want to set example. Now
"Let me tell you about hall of fame or what does hall of fame do, most of our past heroes are not known, does anybody here remember Emeka Onyedika, Ernest Ufele, our past heroes who are dead, does anybody remember them? How about their immediate family, how are they doing; because some of these guys are the bread winners of their family?"
Chief Ejindu assured that every fund raised for the project would be judiciously used,
Also speaking, the chief executive officer CEO of Unlimited Entertainment Limited, a major partner for the project, Mr. Agudile Ejike Victor, explained that the Rangers Hall of Fame project is also aimed at recognising and celebrating the Ex- football legends, who have been forgotten.
He said: "The hall of fame is all about commercial… we have decided that their Jersey, numbers when they were playing will be printed in jersey,
"We will make calendars, we will make jotters, and other materials that will give us a lot of money and we will involve other corporate organizations like Nigerian Breweries, Coca Cola, MTN, because we will be having quiz in telecommunication networks whereby we ask questions about these legend.
The proceeds he added, will be used to take care of the surviving Ex- Rangers players, because most of them are really facing serious difficulties in life, including health challenges.
Short URL: https://www.africanexaminer.com/?p=37183