Nigerians React As Omoyele Sowore Promises To Legalise Cannabis If Elected President
Exclusive/Investigative Stories, Featured, Latest News
Friday, January 20th, 2023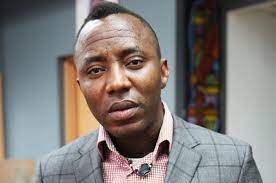 (AFRICAN EXAMINER) – The news that the African Action Congress (AAC) presidential candidate promising to legalise the sale of cannabis if elected as Nigerian president has sparked social media debates.
The African Examiner writes that Sowore, in an interview session at Agidigbo FM in Ibadan, the Oyo State capital on Thursday morning said that his mission to legalise cannabis is because of its commercial value and if the substance is exported to foreign countries, it will significantly aid in the diversification of the economy.
He said: "There are some weeds on earth, there are reasons why God created them. For example, cannabis, if you take it the right way, will increase your thinking. I am not taking it but I will legalise it. It is not that you should abuse it.'
'In fact, the non-legalisation of cannabis is why people abuse it. There is no place you will reach in Nigeria where you won't be able to buy cannabis if you want it. They are selling it in the mosque, in the church. Pastors are taking it and Alfas (Islamic clerics) are also taking it. If you want to buy good cannabis, you will get it from NDLEA (National Drug Law Enforcement Agency). If you know how much they are making from cannabis in this country, you will marvel.
"But what we are saying is that why are you burning cannabis when your budget is N21 trillion? And you are burning cannabis worth N1.5 trillion yearly. Why can't you sell it to those foreign countries that use it for drugs? They need it for people suffering from arthritis or cancer. Everybody is taking cannabis, it's just that you are not smoking it because analgesic painkillers you are taking, cannabis is there.
"There is no one that is not taking cannabis. There is someone that is taking medications or receiving injections that will not take cannabis."
"The component that is making people high is just 3 per cent. The rest is medicine, it is money. Canada is making over $4 billion from cannabis. If Ondo, Edo, Sapele in Delta and Ekiti are exporting cannabis, they will not be requesting oil money in Abuja."
The African Examiner recalls that cannabis is illegal in Nigeria but it is grown in Nigerian states including Lagos, Edo, Delta, Osun, Oyo, and Ogun. However, Nigerians are reacting to this statement of Sowore. The African Examiner captures some of their thoughts below:
@DanielRegha writes: "Sowore planning to legalize weed if elected, makes no sense. Cannabis has ruined the lives of many people (especially the youths), & should remain illegal; It has a few health benefits but that doesn't outweigh the disadvantages. The war against drugs should be taken seriously."
@Go_Calmdown writes: "When it's well regulated, legalizing it won't be a problem, there are other issues Sowore need to speak about more urgent than weed.
@ogah_elias writes: "I thought this guy is a serious guy until I saw this breaking news. Sadly enough, some of the youth contesting for leadership aren't seriously serious yet."
@davechuka_ writes: "If na only weed be Nigeria problem .. problem no Dey atall .. there are a lot of things to be taken care of."
@Idrisadesany18 writes: " Weed will boost the economy and still create job opportunities."
@limmil__ writes: "Since your knowledge about weed/cannabis industry is relatively low, kindly keep quiet, if it become legalized the government can place high tax on it, making it not really affordable then there would be cut back on its use, don't just come here and rant rubbish always."
@okeugosamuel2 writes: "Sowore wants to Promote weed because that's what has taken it to where he is presently, he believes in it very much and he has hope it would take Nigerians far."
@Ochai_el_Patron writes: "You guys keep preaching the war against cannabis but never against Tobacco or alcohol which are way more harmful than Cannabis itself. If you can show or point someone that has had a serious health issue after the consumption of pure cannabis and not synthetic then you've won."
@hoduntz_fit writes: "Now tell me if it make sense to burn 1.3Trillion of Canabis yearly where your annual budget is 21trillion… Illegality of cannabis is only making some people, including the NDLEA officials richer… Why not look at the bright side?"
@RealAmarndo writes: "When Sowore talked about legalizing Cannabis. Legislative legalization is what we are talking about. Cigarettes is legal but regulated, Alcohol is legalized but regulated all the this are drugs as well. Do proper research of marijuana. Nigeria has one of the best cannabis species."
@RealAmarndo writes: "We destroy trillions of Naira worth of marijuana in Nigeria mean while we go to China annually to borrow money. Do your research of medicinal benefits of marijuana. Countries are make billions of dollars from it. Marijuana oil is so good for hair that .
@smoky_rume writes: "Whether you legalize weed or not people will still use it. U can't stop the use of weed in Nigeria. Even the politicians majority of them use it. It's better we have the gains it will accrue to our GDP and national growth."
@___SirDaniel writes: "I actually don't get why of all the drugs someone can take is weed they chose. Give me some steroids that will make me superhuman not weed that will make tired and temporary happy."
@atolani_lani writes: "That's why he will never be a president, he doesn't even have the quality."
Short URL: https://www.africanexaminer.com/?p=84709