OPINION: Now That Buhari Is Ecowas Chairman, By Owei Lakemfa
Articles/Opinion, Featured Contributors/Columnists, Latest News
Monday, August 6th, 2018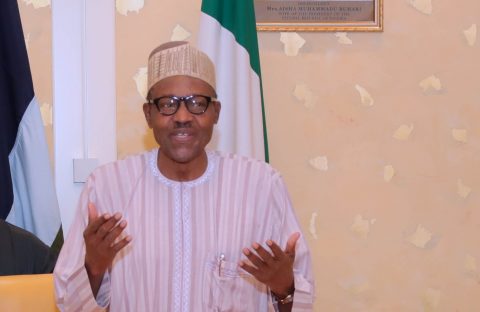 (AFRICAN EXAMINER) – One of the first things I learnt about leadership is the William Shakespeare  quotation that: "Some are born great, some achieve greatness, and some have greatness thrust upon them"  That again played out in Lome, Togo on July 31, when President Muhammadu Buhari had the chairmanship of the Economic Community of West African States (ECOWAS) 'imposed' on him.
The Presidency said Buhari  had gone innocently to the ECOWAS Summit prepared to vote for Cape Verde, Sierra Leone or  Ghana as ECOWAS Chair when during the campaigns and without warning, the region's Heads of State asked the candidates to step down only to: "impose the leadership of the organization (on Buhari)against all protestations on the Nigerian leader."
If we accept this tale of the Nigerian Presidency, what happened at the ECOWAS Summit  was the hand of a miracle-working God; a divine intervention.
Personally, I would not have wanted Ghanaian President Nana Addo Dankwa Akufo-Addo to lead ECOWAS because of  his administration's anti-ECOWAS policy of labelling ECOWAS citizens as "foreigners" and seeking to push West African traders out of that country.
President Jorge Carlos de Almeida Fonseca of Cape Verde is from a group of ten volcanic islands with a total landmass of 4,500 square metres and a population of 553,335. Making him ECOWAS chairman would have made  his head swell and he would have been tempted to rub shoulders with Nigeria, a country with 910,770 square metres and a population of over 180 million people. Cape Verde had shown that tendency of disrespect in football.
As for Julius Maada Bio of Sierra Leone, he is an eaglet President who was just sworn in on April 2, 2018. So he needs to first learn how to crawl before running for the ECOWAS chairmanship.  This is where we witnessed the divine intervention; raising up Buhari who is already the messiah in Nigeria, to extend his messiahship over the entire region.
President Buhari was not born great, in fact, he left high school to join the army. He was a soldier, general and Military Head of State before being elected President, very much like General Gnassigbe Eyadema,  father of host President, Faure Esszimna Gnassingbe. Faure, Buhari's predecessor as ECOWAS Chairman, and his father, Eyadema, have had an unbroken 51-year rule over Togo. If ECOWAS respects fundamental human rights, Faure who has been clamping down on the populace, torturing, killing and holding political prisoners since protests against his autocratic rule began on October 18, 2017, would not have been chairman.
At the ECOWAS Summit, President Buhari  told his fellow Presidents that: "Respect for rule of law, democracy and promotion of human rights are also vital as they are attributes of good governance" This is quite Presidential and I fully concur. But there are those who are not as loyal to the President as I am, at least not 100 percent loyalty. I can reveal that one of such persons is retired Colonel Sambo Dasuki  who will argue that because he has been kept in detention since December 1, 2015, President Buhari has no respect for human rights. He will also claim that Buhari is not a democrat because his administration is not allowing separation of powers. As for Buhari harping on "Respect for rule of law…" Dasuki wil argue that because five courts including the ECOWAS Court had granted him bail on five different occasions and the Buhari administration refused to comply, the President's claim is fraudulent.
In fact, I detected some conspiracy when at the opening of the ECOWAS Summit,  the organizers chose to swear in five new judges of the ECOWAS Community Court of Justice; was it to embarrass our dear President Buhari? If it were so, they failed because despite his disobeying the regional court, the political leaders saw him as the best person to lead West Africa.
In their communique, the ECOWAS leaders lamented the worsening food security in the region: "arising from significant decline in production compared to 2016/2017 crop year" Again, they were unfair on Buhari who has done everything to enhance food production in Nigeria but whose noble efforts are thwarted by murderous herdsmen/bandits fleeing from war-torn Libya. Where in 2016, farmers in the Nigeria food basket of the Benue valley planted, cultured, weeded and harvested, cows now superintend, eating available crops and seeds.  Ordinarily, President Buhari as Commander-in-Chief of the Armed Forces could send in the gallant Nigerian troops to weed out the bandits, retake the lands and restore them to their indigenous owners, but the local and international human rights wailers would accuse him of violating the fundamental human rights of the bandits to invade and occupy farm lands.
Some of them have been urging him to declare the bandits as terrorists, but he has wisely refused, preferring diplomacy by advising the farmers to be accommodating. So when the 2017/2018 rains came, it met many of the farmers, not on their farms, but  in camps for the internally displaced persons.
The ECOWAS leaders in their communique are cleverly pushing Nigeria to sign the enslavement document called the EU-ECOWAS Economic Partnership Agreement (EPA)on the basis that not signing it: "pose significant challenges to the regional integration process" Perhaps that is one of the reasons they put up Buhari as chairman; hoping to pressure him as chair to implement the communique. In any case, the EPA which gives preferential trade to Europe, contradicts the African Continental Free Trade Area (ACFTA) which enhances  preferential trade and integration amongst African countries.
One country that may have jumped for joy on hearing of President Buhari's election is Morocco whose monarchical  system is anti-democratic. Also, that country continues to occupy the sister African country of Western Sahara (Saharawi Arab Democratic Republic, SADR) Somehow, Morocco, whose leadership  assumes it has Buhari as an ally, wants to continue the colonization of Western Sahara as well as join the ECOWAS despite the fact that it is in North Africa, not West Africa, and is a trading outpost of neo-colonial European countries like France and Spain.
The ECOWAS leaders  picked Buhari based on faith despite being aware that his ruling All Progressives Congress (APC) is facing debilitating  mass defections. In fact, Senate President Bukola Saraki has uprooted the 'P' in the APC acronym and taken it to the opposition Peoples' Democaratic Party. They also know that the Nigerian Presidential elections are scheduled for February 16, 2019 which means that if Buhari is not re-elected, he would not complete his tenure as ECOWAS Chairman. If President Buhari does not make a success of his chairmanship of the ECOWAS, it will not be his fault because he was not even a reluctant candidate; the position was simply imposed on him; indeed, some have greatness thrust upon on them.
Short URL: https://www.africanexaminer.com/?p=45293