OPINION: The Corruption in Whistle Blowing Policy
Articles/Opinion, Featured Contributors/Columnists, Latest News, News
Wednesday, May 3rd, 2017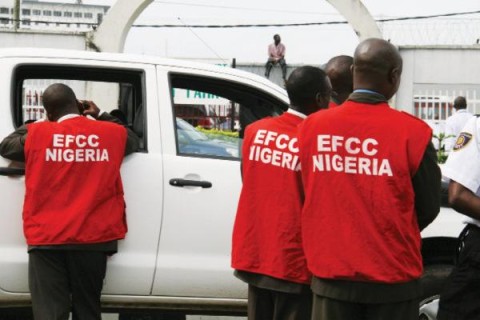 By Sufuyan Ojeifo
Two weeks ago, as I was moving some of my personal effects – mainly books – from the office, I had to, in my own interest, resort to full disclosure of the contents of the ghana-must-go bags to my gateman, who usually helps me to convey heavy luggage into my residence.
I did that so as to clear an atmosphere of suspicions, which was created by the sight of the two fully-loaded bags sitting in the trunk of my car.  Seriously, I did not want to become a victim of sudden invasion and search by any of the security agencies on account of alleged warehousing of suspected proceeds of crime.
Nobody should blame me for taking a precautionary measure.  At that point, I could not trust my gateman not to play a smart one on me in order to make money.  It has, indeed, become difficult these days to trust anybody in whistle blowing matters, especially now that there is a reward attached to exposing where looted public funds are hidden.  
We now live in interesting times.  It is quite thrilling the ease with which security and anti-graft agencies now discover humongous monies that are hidden outside the banking institution, even though they must be proved to be proceeds of crimes.  This is because, traditionally, many Nigerians still prefer to retain huge cash at home, while virtually all our rich men and women, especially politicians, do this regularly to meet expensive daily obligations and exigencies.
If it is just about bursting huge cash at home and in different currencies, almost every house of rich people and business moguls in highbrow locations across the country, would be a victim of raids by the Economic and Financial Crimes Commission (EFCC).  
Therefore, time has come for the anti-graft agency to properly define the scope of the whistle blowing policy before a law is passed to that effect.  Anambra election is around the corner. Would the EFCC act on some "witch-hunting" whistles and go after the houses of opposition party chieftains for keeping huge cash for election and allow the ruling All Progressives Congress (APC) to operate unhindered?   
Nevertheless, this policy, to me, is also increasingly making those who have looted public funds, especially those under investigations or trials, to be afraid; which is good.  Any of them could just be the next victim, and that is good in order to have a better country and conscionable citizenry.
As Williams Shakespeare puts it in "Julius Caesar", "The evil that men do lives after them…."  Another interesting side is that those they had shortchanged in the course of doing deals could mischievously grab this opportunity to even scores with them and access five percent of the same money that had been smartly taken away without them getting their own fair share.      
Although, the federal government is trying to make a whistle blower of every Nigerian who is not culpable in the shameless looting of the nation's treasury, the shortchanged are likely to take undue advantage of this policy.  It will be nothing but a case of an accomplice exposing a smatter collaborator in a grand corruption matter.
And, guess what, the falcon would covertly get a part of the loot while the falconer would have been beaten to his "fast game" when both should have, ideally, lost all claims to the recovered funds.  So in the circumstance of the operation of the whistle blowing policy, corruption could be rewarded.
The policy that entitles a whistle blower to five percent of the hidden booty, recovered through his or her tip-off, is alluring.  It is a cool means of making big money.  But it should be well-guided not to entirely become an instrument of witch-hunting and, in the end, corrupt the entire anti-corruption crusade.  It may become messy for the EFCC to handle if politics creeps in, since the commission is largely controlled by the government with political interest.
What the whistle blowing policy has done, therefore, is to encourage people to attack the culture of trust even if earned in questionable circumstances.  It is thus difficult for one to trust anybody these days whether or not the circumstances are questionable.  Going by the claims that whistle blowers' tip-offs were responsible for the discoveries of hidden funds by the anti-graft agency, one is bound to interrogate the inter-personal relationships in all their ramifications; else, even the innocent will be wrongly targeted and pursued.
A situation where the identities of the owners of some discovered monies are shrouded in secrecy questions the validity of the claim that the discoveries were made on account of whistle blowers' information.  Nigerians are still asking questions on the real owners of monies discovered by the EFCC.
There is also an abiding concern over suspicions that some of these mystery whistle blowers are rival security agencies or their officials, who, having been enmeshed in inter-agency rivalry, have resorted to blowing whistle just to settle scores or prove some points.  A section of the public is insinuating this in the yet-to-be-sorted single largest discoveries and recoveries by the EFCC in Lagos State.
Certainly, desperation could precipitate a rash of frantic actions.  I hope that is not the case here.  Could it be a fight-back within the nation's security circle?  If it is, then this could then mean the setting in of inter-agency witch-hunting, which is capable of undermining the entire whistle blowing policy.  The reasoning will be if they could do that to themselves, what would they not do to outsiders?  
I sincerely hope that was not what happened with the monies discovered and recovered at the Osborne Tower flat in Ikoyi. Although, the National Intelligence Agency (NIA) had to courageously step out to claim ownership of the monies, purportedly meant for covert operations, its suspended Director General, Ayo Oke, had maintained, in undenied media reports, that he already briefed the National Security Adviser (NSA) about the "black money".  
Those claims had already been investigated by the Vice President Yemi Osinbajo panel.  The outcome of the inquisition by the three-man panel should unravel the truth.  Nigerians anxiously await the outcome of the panel's investigations.
However, all the concerns about the whistle blowing policy should be factored into the legislation that will spell its operations, functions and parameters.  It may turn out as one of the best instruments to drive the anti-graft war if properly implemented. The legal instrument should firm up the policy.  
But as long as it remains a policy and is pursued on an ad-hoc basis as it presently obtains, then we should be ready to live with the many perversions, manipulations, politicisations and propagandism for which the security and anti-graft agencies would deploy it in order to deal with enemies or even outwit one another.
Consequently, the perceived inherent concerns about the policy along the line of witch-hunting as well as non, or shoddy disclosure of owners of discovered monies –which promotes corruption – cannot bolster public confidence and credibility in the system.
Mr Ojeifo, an Abuja-based journalist, contributed this piece via ojwonderngr@yahoo.com  
Short URL: https://www.africanexaminer.com/?p=39093